Podcast: Episode 52 with Stephanie Bruce
|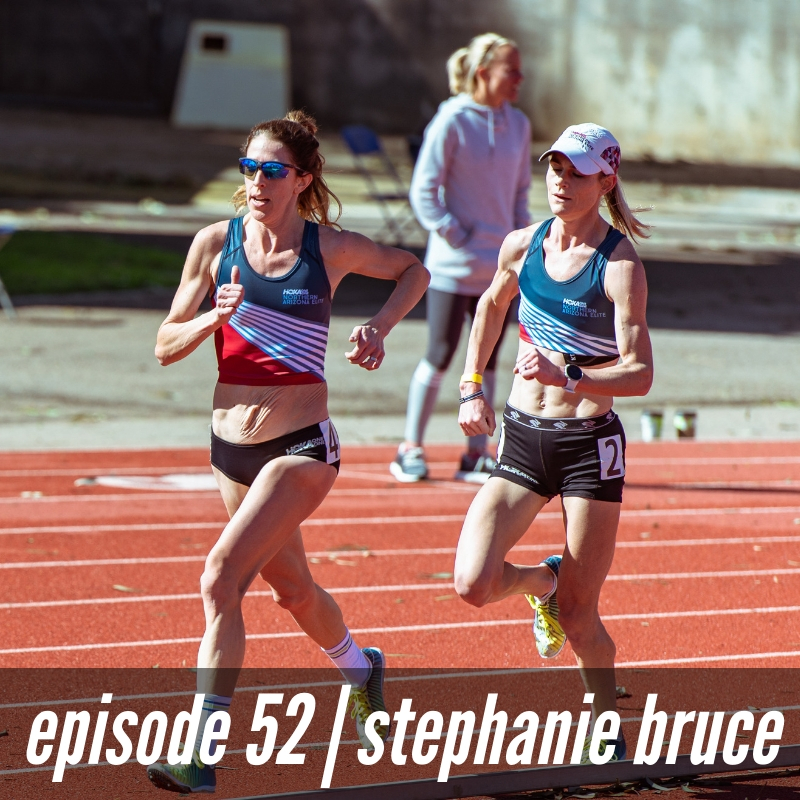 "Things are going to be uncomfortable in life. You're going to have uncomfortable runs, uncomfortable races, uncomfortable conversations with family and friends, or standing up to your boss if you feel like you deserve a raise. All things like that, I think are just giving you a little more courage and a little more pep in your step to really stand up for what you believe in and push through those hard days and know that you're going to see light at the end of the tunnel."
Subscribe, listen, and review on: Apple Podcasts | Stitcher | Overcast | Google Podcasts | Soundcloud | Spotify
Thrilled to welcome Stephanie Bruce of Hoka Northern Arizona Elite to the show this week. The 35-year-old mom of two young boys is a 2:29 marathoner, co-founder of Picky Bars, online running coach, and oh yeah, reigning national 10K champion on the roads.
In this episode, we discussed what she's focused on from a training and racing standpoint right now, why she thinks it's important to get out of your comfort zone when it comes to racing, and the changes coach Ben Rosario has made to her training in the past several years that have contributed to her recent success. We also talked about the marathon and her biggest limiters in that event, what it will take to make the 2020 Olympic marathon team in Atlanta, who she looks up to in the sport, where she gets her grittiness from, how to cultivate it in your own life, and a whole lot more.
Related links, references, and resources:
— Follow Stephanie on Instagram and Twitter.
— Check out her website and subscribe to her YouTube channel.
— Get coached by Stephanie and/or her husband Ben through their company, Running with the Bruces.
— At 34, Bruce Having Her Best Year Yet: "Over the past couple years, so much of the attention Steph has gotten is from her willingness to share her journey," her coach, Ben Rosario, told FloTrack, "which is great, of course, but now what happens is when she puts up a big performance, it blows up in a bigger way than it would for others because she has this big fan base that she worked hard to create. In that way, she's a model for everyone on our team and the entire sport because if you have a big performance and have no fans, it's like a tree falling in the forest. But if you have a big performance and your fan base is huge, the tentacles spread and it's a really, really huge deal."
— Bruce Seeking a Breakthrough:  "It took me ten years to win a national title," she told Sports Illustrated before the 2018 New York City Marathon. "But if I had thought that I was never going to get there and have thrown in the towel after having kids, after all the shortcomings and challenges and struggles, this summer never would have happened. It makes me excited for the future and gets me thinking that, at any given race, I shouldn't count myself count. I have a chance."
— "This is how I look, but not how I feel," Bruce told People about dealing with diastasis recti, or post-partum abdominal separation. "When I'm training hard, lifting, sprinting at the end of races I feel the strongest core possible. It doesn't look the same as the women I race against who haven't given birth, but who gives a crap. It took me a while to be comfortable in my own skin, but every time I run in a sports bra, wear crop top shirts I grow a little more confident in my postpartum body."
— WATCH: I ran 5 x 1 mile with Bruce 11 days before the 2013 Boston Marathon, where she finished in 15th place.
— 5 Questions with Stephanie Bruce: "All runners are connected by a primal love for running that differs from one individual to another," Bruce told me in 2014. "You need to share your journey with others because it makes them feel connected to you — and in turn they support and cheer for you. Cheer back at them! Also find your passion outside of just running and use that to build who you are as a runner on and off the race course."
This episode is brought to you by Rise.Run.Retreat. Rise.Run.Retreat is a four-day women's running retreat that takes place from May 16-19, 2019 in Vermont. It was founded on the idea that, when women come together through running they inspire and strengthen one another. Nestled in the green mountains, the picturesque village of Woodstock serves as the backdrop to all of Rise.Run.Retreat's activities. You'll explore country lanes, run through gentle, wooded trails, listen to inspiring guest speakers—this year's featured speaker is ultrarunner Sally McRae—and participate in workshops. Limited to just 16 women, the small-scale setting makes for a unique and impactful experience. Your registration includes all lodging, wholesome meals provided by the local farmer's market and an amazing swag bag. With only seven spots still available, registration is sure to fill-up before the April 7th deadline. For more information head to riserunretreat.com and use the code TMSPOD—that's all CAPS—and save $100 bucks off your registration fee. My thanks to the Rise Run Retreat for supporting the podcast.
Music and editing for this episode of the morning shakeout podcast by John Summerford at BaresRecords.com