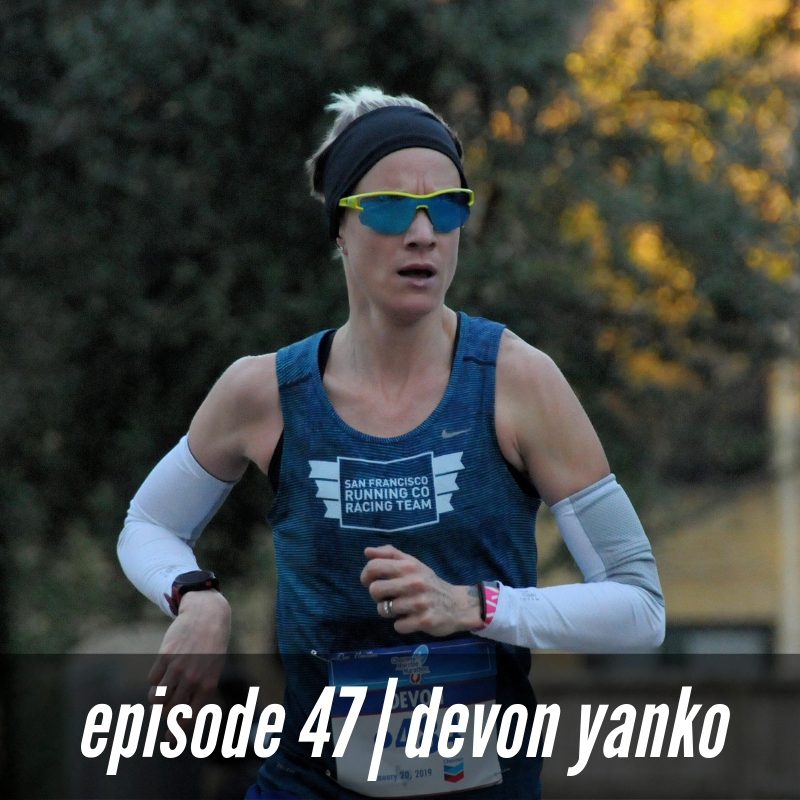 "I just kind of started to give myself a little bit more credit for what I've done and stopped having that need to incessantly prove myself. Because nobody else is thinking of me that way, nobody else is quantifying other people that way, it's just yourself. And so I made the choice to stop doing that to myself because the priority for me is health—because I can't do the running if I'm unhealthy, and it's as simple as that. The racing doesn't matter; if I'm going to race terribly because I'm ill, then why am I bothering anyways?"
Subscribe, listen, and review on: Apple Podcasts | Stitcher | Overcast | Google Podcasts | Soundcloud | Spotify
I really enjoyed sitting down with Devon Yanko for this week's episode of the podcast. We caught up a little week before the recent Houston Marathon, where she ran 2:39:34—less than a minute off of her personal best—to qualify for the 2020 Olympic Trials in Atlanta.
Yanko is a super accomplished athlete who has run almost 100 races of marathon distance and beyond. She's also won two ultra-distance national titles on the roads, represented the U.S. at multiple world championships, been on the podium at Western States, won the Leadville 100, held the Grand Canyon Rim 2 Rim 2 Rim FKT, qualified for two Olympic Trials marathons, and has finished in the top-5 at Comrades. In short: she is a badass across a range of distances and on a variety of terrain.
This was a loaded conversation and I think you'll take a lot away from it. We talked about how Yanko got into running after growing up as a basketball player, how the sport of trail and ultra running has evolved since she first got into about 13 years ago, getting over a tough year in 2018 that was full of health issues and injuries, the importance of community, her proudest accomplishment as an athlete, sharing her story of teenage sexual abuse and how that's impacted her life over the past 20+ years, what can be done to bring more women into trail and ultra running, opening a bakery with her husband Nathan, and much, much more.