Podcast: Episode 47 with Devon Yanko
|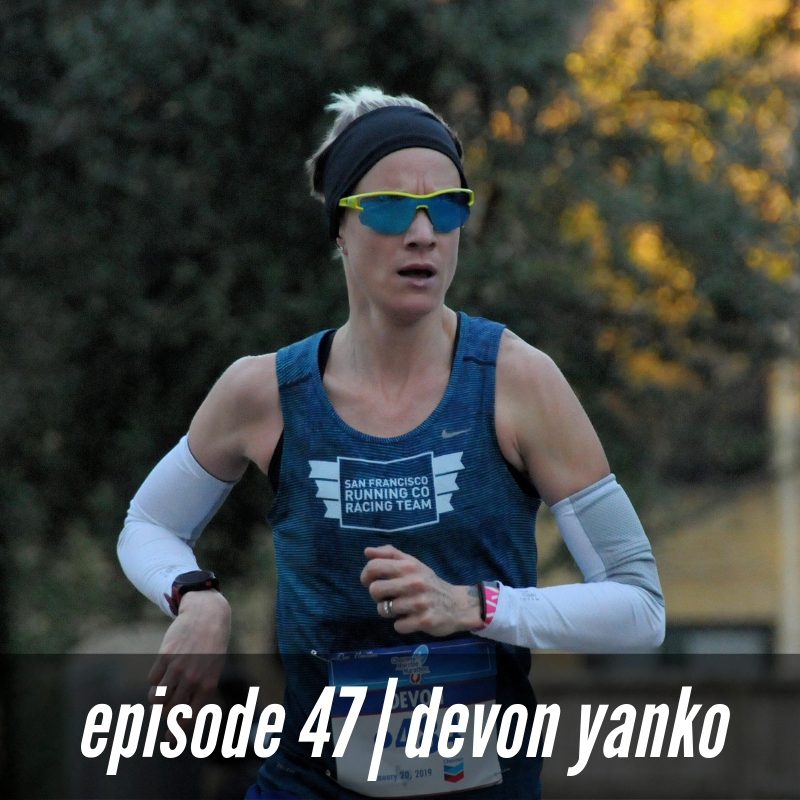 "I just kind of started to give myself a little bit more credit for what I've done and stopped having that need to incessantly prove myself. Because nobody else is thinking of me that way, nobody else is quantifying other people that way, it's just yourself. And so I made the choice to stop doing that to myself because the priority for me is health—because I can't do the running if I'm unhealthy, and it's as simple as that. The racing doesn't matter; if I'm going to race terribly because I'm ill, then why am I bothering anyways?"
Subscribe, listen, and review on: Apple Podcasts | Stitcher | Overcast | Google Podcasts | Soundcloud | Spotify
I really enjoyed sitting down with Devon Yanko for this week's episode of the podcast. We caught up a little week before the recent Houston Marathon, where she ran 2:39:34—less than a minute off of her personal best—to qualify for the 2020 Olympic Trials in Atlanta.
Yanko is a super accomplished athlete who has run almost 100 races of marathon distance and beyond. She's also won two ultra-distance national titles on the roads, represented the U.S. at multiple world championships, been on the podium at Western States, won the Leadville 100, held the Grand Canyon Rim 2 Rim 2 Rim FKT, qualified for two Olympic Trials marathons, and has finished in the top-5 at Comrades. In short: she is a badass across a range of distances and on a variety of terrain.
This was a loaded conversation and I think you'll take a lot away from it. We talked about how Yanko got into running after growing up as a basketball player, how the sport of trail and ultra running has evolved since she first got into about 13 years ago, getting over a tough year in 2018 that was full of health issues and injuries, the importance of community, her proudest accomplishment as an athlete, sharing her story of teenage sexual abuse and how that's impacted her life over the past 20+ years, what can be done to bring more women into trail and ultra running, opening a bakery with her husband Nathan, and much, much more.
Related links, references, and resources:
— Follow Devon on Instagram and Strava.  
— Check out her website.
— Life In A Day: Watch as filmmaker Billy Yang chronicles Yanko's day (along with the days of Magda Boulet, Kaci Lickteig, and Anna Mae Flynn) at the 2016 Western States Endurance Run, where she finished third overall.
— "People tend to want to put you in a box and give you an identifier," Yanko told Outside about being known a victim of sexual abuse. "I'm very much fine being an advocate for talking about abuse and advocating for what comes after, but it's one part of my story. All things did not begin and end with this part of my life."
— The Power to Change the Paradigm: "I actually was surprised to have such a reaction to the #metoo campaign, but I did," Yanko wrote in her blog. "And so here I am. The thing that is important for me to share is that we do have power to change things. We do have power to fight back and stand up. Don't think you can stand up for yourself? Can you stand up for your best friend? Your sister? Your daughter? Your brother? Your son? Can you stand up to protect them?"
— How Far It Goes: "It is what matters what you do after you get out of the chair that matters," Yanko writes about her most recent race in Houston. "Failure, faltering and flops are part of life. We must take lessons from them sure, but we cannot become defined by them. It is a choice where we go from the low points. It is a choice if we let it those things break us or lift us to greater heights. I know that in life I will surely find myself in the chair again, I will certainly cry out 'but I don't know how to keep going,' but I also know that I will get out of that chair and I'll walk until I can run again."
This episode is brought to you by Strava's new podcast, Athletes Unfiltered. Are you looking for a little extra motivation on your next run or bike ride? Athletes Unfiltered is a new podcast of inspiring stories from the Strava community, told by the runners and cyclists who lived them. You'll hear from a runner who loses his sight and discovers a new community. A drummer who passes up the after party so he can get up early to ride bikes with his fans and connect in a way he never could from on-stage. A mountain biker who watched the trails he loved burst into flames and then created an app to help rally his community around rebuilding them. And along the way, they'll tackle some of the big, scary questions every athlete has to find answers to: Why am I doing this? Am I getting too old? Will I ever run again? The answers these athletes give might just help you find some of your own. Give the Athletes Unfiltered podcast a listen and subscribe on Apple Podcasts, Stitcher, Spotify, or wherever you consume audio content.
Music and editing for this episode of the morning shakeout podcast by John Summerford at BaresRecords.com.