Podcast: The Weekly Rundown | A Teaser
|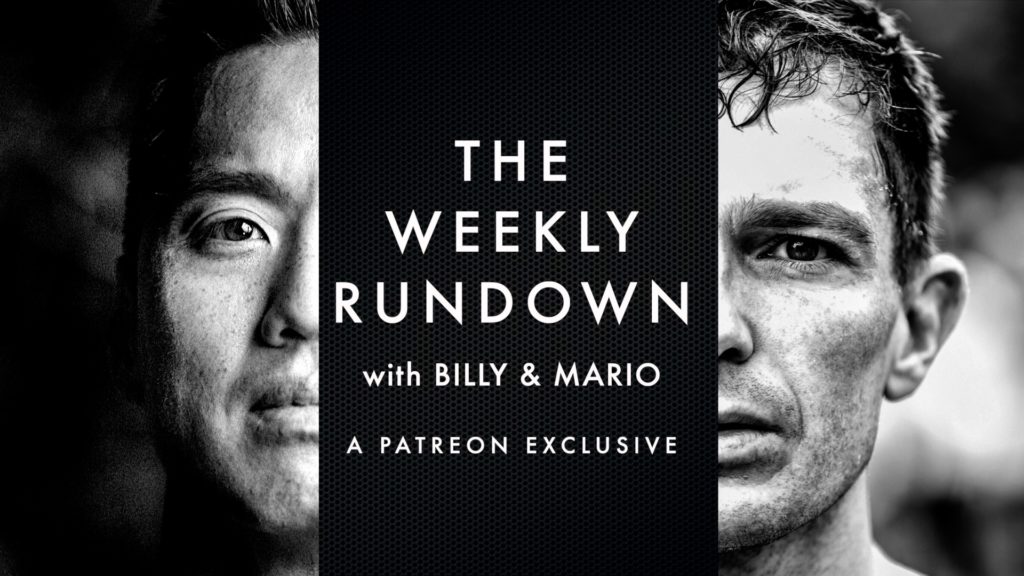 Subscribe, listen, and review on: Apple Podcasts | Stitcher | Overcast | Google Podcasts | Soundcloud | Spotify
I'm excited to share a little something different with you this week: a recent episode of The Weekly Rundown, a Patreon-exclusive podcast I've been recording the last few weeks with my friend and collaborator, Billy Yang of Billy Yang Films and the Billy Yang Podcast.
In this teaser episode, which we recorded last week on July 2, Billy and I talk about the Western States Endurance Run, The Prefontaine Classic, and Billy's recent trip to Austria for the Infinite Trails relay race. It's not Billy interviewing me or me interviewing Billy—it's just two friends talking casually and unscripted about what's been going on in our lives, the sport, and the industry over the previous week.
Right now, this show is only available to our respective supporters on Patreon, so if you're into it and want more, you can support my work directly at themorningshakeout.com/support. If you like this informal format, or even if you don't—or if you like it and think it needs to be longer than 30-ish minutes—let me know by dashing me a note on Twitter at @mariofraioli.
Eventually we may make this show available to everyone but for now it's only available to our respective Patreon supporters. We'll be back to our regularly scheduled interview-style show next week but in the meantime, please enjoy this sample of The Weekly Rundown.
Related links, references, and resources:
— Follow me on Instagram and Twitter, and/or check out my website.
— Follow Billy on Instagram, Twitter, and YouTube, and/or check out his website.
— Learn more about Billy on Episode 39 of the morning shakeout podcast.
This episode is brought to you by the VCU Health Richmond Marathon. The event, which also includes half marathon and 8K options, takes place in Richmond, Virginia, on November 16th, 2019. Whatever distance you run, Richmond provides phenomenal course support, great fall scenery, awesome finisher swag, and supportive spectators. I know from my experience running there last year that when you run Richmond, you get it all. The marathon is a mostly flat, fast course, top-25 Boston qualifier, and it ends with a beautiful, downhill riverfront finish. Runner's World called it "America's Friendliest Marathon" and they certainly live up to this distinction. Start planning your race experience today and save $10 on your registration fee—it applies to the marathon, half marathon, and 8K—by using the discount code "morningshakeout" when you check out at RichmondMarathon.com.
Editing for this episode of the morning shakeout podcast by John Summerford at BaresRecords.com.