Podcast: Episode 39 with Billy Yang
|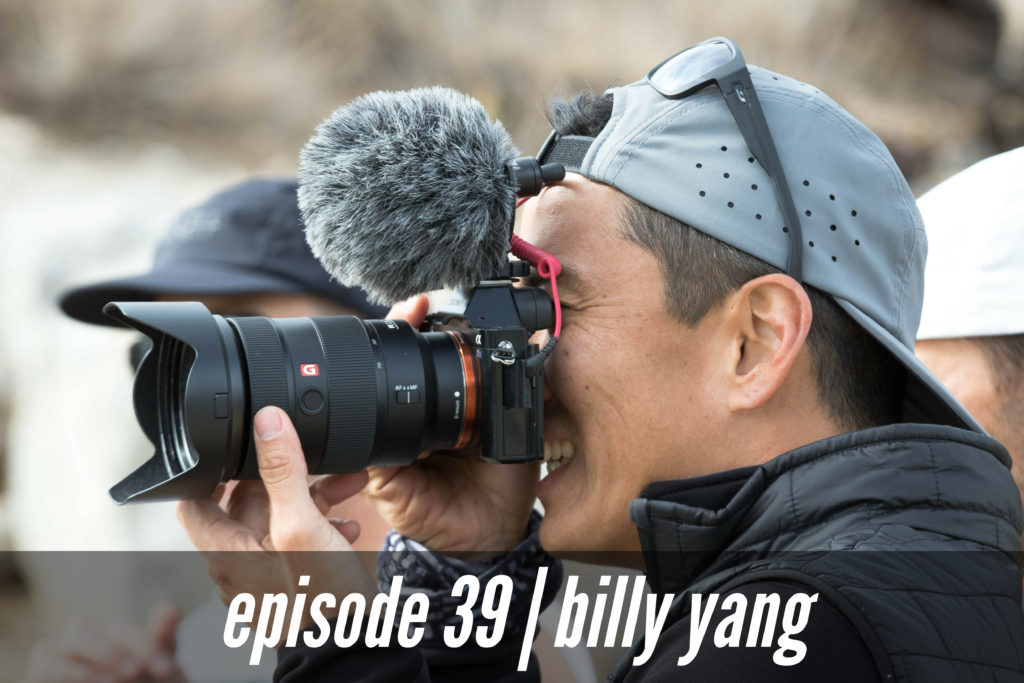 "I think my purpose is to share peoples' stories, share my story, share any stories that will impact peoples' lives. And I love the idea of the content that I create living beyond me, I do. I try not to get too wrapped up in legacy and all that crap but when I do allow myself to take a step back and look at the work that I'm creating, to have it impact people, beyond just the small circle of runners, to actually create runners—people who have told me that they started running, not necessarily 100 milers, but marathons, 5Ks, because they've seen a film of mine—man, you can't put a price on that."
Subscribe, listen, and review on: Apple Podcasts | Stitcher | Overcast | Google Podcasts | Soundcloud
I really enjoyed sitting down with my friend Billy Yang for this week's episode of the podcast. Billy has been one of my most requested guests since I started the show a year ago and I was finally able to pin him down for an hour last week at The Running Event in Austin, Texas. (Spoiler alert: An hour wasn't nearly enough time to cover all the things I wanted to cover, so I'm going to have to have Billy back for a round 2 at some point. And with any luck, it won't take another year for that to happen.)
For those of you who don't know, Billy is one of the preeminent filmmakers—and now podcasters—in the trail and ultra running space. If you're not familiar with his work, I recommend checking some of it out for yourself at billyyangfilms.com or The Billy Yang Podcast wherever you like to listen to audio content. It's inspired me on many different levels and I can guarantee you that it will move in some way.
Billy and I touched on a number of different topics in this conversation, including how we got our respective starts in the storytelling business and why we do what we do, when he picked up his first video camera and realized it was something he wanted to play around with and eventually pursue, and how losing his dad spurred a lifestyle change that led to him quit smoking and take up running. We also talked about struggling with low self-esteem throughout his life and how he's worked through those times, self-consciousness and dealing with outside opinions, embracing the journey and living the life that's authentic to him, what he sees as his personal purpose, and so much more.
Related links, references, and resources:
— Follow Billy on Instagram, Twitter, and YouTube.
— Check out his website.
— Listen to his podcast, The Billy Yang Podcast, where Billy sits down for one-on-one conversations with some of the most prolific and rising athletes, creatives, entrepreneurs and many others to talk what drives and inspires them.
— Watch The Why, a film Billy made to unpack the reasons why he runs 100 miles, using the 2017 Leadville 100—which I coached him for—to tell his story.
This episode is brought to you by the TranSelkirks Run. Why travel to Europe to race next summer when you could run through wild, pristine mountains in Canada? The TranSelkirks Run, which takes place in Revelstoke, British Columbia, Canada, from Sunday, August 25 through Thursday, August 29, 2019, offers 3-day (100K) and 5-day (100 miles) options. Each day is a different stage with varied terrain ranging from from lush, lowland rainforest to rugged alpine. The event is based at Revelstoke Mountain Resort where you'll take advantage of a cozy bed, pool, massage, hot tub, and bar await after each stage, not to mention a catered gourmet dinner at Revelation Lodge overlooking the Columbia River and Begbie Glacier. Get 10 percent off your package by using the code MORNINGSHAKEOUT — all caps, all one word—when you register at this link.
Music and editing for this episode of the morning shakeout podcast by John Summerford at BaresRecords.com