Podcast: Episode 92 with Peter Bromka
|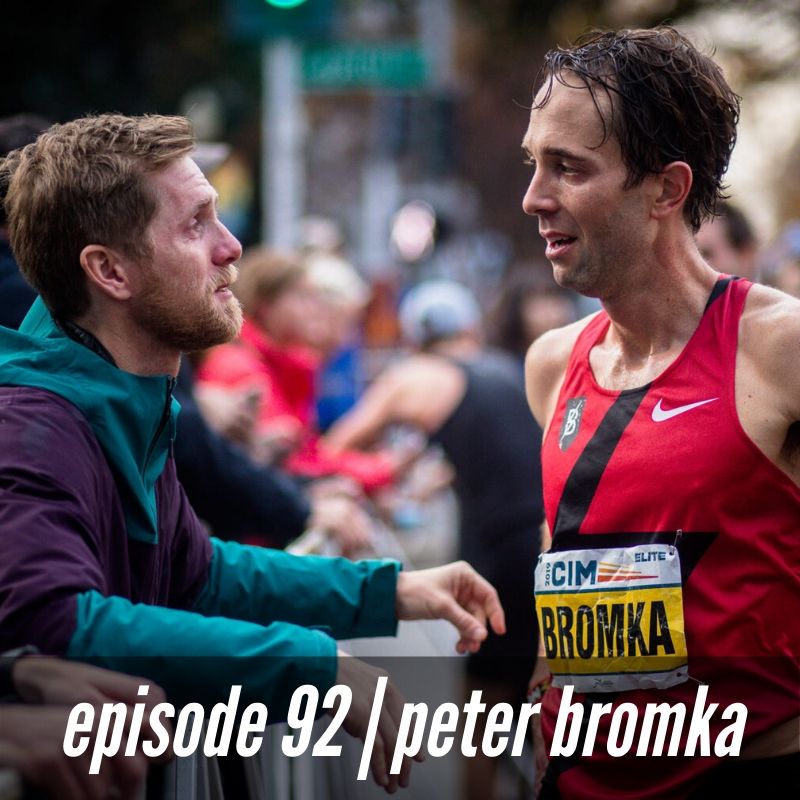 "I am camped out in that third category of the emotions of the experience. I get a lot of messages from other dads who have jobs and have kids and have families—I sense in their writing to me that they're almost saying, 'Thank you for giving me permission to care about something that is totally superfluous but matters to me and that fuels my passion for the rest of life.' Because I just get the sense that when they lay it out—they have jobs, they have kids, they have a lot of constraints and responsibilities—but maybe they were searching for something to keep them fired up and just keep them happy about the day and they read my writing and they're like, 'Wait, this guy is not talking about splits, and he's not talking about workouts too much, but he seems to be saying that it's OK to really really really care about something that doesn't matter.' But it matters because life is just a journey."
Subscribe, listen, and review on: Apple Podcasts | Stitcher | Overcast | Google Podcasts | Soundcloud | Spotify
I really enjoyed this week's conversation with my friend Peter Bromka.
Bromka, who I've known since our college days competing against one another in New England, just ran 2:19:02 at CIM a couple weeks back to miss the Olympic Trials qualifying mark by an agonizing two seconds.
We talked about that race in this conversation, amongst a whole host of other pertinent topics, and I think you'll find this one to be equal parts inspiring, insightful, and emotional. Bromka is a 38-year-old dad and husband who lives in Portland, Oregon, he works full-time, and he has come a long way in the past 5 years to get where he is today.

Related links, references, and resources:
— Follow Bromka on Instagram, Twitter, and Strava.
— Check out his website, Writing About Running.
— The Marathon Doesn't Owe You Anything: "On the Richter scale of life there may not be many quakes as large as weddings, births or deaths, but we endeavor to feel something so indelibly that it won't wash away as the waves of time crash against our memory," Bromka writes. "Maybe that's why we cry at marathon finish lines. Not for good or for bad, but for the honesty of the moment as we stand on that day. The marathon doesn't owe you anything, which makes it the perfect vessel in which to pour your everything."
— Raised a Runner: "Running is the perfect sport for a disillusioned generation thirsty for authenticity," Bromka writes. "Put up or shut up, served straight. There is beauty in the simplicity of sport, perfection in the act of covering a set distance for time, and humanity in the endeavor of enduring together. It's a sport of the people; to express strength, passion and beauty. We were raised with passion. Taught to love life, indulge emotion and chase our interests with raw excitement, without concern for approval or acceptance. Running is our religion. We have served and it has provided."
— When Everything Isn't Enough: "Though a student of the sport, I'm too dizzy to truly make sense of what is happening. In the history of relays I can't imagine there's ever been a face-off this brutal, for this long, for this little: There is no prize but pride for winning the Speed Project," Bromka wrote for Tracksmith's Journal about his team's experience at The Speed Project. "No gold medal, no wristwatch or wooden wheel, no reward but self respect. Nothing to gain except everything we live for as endurance athletes."
This episode is brought to you by Tracksmith. Tracksmith is a Boston-based running brand, led by a group of runners who are dedicated to building classically stylish, cutting edge running apparel for real world athletes. Whether you're training through the depths of winter, or you need a special race day outfit to help power a PR, Tracksmith has you covered. I personally own a ton of Tracksmith gear and train and race in it all the time, including last month at the New York City Marathon. Looking for a (very) last minute gift for the runner in your life? Why not give a Tracksmith gift card? They've got digital ones available for purchase at Tracksmith.com. Just click on "accessories" in the menu bar and it's the first item that comes up on the page. Follow them on Instagram @tracksmithrunning and do your shopping at tracksmith.com.
Music and editing for this episode of the morning shakeout podcast by John Summerford at BaresRecords.com