Podcast: Episode 58 with Edward Cheserek
|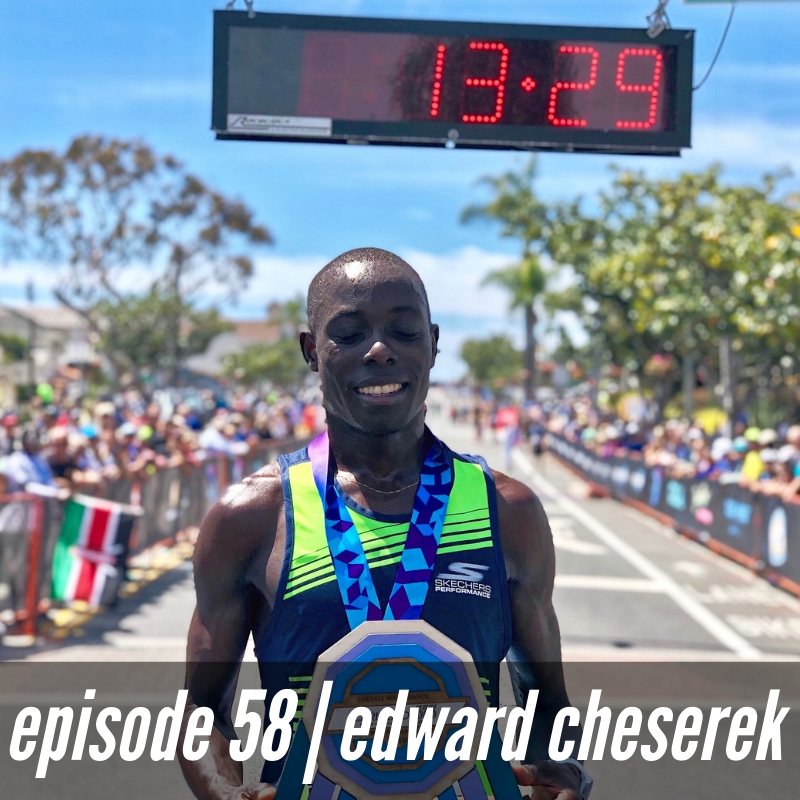 "They were doing 10-mile long runs by that time and I dropped them. And they were like, 'Oh, this kid is tough!' I was coming and going on rolling hills and my coach was like, 'Hmm, you ran the last mile in 4:55.' I didn't even know what that meant—4:55 a mile? I just ran. I used to clock [time] in kilometers, so I thought it was a kilometer, and I was like, 'That's slow.' But it was miles. A few months later I came back and ran my first indoor [race] and they were like, 'You can run!' and I was like, 'OK.' That's the moment I fell in love with the sport and I ended up quitting the soccer thing and just focused on running."
Subscribe, listen, and review on: Apple Podcasts | Stitcher | Overcast | Google Podcasts | Soundcloud | Spotify
Excited to share a recent conversation I had with Edward Cheserek on this week's episode of the podcast. King Ches, as he's known throughout the running world, recently tied the IAAF world record for the road 5K at Carlsbad 5000, breaking the tape in 13 minutes and 29 seconds. I was fortunate enough to sit down with the 25-year-old Kenyan for half an hour a couple days before the race to learn a little more about his life, his upbringing in Kenya, moving to the U.S. as a high schooler 10 years ago, his record-setting collegiate career at the University of Oregon where he won 17 NCAA titles, what it would mean for him to gain his U.S. citizenship and represent this country in an international championship, where his competitiveness comes from, and a lot more.
Related links, references, and resources:
— Follow Ed on Twitter and Instagram.
— Cheserek Ties World Record at Carlsbad 5000: "To finish the race, I was going against the clock," Cheserek told the San Diego Union-Tribune. "It was close. So I just said, 'I'm going for it.'"
— Ed Cheserek Runs On: "Until Cheserek has a green card, the clock cannot start ticking on the five years he has to wait before he can apply for United States citizenship," Matthew Futterman wrote earlier this year for The New York Times. "An act of Congress could expedite that process, but not much else. So if Cheserek, approaching his prime, wants to appear at this year's world championships or next year's Olympics in Tokyo, he will have to do it running for Kenya."
— "The main thing in my life is to get my education, to get my degree first before I move on," Cheserek told Cathal Dennehy for Spikes. "Running is not something that will dominate my life so I needed to get my education. One day, when I finish running, I want to do something in business, to give back to the community."
This episode is brought to you by Tracksmith. Tracksmith is an independent running brand based in Boston. They're a group of dedicated runners focused on building technical yet understated running apparel that celebrates the amateur spirit and inspires the personal pursuit of excellence.
 Tracksmith's products are designed for a specific running function and solve problems unique to the experience of training and racing, whether that's building the perfect pair of half tights for speed workouts or split shorts that are just the right weight—and with the right number of pockets—for a marathon. And unlike other brands in the industry, Tracksmith's model is direct-to-consumer, which enables them to scour the earth for the most technical materials to meet a specific performance intent, without having to compromise to make wholesale margins.
Tracksmith's products reflect their New England roots: These are classic, understated and high quality essentials for runners who are working towards their next PR. To learn more, visit tracksmith.com/mario. Right now they're running a special offer for new customers: spend $150 and earn their signature navy Van Cortlandt singlet for free. Follow them on Instagram @tracksmithrunning and shop at Tracksmith.com.
Music and editing for this episode of the morning shakeout podcast by John Summerford at BaresRecords.com