Podcast: Episode 38 with Dan Cruz
|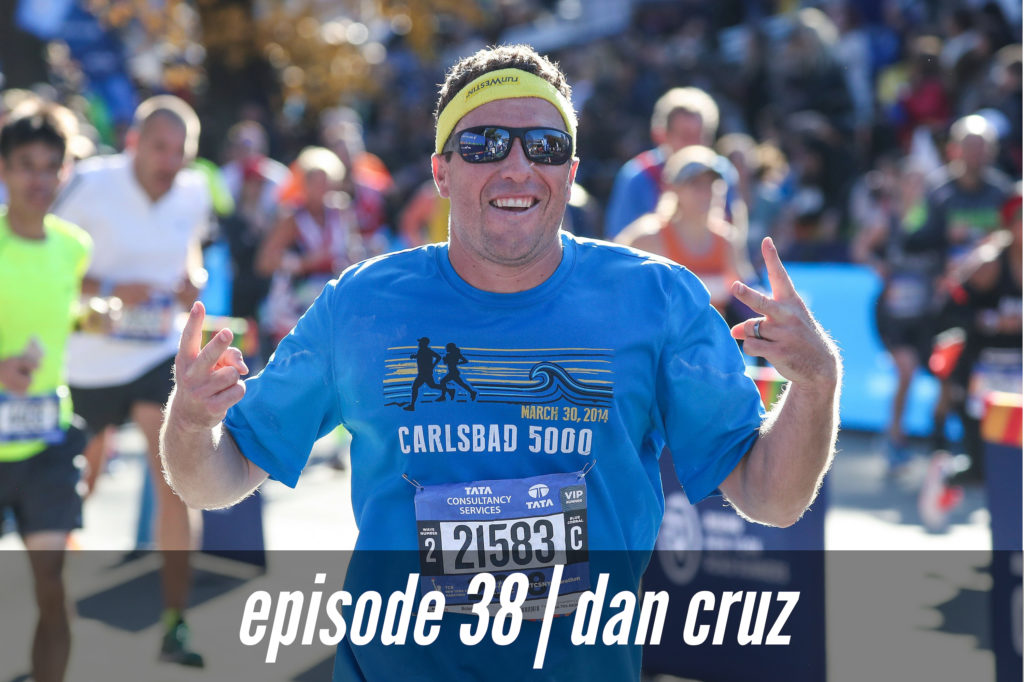 "I'm just excited about being a part of the sport—my love for running and the community continues to evolve. My boy, 4 years old, did the turkey trot yesterday and he loves to race. We go to the track at Point Loma Nazarene and [we're] raising that next generation of runners. There's a lot of up-and-coming athletes that I think are going to do some pretty incredible things and so again, I think it's on us, as the promoters of the sport, the media, journalists, the shoe companies, the industry people to all take a look in the mirror over the holidays here in 2018 and really decide, 'What do we want 2019 to look like and what do we want 2020 to look like?' We get to write our own history and change the game how we want it to be changed, so I think that cooperation and collaboration and storytelling is really what gets me excited about the future of running."
Subscribe, listen, and review on: Apple Podcasts | Stitcher | Overcast | Google Podcasts | Soundcloud
It was a lot of fun to sit down with my former colleague, Dan Cruz, for a freewheeling conversation that gets into the weeds of what's happening right now in different areas of the running world.
Cruz is the former vice president of communications and public relations for the Competitor Group, where he worked from 2008 through the end of 2017. During that time, he focused a lot of his energy and attention on the Rock 'n' Roll Marathon Series, attending hundreds of events around the world, directing all external communications as well as social media strategy, and sharing stories from the front of the field and the back of the pack alike.
We jumped all over the place over the course of this hour-long chat, talking about Cruz' career and how he got into the running industry despite having no prior experience in it—or even real interest in the sport—and the ways in which his passion for the sport grew and evolved over the course of 10 years, professionally as well as personally; the power of storytelling and why it's important for growing the sport's fanbase; the ever-changing landscape of the running media and where he sees it going; running culture, what that term means to him, and why it's important; why he thinks the sport needs more trash talking and rivalries to help make it more interesting to follow; and much, much more.
Related links, references, and resources:
— Follow Dan on Instagram and Twitter.
This episode is brought to you by Path Projects. This new U.S.-based running apparel company designs and manufactures technically advanced running shorts, base liners, shirts and headwear. Enter for a chance to win 1 of 10 PATH Projects hats at pathprojects.com/TMS. Get a bonus entry by following @pathprojects on Instagram.
PATH Projects builds all their shorts as a component system, which means the shorts have no built-in liner and are designed to pair with your choice of PATH Projects base liners, which drastically reduces chaffing, and adds comfort and personal flexibility to mix and match for different conditions. PATH uses premium materials in every garment they produce, dissecting every detail to improve your running experience. The shorts have 3 to 5 pockets to store your phone, gels, keys, and more. The best part? They won't bounce around.
The PATH Pyrenees long sleeve shirts have a contour paneled hood, viewing slot for your GPS watch and pull-out gloves. There are a lot of great details in the products, so many in fact that it'd be impossible to name all of them here. PATH's designs are minimalist without any big logos or bright colors—it's a timeless design that's nice enough to wear to the coffee shop after your workout. They're just clothes that fit and are super comfortable in a variety of situations. PATH Projects uses a consumer direct model—their apparel is only available at pathprojects.com—this eliminates the retail mark-up and offers you phenomenal products at a great price.
Music and editing for this episode of the morning shakeout podcast by John Summerford at BaresRecords.com