Podcast: Episode 55 with Ryan Hall
|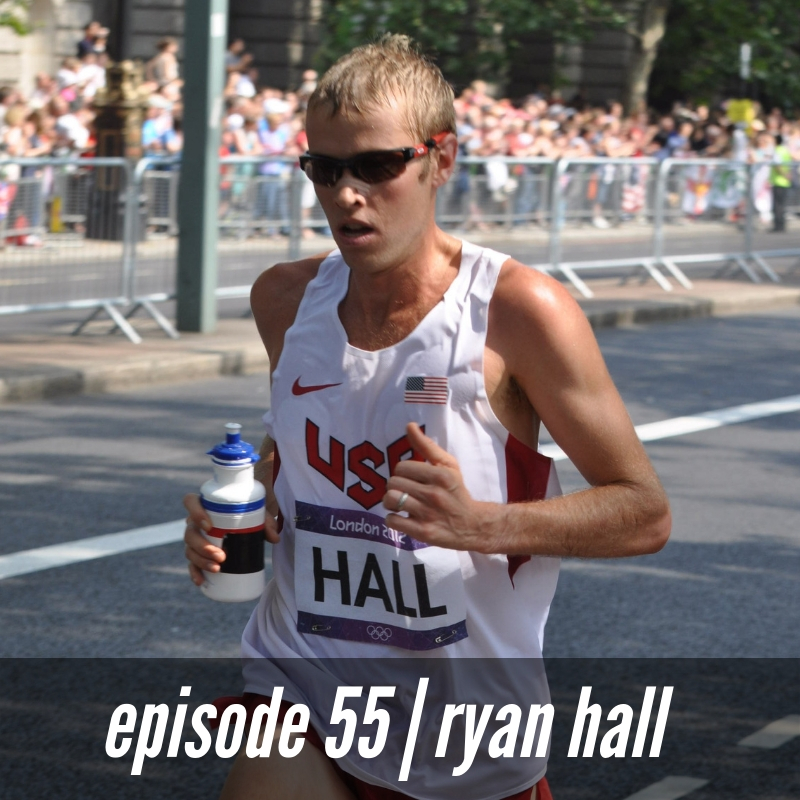 "I think what made me me was taking big risks and training really hard. And I think that's what allowed me to have such high highs but it's also why I had so many low lows as well. I think if I would have taken the edge off my training I probably would have just been a lot more steady in my results and not so up and down and all over the map. But also, in my mind, I don't know if I would have gotten to the same place—and for me, I would rather risk everything and see what's going to happen than play it safe and just get to mediocre for me."
Subscribe, listen, and review on: Apple Podcasts | Stitcher | Overcast | Google Podcasts | Soundcloud | Spotify
It was a treat to speak with Ryan Hall for this week's episode of the podcast. Hall, who retired from professional running in 2016, is still the fastest American male marathoner (2:04:58) and half marathoner (59:43) of all-time. He made two Olympic teams and finished in the top-5 at numerous World Marathon Majors, including a third-place finish in Boston in 2008.
We packed a lot into this 45-minute conversation, including his reflections on retirement and when he realized he couldn't push himself to the level he wanted to in running. We talked about battling extreme fatigue toward the end of his career and what he might do differently in retrospect, especially as a high school athlete who trained hard from a young age. There was some talk about nature vs. nature as it relates to athletic success, body image issues amongst male runners—including his own struggles—and where his own independent and competitive streaks come from. Finally, we got into his attraction to Ethiopia and what led to he and his wife Sara adopting four daughters from that country, his upcoming new book, Run The Mile You're In, what that phrase means to him exactly, and a lot more.
Related links, references, and resources:
— Follow Ryan on Twitter and Instagram.
— Check out he and his wife Sara's website.
— Pre-order Hall's new book, Run The Mile You're In, which comes out in April.
— "I can flip switches on and off and when I flip the switch off, it's off," Hall told me in an interview for Competitor in 2016. "I would be extremely, extremely surprised if I did come back and honestly it would take some type of supernatural voice from heaven."
— Hall Decides to Stop: "Up to this point, I always believed my best races were still ahead of me," Hall told The New York Times in 2016. "I've explored every issue to get back to the level I've been at, and my body is not responding. I realized that it was time to stop striving, to finally be satisfied and decide, 'Mission accomplished.'"
— How Ryan Hall Gained 40 Pounds of Muscle: "I've been small and weak my entire life—just, like, totally underdeveloped," Hall told Erin Strout for Runner's World. "I've always wondered what it would feel like to be big and strong."
This episode is brought to you by Rise.Run.Retreat. Rise.Run.Retreat is a four-day women's running retreat that takes place from May 16-19, 2019 in Vermont. It was founded on the idea that, when women come together through running they inspire and strengthen one another. Nestled in the green mountains, the picturesque village of Woodstock serves as the backdrop to all of Rise.Run.Retreat's activities. You'll explore country lanes, run through gentle, wooded trails, listen to inspiring guest speakers—this year's featured speaker is ultrarunner Sally McRae—and participate in workshops. Limited to just 16 women, the small-scale setting makes for a unique and impactful experience. Your registration includes all lodging, wholesome meals provided by the local farmer's market and an amazing swag bag. With only seven spots still available, registration is sure to fill-up before the April 7th deadline. For more information head to riserunretreat.com and use the code TMSPOD—that's all CAPS—and save $100 bucks off your registration fee. My thanks to the Rise Run Retreat for supporting the podcast.
Music and editing for this episode of the morning shakeout podcast by John Summerford at BaresRecords.com