Podcast: Episode 53 with Brad Stulberg
|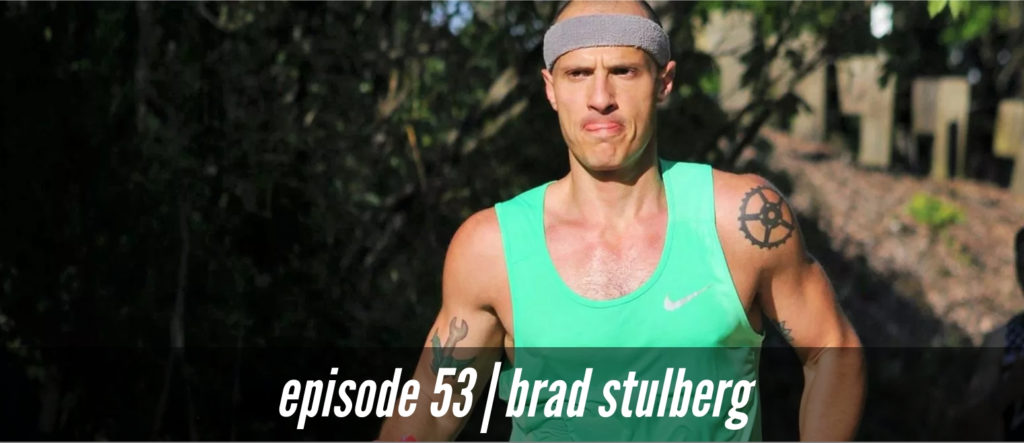 "Looking inside at the stuff that is scary and that you don't want to face, that's really hard, uncomfortable work. So in order to get to the other side, to truly feel compassionate for yourself and show yourself love, you have to come to terms with the ugly stuff. And that ugly stuff can be, 'I'm insecure,' that ugly stuff can be that, 'The only reason that I race is because I'm scared to die and this gives me something else to focus on,' it can be that 'I feel validated and my self-worth is from this,' like all kinds of stuff comes up and that's normal. We're humans, that's the thing. It doesn't mean that you're broken. And the more you can acknowledge that, be aware of it and be kind to it, the better chance you have of getting to the other side where suddenly you're just racing out of love."
Subscribe, listen, and review on: Apple Podcasts | Stitcher | Overcast | Google Podcasts | Soundcloud | Spotify
Excited to share my recent conversation with good friend and colleague, Brad Stulberg, on this week's episode of the podcast. Stulberg coaches executives, entrepreneurs, and athletes on their most pressing challenges and writes about health and the science of human performance as a columnist for Outside magazine. His work has also appeared in the New York Times, Wired, New York Magazine, Sports Illustrated, Runner's World and many other outlets.
The best-selling co-author author of Peak Performance, a book which explores the science and practice of world-class performance, Stulberg and his co-author Steve Magness are about to release their second book, The Passion Paradox, a guide to going all in, finding success, and discovering the benefits of an unbalanced life, which comes out on March 19 and can be pre-ordered here.
In this episode, Stulberg and I discuss performance, passion, addiction, health, well-being, purpose, burnout, the importance of practicing self-awareness and self-compassion, and a number of related topics that are pertinent to your athletic, personal, and professional pursuits alike. We also got into Stulberg's own path as a hard-charging consultant turned writer and coach, recovering Type-A triathlete, his own struggles with burnout and mental illness, and much, much, more.
Related links, references, and resources:
— Follow Brad on Twitter.
— Check out his website.
— Pre-order The Passion Paradox at this link before March 19 and take advantage of numerous bonuses—listed here—based on the number of copies you purchase.
— When a Stress Expert Battles Mental Illness: "Going through this experience has broadened my view of the human experience, and it's also changed my perspective on my job" Stulberg wrote for Outside about his own struggles with mental illness. "It's shown me that it's important to have practices and tools not only for minor setbacks and when everything is clicking—which has been the focus of my writing over the past five years—but also for when it's not."
— Four Things Top Performers Do Every Day: "The secret of world-class performers is not the daily routines that they develop," Stulberg writes, "it's that they stick to them."
— Maybe We All Need a Little Less Balance: "Maybe the good life is not about trying to achieve some sort of illusory balance," Stulberg wrote for The New York Times. "Instead, maybe it's about pursuing your interests fully, but with enough internal self-awareness to regularly evaluate what you're not pursuing as a result — and make changes if necessary. Living in this manner trumps balance any day."
This episode is brought to you by Rise.Run.Retreat. Rise.Run.Retreat is a four-day women's running retreat that takes place from May 16-19, 2019 in Vermont. It was founded on the idea that, when women come together through running they inspire and strengthen one another. Nestled in the green mountains, the picturesque village of Woodstock serves as the backdrop to all of Rise.Run.Retreat's activities. You'll explore country lanes, run through gentle, wooded trails, listen to inspiring guest speakers—this year's featured speaker is ultrarunner Sally McRae—and participate in workshops. Limited to just 16 women, the small-scale setting makes for a unique and impactful experience. Your registration includes all lodging, wholesome meals provided by the local farmer's market and an amazing swag bag. With only seven spots still available, registration is sure to fill-up before the April 7th deadline. For more information head to riserunretreat.com and use the code TMSPOD—that's all CAPS—and save $100 bucks off your registration fee. My thanks to the Rise Run Retreat for supporting the podcast.
Music and editing for this episode of the morning shakeout podcast by John Summerford at BaresRecords.com