Podcast: Episode 20 with Kellyn Taylor
|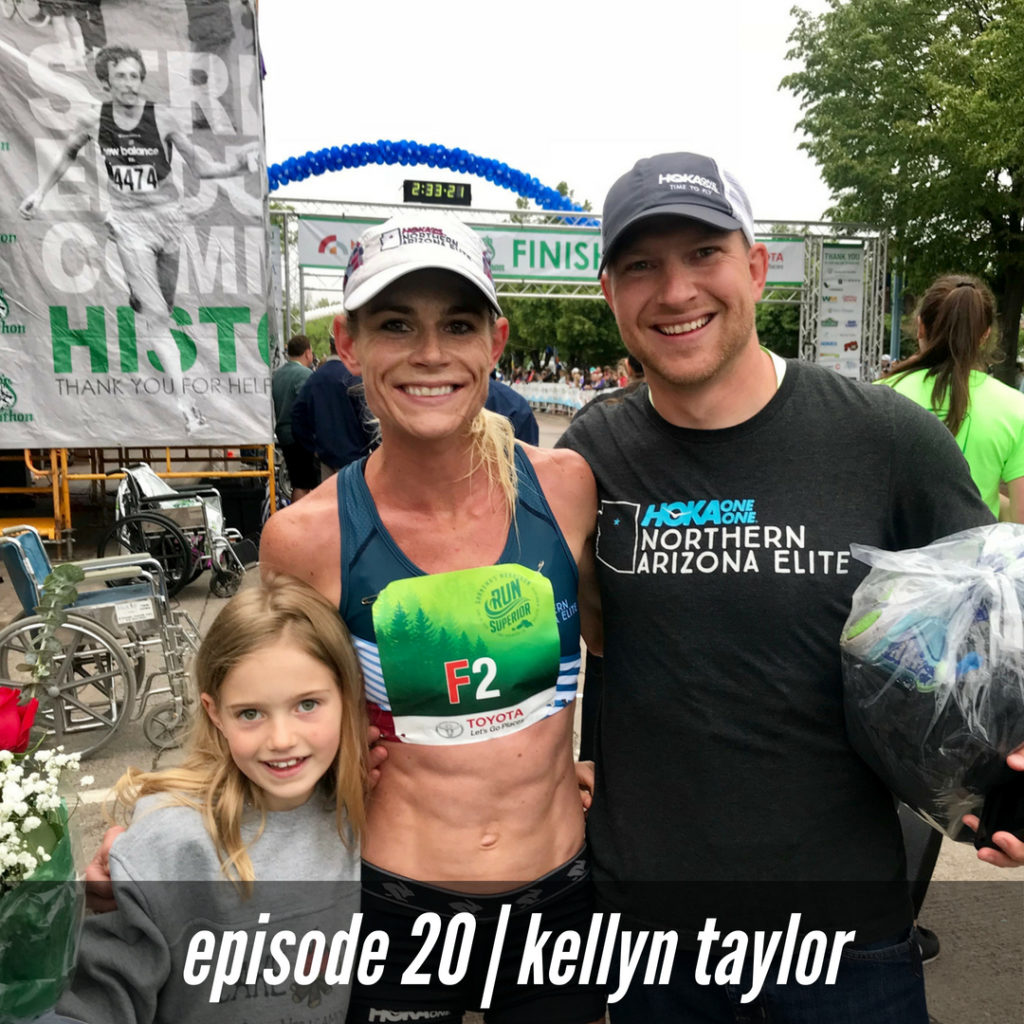 I've never been a person to think that just because someone has a better PR than me that they're going to beat me. I think that it's important to have belief in yourself and your capabilities. You have to believe that you're going to do something great before it actually happens.
Thrilled to have Kellyn Taylor join me on the podcast this week. The 31-year-old mom, who trains in Flagstaff, Ariz., as a member of coach Ben Rosario's HOKA Northern Arizona Elite squad, ran a 2:24:28 at Grandma's Marathon on June 16. It was a four-minute personal best, two-minute course record, and the seventh-fastest marathon ever run by an American woman.
Taylor's breakthrough came just 61 days after being forced to drop out of April's Boston Marathon with hypothermia, an experience she described as a disappointment and a blown opportunity. The Wichita State alum, who finished sixth in the marathon and fourth in the 10,000m at the 2016 U.S. Olympic Trials, was eighth at last fall's New York City Marathon (2:29:56). She's run personal bests in both the mile—4:33.4 indoors at Boston University in January—and marathon this year, and describes herself as a "jack of all trades."
Competitive running isn't Taylor's only pursuit, however; last fall, she successfully completed her coursework and training to be a firefighter, a topic we got into over the course of our conversation. "It's something that I can just see myself just doing and being happy with for the duration of my working life," she explained to me. "For me, one of my biggest goals in life is to never have a job that I don't love. I'm 31 years old, almost 32, and so far, so good. If I can have that carry on for the next 30-35 years, I think that would be a special thing."
We covered quite a bit of ground in this episode, including:
— Her breakthrough performance at Grandma's Marathon.
— What her husband said to her after she broke the tape.
— How much time she takes off after a marathon.
— Where she now sees herself on the map of U.S. women's marathoning.
— How she was feeling heading into the Boston Marathon (where she eventually dropped out due to hypothermia).
— Her thoughts on why many of the elite women struggled so much at Boston this year.
— When (and why) she decided to run Grandma's Marathon.
— What her training looked like in the two months between Boston and Grandma's.
— Where her self-confidence comes from and how she uses it to her advantage.
— Reflections on the 2016 U.S. Olympic Trials Marathon, where she finished sixth, and what she would do differently if she were in that situation again.
— How she's a different runner now versus when she joined NAZ Elite 4-1/2 years ago.
— The importance of a longterm coach-athlete relationship and training in a group environment.
— The appeal of firefighting and how she's been able to juggle that with her training as an elite-level athlete. "I think that I can do it all, don't get me wrong," she told me.
— The lessons she wants her daughter to take away from her athletic pursuits.
— A whole lot more.
I really enjoyed this conversation with Kellyn and letting her share some of the secrets behind her recent success. If you're looking for some insight on setting yourself up for a breakthrough or learning how to bounce back from a bad race, this episode is for you.
Subscribe, listen, and review on: iTunes | Stitcher | Overcast | Google Play | Soundcloud
Related links, references, and resources:
— Follow Kellyn on Instagram and Twitter.
— Check out her bio on NAZ Elite's website.
— Still looking for that big breakthrough? Kellyn has some advice for you. "I'm very used to workouts going well and thinking this is the race it's going to happen," she told Erin Strout of Runner's World. "But if you're a runner, you need to have faith in the process. It's not the six-week training segment before Grandma's that led to the PR, it's a cumulative three years of training and having faith it's going to come together one time or another."
— Watch Kellyn (and teammate Scott Smith) knock out 14 miles at marathon effort while training for this year's Boston Marathon.
— The Fire Is Lit. "Just because people aren't doing it now — working demanding jobs and running — doesn't mean that it can't be done," Taylor told Taylor Dutch of FloTrack about juggling being a mom with being a professional runner and training to be a firefighter. "If I'm someone who has to help lead the way, then so be it."
— "Top three was the goal. Fourth is not top three," she said after finishing 4th in the 10,000m at the 2016 Olympic Trials. "I am disappointed. I don't know if there is anything different that I could have done."
— Taylor Ready To Handle The Heat. "I told Ben [Rosario, her coach] that I felt bad feeling as confident as I do," Taylor admitted to me ahead of the 2016 U.S. Olympic Trials Marathon. "I have no doubts that if I hit a good day that I can run with anyone else out there. The workouts I did leading up to the trials were good. I am both physically and mentally ready."
— "I kind of like being a jack of all trades but I do want something that I can be great at and the marathon has given me more promise in one race than any of the other distances have in my whole career," Taylor told me in 2015 after she debuted in 2:28 at the Houston Marathon. "I still refuse to call myself a marathoner solely because I love track and I have actually improved every year. I feel confident that I will continue to develop in track and that will only help to make me a better marathoner."
This episode is brought to you by the Anthem Richmond Marathon, which takes place on November 10. From phenomenal course support, to idyllic fall weather and supportive spectators, when you run Richmond, you get it all. Plus the course is mostly flat, it's a top-20 Boston qualifier, and ends with a beautiful, downhill riverfront finish. Dubbed America's Friendliest Marathon by Runner's World, you've got every reason to start planning your trip to Richmond today. Use the discount code 'morningshakeout'—all one word, all lowercase—when you register to save $10 on your registration today. The price goes up on July 1, so don't wait. Best part: I'll be there running the Markel Richmond Half Marathon and hosting all kinds of other fun events throughout the weekend, including an actual morning shakeout run on Friday morning. I'd love to see there!
Want more of the morning shakeout podcast? Check out past episodes here and here.
This episode of the morning shakeout podcast was edited by John Isaac at BaresRecords.com