Podcast: Episode 102 with Aliphine Tuliamuk
|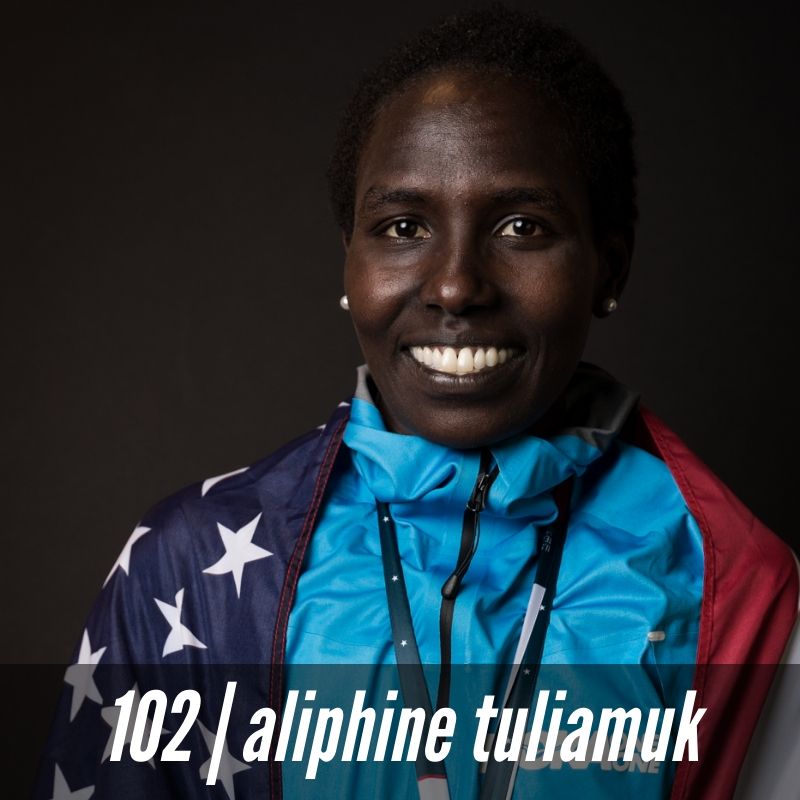 "The day that Kobe Bryant passed away, something snapped in me. I realized how short life can be—and I never met him, and I didn't even know him much, but the things that people were writing about him, there was just something that made me snap out of it. I realized that I hadn't seen my family for over 3 years. Why had I not seen them? I had not seen them because I was making excuses that I was working very hard to make the Olympic team, but I don't think I had my mind and heart in it. In that moment, I realized that I was wasting time and making excuses and not really taking advantage of the opportunity that I had, and in that moment, I decided that I was going to fully commit to making the team. So that was seriously the day that I recommitted myself to making the team and believing that I was going to make it."
Subscribe, listen, and review on: Apple Podcasts | Stitcher | Overcast | Google Podcasts | Soundcloud | Spotify
Aliphine Tuliamuk recently won the U.S. Olympic Trials Marathon in Atlanta to qualify for her first Olympic team. She ran away from Molly Seidel in the last two miles of the race to break the tape in 2:27:23 and fulfill her American dream.
The 30-year-old is a native of Kenya and became a U.S. citizen in 2016. She lives in Flagstaff, Arizona and trains with HOKA Northern Arizona Elite under coach Ben Rosario. Aliphine is a graduate of Wichita State University, where she was 14-time All-American and earned a degree in public health. She's a now a ten-time national champion as well as a two-time guest on this podcast, initially appearing back on Episode 15, which you should go listen to if you missed it the first time around.
This conversation was mostly focused on the Olympic Trials, how the battle actually played out versus how Aliphine thought it would go, and what life has been like for her in the days since winning the race. We talked about Aliphine's Olympic dream and developing a renewed sense of appreciation for the opportunities she's been presented in life. Aliphine told me about the impact that Kobe Bryant's death had on her mindset heading into the Olympic Trials, why she was uncharacteristically nervous in the days before the race, what the final stretch of the race was like for her when she realized she was going to make the team, how she will use her elevated platform to inspire more people moving forward, and a lot more.
Aliphine Tuliamuk: Instagram | Twitter
the morning shakeout: Instagram | Twitter
Mario Fraioli: Instagram | Twitter | Strava
This episode is brought to you by: 
New Balance: Use the promo code SHAKEOUT when you check out at newbalance.com to save 20% off your purchase of $100 or more. *Some restrictions do apply but this code should cover you for most products on their website.
AJC Peachtree Road Race: July 4 is on a Saturday, which means you can't miss the AJC Peachtree Road Race in Atlanta, Georgia! It's the largest 10K in the world and the largest road race in the country. Lottery registration opens on March 15 so mark your calendars today. With 60,000 runners and walkers, 200,000 spectators, costumes, music, and the coveted finisher shirt, this is one-bucket list race you can't miss. More information is available at ajc.com/peachtree.
Music and editing for this episode of the morning shakeout podcast by John Summerford at BaresRecords.com