Staying The Course and Coming Full Circle at CIM
|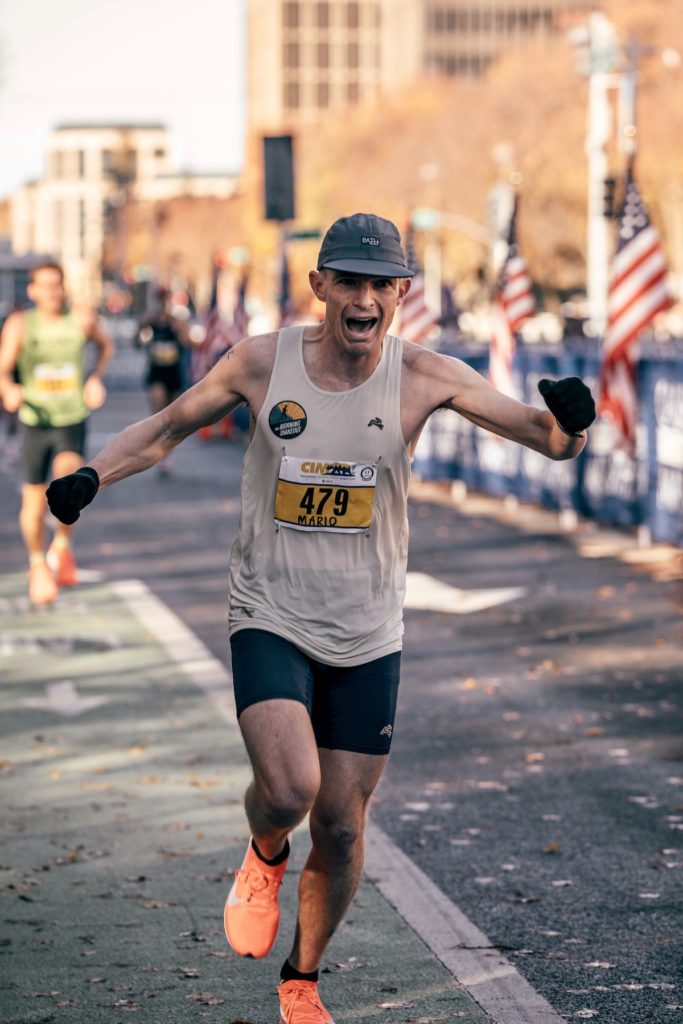 At the end of last year I made a commitment to go all-in on the Boston Marathon and CIM in 2018. I signed up for the latter the day after spectating at the 2017 edition, inspired by what I saw transpiring on the course around me, and committed right then and there to seeing if I could finally get an 11-year-old personal best off my back.
It hasn't been an easy road these past 12 months but I'm glad I stayed the course. Crossing the line on Sunday in 2:27:33 at the age of 36 in my tenth marathon was a thrilling, validating, and straight-up special moment for me. I've been at this crazy sport for 21 years and haven't broken a personal best at any distance since 2007. Motivation has wavered in and out over the past several years, my body can't handle the amount of work it once did, and other things have taken priority in my life. But, as I wrote almost a year ago, I was committed to "eliminating excuses, competing with a sense of renewed purpose, [and] making my own training and racing a priority for the first time in a long time." It's exciting to look back at that decision and realize that this road has come full circle. Thank you to those of you reading this who have traveled it with me. I'm humbled and incredibly grateful for your continued interest, support, and encouragement. It means a lot.
The race itself went by in a blur, thousands of runners around me chasing big goals of their own, including my wife, 10 of my own athletes, and numerous friends from around the country. Before the gun went off, I reminded myself one last time how unique of an opportunity this was and committed to making the most of it. I settled in with the women's leaders about a mile in and ran with Emma Bates until she started to pull away around 10K. Holding my pace steady in the mid-5:30s—here are my mile-by-mile splits on Strava for you number crunchers out there—I hit the halfway mark in 1:13:40, which was 20-30 seconds ahead of schedule. The effort felt right, however, so I just rolled with it and eventually reeled Emma back in around Mile 17. At that point, I kept my foot on the gas and runners seemed to start coming back to me in droves, which gave me confidence even though my legs were screaming at me louder and louder with each passing mile. Approaching 5 miles to go, I did some quick math and realized that barring a major blow-up I'd break 2:30, so I stopped looking at the watch and just focused on covering ground as smoothly and efficiently as possible. I passed the 40K timing mat a few ticks under 2:20 and knew that a PB was in reach if I held on. Rounding the turn into the final straight, I saw 2:27 and change on the clock and almost couldn't believe it. I found one last gear in the closing meters and started losing my sh*t as I approached the finish line.
Sunday was a special day in Sacramento. Two new national champions—Brogan Austin (check out his Strava stats if you're so inclined) and Emma Bates (making her debut, and running to raise awareness and money for Camp Fire relief)—were crowned and a number of rising stars shined bright on both sides. Ninety-nine (99!) women ran under 2:45 and 53 men broke 2:19 to qualify for the 2020 U.S. Olympic Trials. Countless others qualified for Boston, set personal bests, or crossed their first finish line. It wasn't all fast times and joy-filled emotion, however; putting my coach hat on after my own race was over, I shared in the pain of near misses and the devastation of days gone bad as much as I did the elation of stellar performances. I saw tears of joy and sobs of disappointment from friends and strangers alike. The marathon has a way of bringing it all out at the finish line. That said, the overall excitement leading up to—and on—the day was palpable, the fields deep (I finished 129th!), the organization flawless, the conditions pretty much perfect. Kudos to the Sacramento Running Association for putting on a top-notch event in every regard, and for every runner, as they do year in and year out. It was a race I'll forever be proud to have been a part of and one I won't forget anytime soon.