Podcast: Episode 98 with Mike Fanelli
|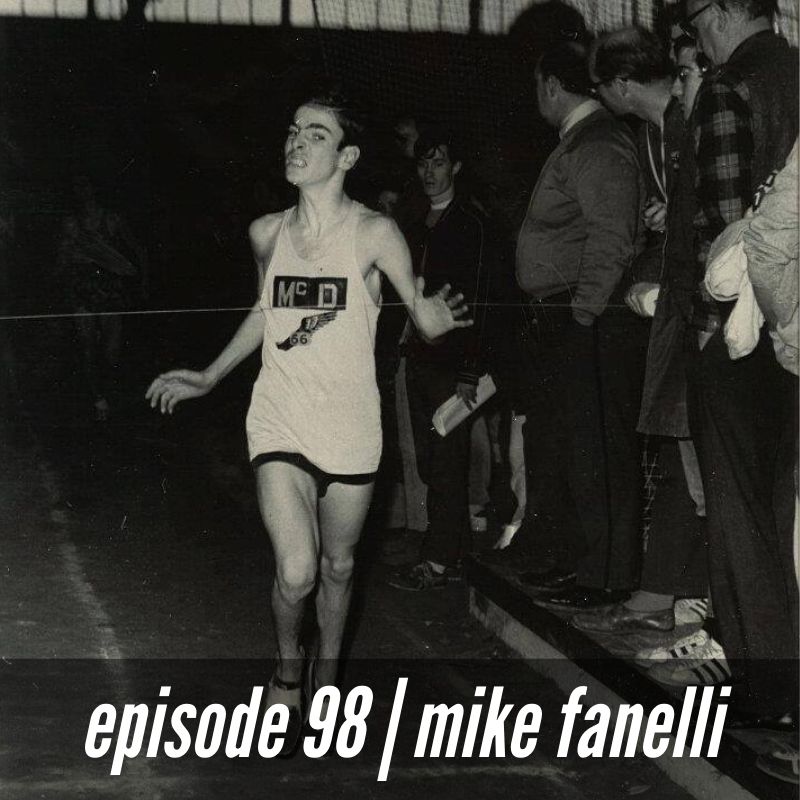 "As long as I can come across the finish line—whatever chosen distance, and I've raced them all—knowing that I couldn't possibly have run one iota faster, that to me, that's satisfying. I like being in that position, I like being under the pressure, I like finding myself in a state of uncomfortability. I like being in that space and I like really engaging in the self-talk, so for me, that's my drug…Your potential is not comfortable. I dig exploring that. I'm my own little guinea pig."
Subscribe, listen, and review on: Apple Podcasts | Stitcher | Overcast | Google Podcasts | Soundcloud | Spotify
Mike Fanelli has worn a lot of different hats in the sport of track and field over the past 50 years: he's a solid athlete with a 2:25 marathon personal best and over 110,000 lifetime miles on his legs, he's a great coach, having guided 14 U.S. Olympic Trials qualifiers, one national champion, and three times he's served as head coach of a U.S. national team. He's worked in marketing at major shoe companies, he's represented athletes as an agent, he's served as an elite athlete coordinator for different races, and he's even been a color commentator for a number of events. But most impressive—to me, at least—is that Mike is one of the biggest track nerds and historians the sport has ever known. He calls himself a "cultural storyteller of the sport" and every day on his Facebook page he posts a snippet of track and field related history or trivia that he dug up—analog style from the massive archive in his garage—that will blow your mind.
This was conversation about the sport the two of us both love so much, how "juvenile delinquency" got Mike to start running as a young kid, competition as a means of exploring your potential, the importance of putting yourself in uncomfortable situations, and a lot more.
Mike Fanelli: Website | Facebook
the morning shakeout: Instagram | Twitter
Mario Fraioli: Instagram | Twitter | Strava
This episode is brought to you by: 
New Balance: Check out the new Fresh Foam 1080 v10, one of the workhorses in my current stable of running shoes. Its bootie upper and ultra heel design help it fit like a glove and the new Fresh Foam X midsole provides the right blend of cushioning and responsiveness to make my daily miles and long runs comfortable and enjoyable. This shoe provides plenty of protection without feeling bulky or compromising on flexibility and performance. Learn more about it here and add a pair to your own stable today.
Final Surge: Final Surge's coaching tools have made planning and delivering training to the athletes I coach easy and seamless—communication is completely streamlined into one easy-to-navigate portal and it's made my workflow far more efficient and effective. Go to finalsurge.com/morningshakeout to purchase a training plan written by yours truly, to find more information about coaching packages, or to check out a 14-day coaching trial. Coaches: Use the code MORNINGSHAKEOUT when you check out to save 10% on your first purchase of a coaching account.
Music and editing for this episode of the morning shakeout podcast by John Summerford at BaresRecords.com