Podcast: Episode 97 with CJ Albertson
|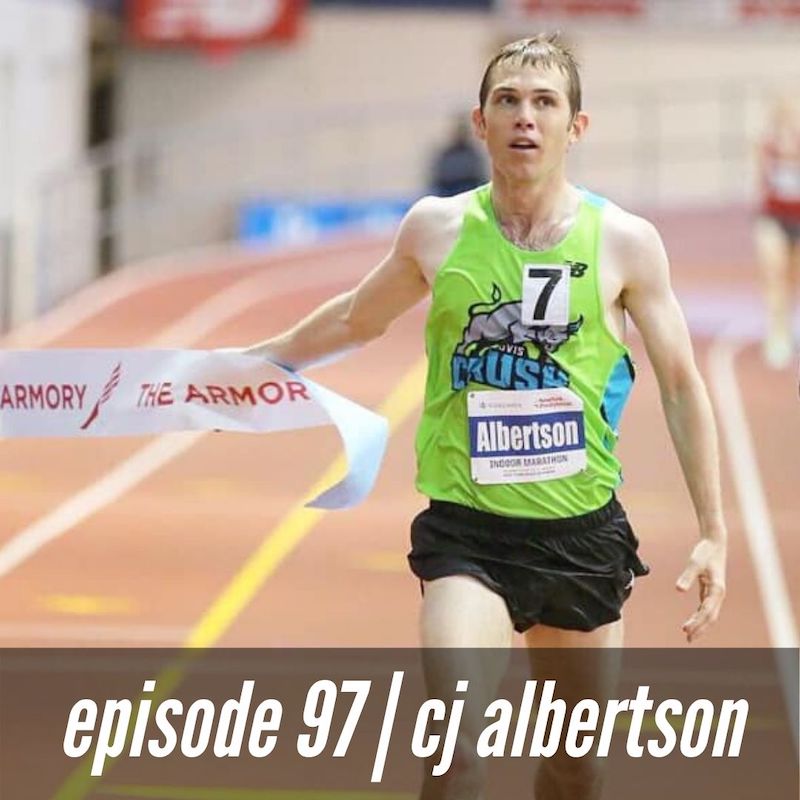 "Obviously I'd love to be a world-class runner—like I'd love it, that'd be awesome—but I know there's so much more in my life and so many more things I can do and my life isn't just running. Obviously I knew I missed running, I will try to admit that, but I really did feel content. But I still had this feeling and I'm like, 'Well, it's over now. It's officially over. I'm done.' I'm running like 40 miles a week, just kind of having fun, I'm not competing. But it never really went away and then I don't really know, I really just fell into the marathon."
Subscribe, listen, and review on: Apple Podcasts | Stitcher | Overcast | Google Podcasts | Soundcloud | Spotify
CJ Albertson is one of the most intriguing athletes heading into the Olympic Trials Marathon at the end of February. The 26-year-old ran a personal best of 2:13:40 at CIM last December to finish a close second behind Kenyan Elisha Barno. Last April, he  ran 2:17:59 to break the indoor marathon world record and he's broken 2:20 in each of the five marathons he's competed in, most of them lower key efforts near where he lives in Clovis, California.
I first learned about CJ from a reader of the morning shakeout newsletter, who told me to check out some of the runs he was putting up on Strava, like multiple solo 30-ish mile training runs averaging 5:15 to 5:20 per mile. I started following CJ in his buildup to CIM last December and was impressed by his penchant for hard work and ability to seemingly recover very quickly between big efforts.
In this conversation, we talked about his unorthodox training methods and how, as a collegiate coach at Clovis Community College, he's careful not to let his own training influence that of his athletes; he told me about his independent streak and tendency to push things to the extreme; we got into the race that sparked his return to competitive running after an up-and-down collegiate career at Arizona State; we discussed self-experimentation and some of his crazy things he's tried to help him recover faster; he also told me about his wife, Chelsey, a fellow Olympic Trials Marathon qualifier and how she's his secret weapon on race day, and a lot more.
CJ Albertson: Website | Instagram | Twitter | Strava
the morning shakeout: Instagram | Twitter
Mario Fraioli: Instagram | Twitter | Strava
This episode is brought to you by: 
Final Surge: Final Surge's coaching tools have made planning and delivering training to the athletes I coach easy and seamless—communication is completely streamlined into one easy-to-navigate portal and it's made my workflow far more efficient and effective. Go to finalsurge.com/morningshakeout to purchase a training plan written by yours truly, to find more information about coaching packages, or to check out a 14-day coaching trial. Coaches: Use the code MORNINGSHAKEOUT when you check out to save 10% on your first purchase of a coaching account.
Music and editing for this episode of the morning shakeout podcast by John Summerford at BaresRecords.com