Podcast: Episode 96 with Greg McMillan
|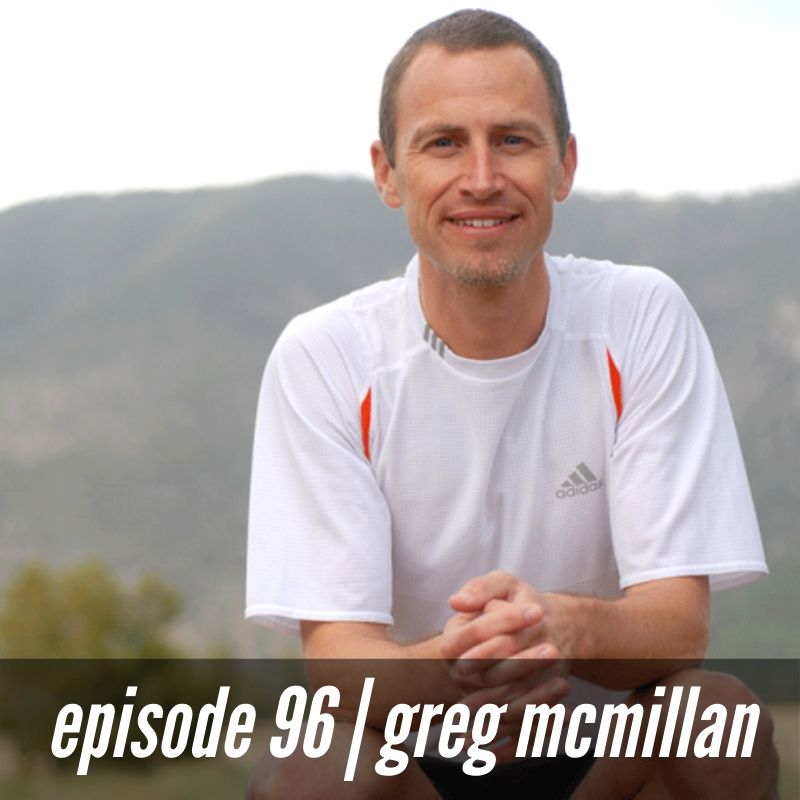 "It's difficult for runners to communicate, 'Why do you do this?'…'Do you want to be skinny?' 'Do you want to be healthy?' It's like, well, that's nice but ultimately it was challenging myself, working hard toward a goal, being able to do something I couldn't do before. I really liked that. I was telling somebody the other day [that] I'm still chasing that high school [runner]. I still chase high school cross country. I still love that moment where running, it comes down to a tunnel and it's just me versus me and that dialogue in my head to try to get the most out of myself. I still love that—that's why I keep running today."
Subscribe, listen, and review on: Apple Podcasts | Stitcher | Overcast | Google Podcasts | Soundcloud | Spotify
Greg McMillan is one of the most recognizable running coaches in the game today. He's the founder and head coach of McMillan Running, one of the world's first and most respected online coaching companies. Greg started sending workouts to his athletes by way of fax machine way back when, which tells you how long he's been in the business. He has a Masters degree in Exercise Physiology and has worked with thousands of runners from beginners to Olympians and every ability level in between. Greg has coached 12 National Champions, thousands of Boston Qualifiers, and has had a number of athletes compete at global championships over the years. The creator of the popular McMillan Running Calculator, He has written numerous articles for different publications, he was the managing editor of Peak Running Performance for three years, and is also the author of "You, Only Faster" — with a new book due out this spring.
Aside from his coaching accolades, Greg is also an accomplished runner in his own right: He was a state champion in high school and in 2009 he won the USATF Masters Trail Marathon National Championship.
This was a conversation about coaching, Greg's influences over the years, the path he took to get where he is today, creating the McMillan Calculator, the importance of exposing yourself to different training philosophies, what it's like working with a wide range of athletes, including his own professional group that was based in Flagstaff from 2007-2013, and much more.
Greg McMillan: Website | Instagram | Twitter | Strava | YouTube
the morning shakeout: Instagram | Twitter
Mario Fraioli: Instagram | Twitter | Strava
This episode is brought to you by: 
XOSKIN: XOSKIN is the only seamless athletic apparel brand in the United States and solves the problems most endurance athletes deal with, like chafing, blisters, hot spots, and odor. XOSkin stands behind every product they make with a 30-day money back guarantee. Check 'em out today at XOskin.us and use the code "Mario" when you check out to save 20% on any order.
Final Surge: Final Surge's coaching tools have made planning and delivering training to the athletes I coach easy and seamless—communication is completely streamlined into one easy-to-navigate portal and it's made my workflow far more efficient and effective. Go to finalsurge.com/morningshakeout to purchase a training plan written by yours truly, to find more information about coaching packages, or to check out a 14-day coaching trial. Coaches: Use the code MORNINGSHAKEOUT when you check out to save 10% on your first purchase of a coaching account.
Music and editing for this episode of the morning shakeout podcast by John Summerford at BaresRecords.com