Podcast: Episode 88 with Coree Woltering
|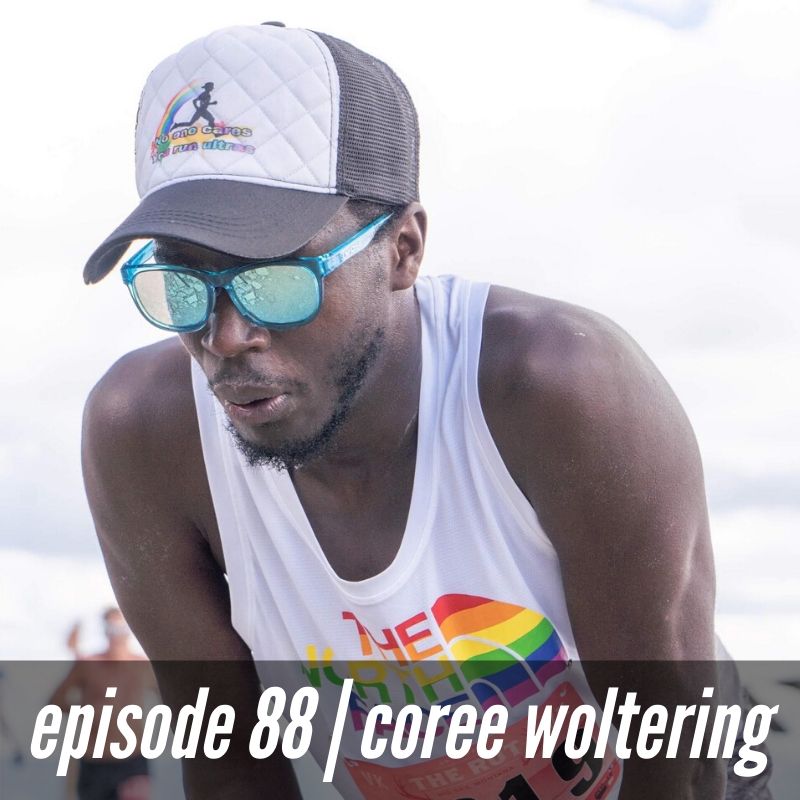 "So, the cool thing is a lot of my friends in Boulder were trail runners, so they're like, 'Hey, maybe you should just try trail running. You don't even have to be fast at it—you could just try it.' And I was like, 'I guess I could but if I'm going to do it, I want to do it well.' And they're like, 'Yeah, yeah, you'll see, it's going to be different.' I mean, the first trail run I ever went on I was like, 'This is really awesome. You get to be in nature. This is awesome. I love this.' And then I did start thinking, 'OK, so how do I get better at this?' I think that's just kind of part of my personality, I guess."
Subscribe, listen, and review on: Apple Podcasts | Stitcher | Overcast | Google Podcasts | Soundcloud | Spotify
I enjoyed talking to Coree Woltering for this week's episode of the podcast. Coree is professional trail and ultrarunner for The North Face. He's based in his hometown of Ottawa, Illinois and loves to race at a variety of different distances and disciplines.
The 29-year-old has run 5 hours and 30 minutes for 50 miles and he's eyeing a Golden Ticket in the spring of 2020 with the hopes of getting back to the Western States Endurance Run next summer.
We covered a lot of ground in this exchange, from how Coree went from being a fast 400 and 800m runner in HS and college to qualifying for the half Ironman world championships as an amateur triathlete, and eventually transitioning to becoming a competitive trail and ultrarunner; what it's like being a gay black man in ultrarunning and endurance sports and how he's advocating for more diversity, why ultra-distance races in the midwest don't get the credit they deserve, how he got into coaching and who has influenced his philosophy along the way, and a lot more.
Related links, references, and resources:
— Follow Coree on Twitter, Instagram, and Strava.
— Check out his website along with his bio on The North Face's website.
— "When I'm at the start line of the race, there are people staring at me," Woltering told Trail Runner last year. "I don't think it's because I'm black though—I think it's because I'm wearing a speedo and a crop top. But the trail-running community is accepting–there are all kinds of trail runners."
— Speedo in Squaw: Woltering was a guest on Ginger Runner Live in 2018 and gave some background on his introduction to ultrarunning, prepping for his first go at Western States, training for mountain races while living in Illinois, and a lot more.
— "Usually there are not many people of color on the start line of ultras and trail races," Woltering told RunSpirited in an interview. "It's a smaller race with about 125 people, so that was a little surprising. Huh, I'm not the only black person here this time. I don't want to say that they don't feel welcome because that has never been my experience but it could just be a lot of the bigger trail races and ultras are out west or places on the East Coast where there are not a large group of minorities. Or, if you are talking about mountain races, there really aren't people of color who live in those areas."
This episode is brought to you by Tracksmith. Tracksmith is a Boston-based running brand, led by a group of runners who are dedicated to building classically stylish, cutting edge running apparel for real world athletes. Whether you're training through the depths of winter, or you need a special race day outfit to help power a PR, Tracksmith has you covered. I personally own a ton of Tracksmith gear and train and race in it all the time, including earlier this month at the New York City Marathon. This Black Friday, November 29, through Cyber Monday, that's December 2, you can reap the rewards at Tracksmith.com — spend $125 and you'll receive 10% off your next order, spend $250 to receive 20%, and spend $500 to get 30% off. Learn more at Tracksmith.com/Holiday and follow them on Instagram @TracksmithRunning and shop at Tracksmith.com.
Music and editing for this episode of the morning shakeout podcast by John Summerford at BaresRecords.com