Podcast: Episode 87 with Lindsay Crouse
|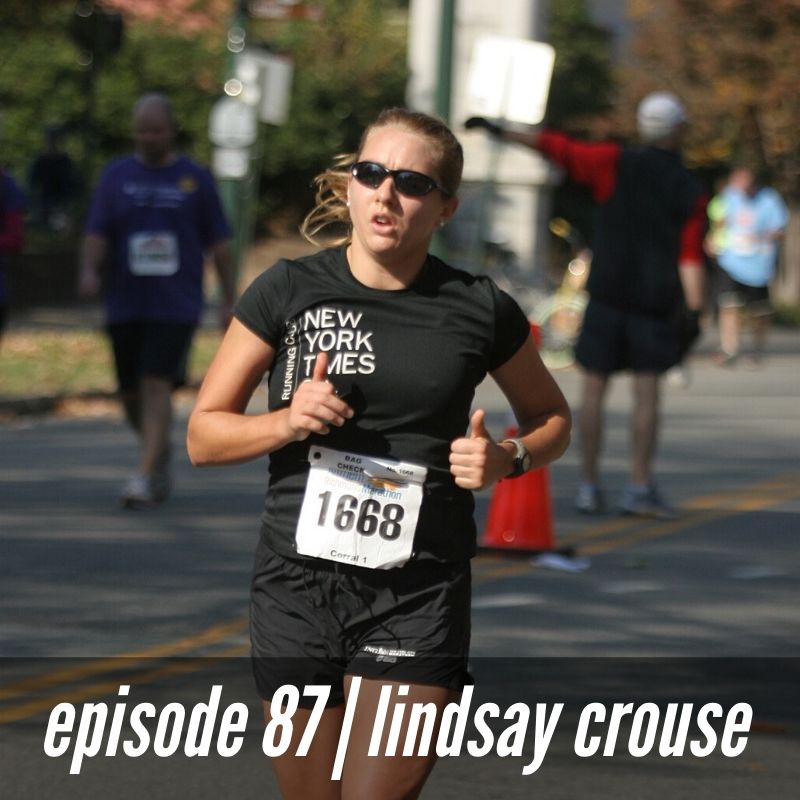 "One thing that has been really amazing about reporting on this industry is that I actually am really inspired by it and get really motivated by it and I'm just so motivated by all the amazing women that are balancing running with jobs and also families. I think every single woman that's qualifying for the Olympic Marathon Trials right now, and all the women behind them too—sometimes it just comes down to talent, it's not about work, and I totally respect that—what the women are doing right now specifically is amazing and I think I've kind of been like, 'If they can do this, I can too.' It's very tiring and I can always stop. I think that's important to remember and that's what I tell myself when I start to get really tired, 'I don't have to do this, remember why I'm doing it, it's because I want to.' And I think that's enough to keep me going."
Subscribe, listen, and review on: Apple Podcasts | Stitcher | Overcast | Google Podcasts | Soundcloud | Spotify
I had a great conversation with Lindsay Crouse, who is a producer, editor, and writer at The New York Times—and a pretty damn fast marathoner in her own right—for this week's episode of the podcast. If you've been paying any attention to running news the past couple years, or just big headlines in general, you are definitely familiar with Lindsay's work. Some of her most popular pieces include The Shalane Effect, which she wrote about Shalane Flanagan and the elevating effect she's had on other women; she broke the piece about how Nike does not guarantee female athletes a salary during their pregnancies or immediately after giving birth; she produced the piece in which Allyson Felix told her story around Nike and pregnancy; and, most recently, she was responsible for the Mary Cain op-ed speaking out about the abuse she suffered under her former coach, Alberto Salazar.
We recorded this episode a couple weeks ago before the New York City Marathon, so the Mary Cain piece hadn't dropped yet, but we got into plenty of other good stuff, including Lindsay's own trajectory as both a writer and runner, the biggest takeaways from her reporting that she has applied to her own training, how her experience as a competitive athlete informs her perspective as a journalist, and a lot more.
Related links, references, and resources:
— Follow Lindsay on Twitter, Instagram, and Strava.
— Check out all her work on The New York Times website.
— The Shalane Effect: "We usually see competitive women, particularly athletically excellent women, only in one of two ways: either competing to defeat one another, or all about team over self," Crouse writes. "But that's a flawed, limiting paradigm. The Shalane Effect dismantles it: She is extraordinarily competitive, but not petty; team-oriented, but not deferential. Elevating other women is actually an act of self-interest: It's not so lonely at the top if you bring others along."
— I Was The Fastest Girl in America, Until I Joined Nike: "It's easier to focus on bright new stars, while forgetting about those who faded away," Crouse writes. "We fetishize the rising athletes, but we don't protect them. And if they fail to pull off what we expect them to, we abandon them. Mary Cain is 23, and her story certainly isn't over. By speaking out, she's making sure of that."
— Why Men Quit and Women Don't: "I'm often tempted to drop out of races, but I never actually have," Crouse writes. "Pushing through affords plenty of time to question the wisdom of prolonging what is sometimes extreme pain. I'm always relieved when I finish — but I never really consider why I bother. This marathon made me wonder if gender might play a role."
This episode is brought to you by PATH Projects. PATH makes running shorts with 3 or 4 zip pockets so you can carry your phone, keys, gels, ID—whatever you need!—without things bouncing around when you run. These shorts are great for both road running and trail running, from 5K to 240 miles and beyond. The Primeflex material is lightweight, quick dry, and breathable. They're super comfortable and allow you to move freely. PATH Projects also offers base liners, shirts and headwear. All the gear is only available at PATHprojects.com and ships to customers around the world. Right now PATH is giving away three $75 gift cards to morning shakeout listeners—that's you—and can enter for a chance to win one of them at PATHprojects.com/mario.

Music and editing for this episode of the morning shakeout podcast by John Summerford at BaresRecords.com