Podcast: Episode 84 with Corrine Malcolm
|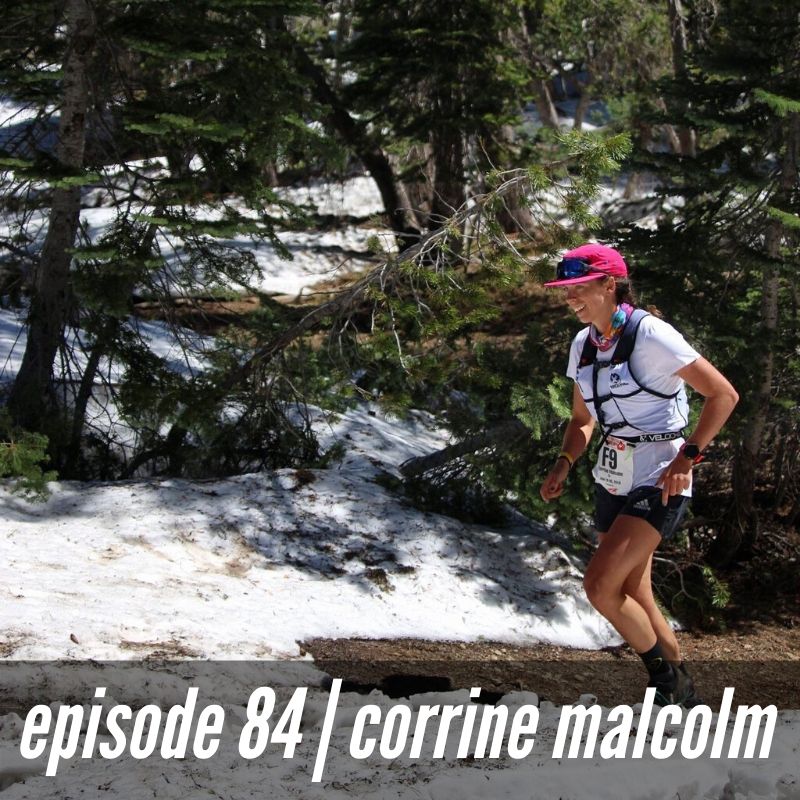 "If you go into the race knowing it's going to hurt and you're OK with it, you're stronger than most of the people out there—and I just latched onto that: this idea that if I knew it was going to hurt and I was ready for it and I could revel in it and embrace it and be like 'OK, lets do this' type of deal with the pain or with the discomfort, that made racing so much easier, and that makes a lot of things in life so much easier."
Subscribe, listen, and review on: Apple Podcasts | Stitcher | Overcast | Google Podcasts | Soundcloud | Spotify
I had an awesome conversation with Corrine Malcolm for this week's episode of the podcast. Malcolm is a San Francisco-based trail and ultra runner for adidas TERREX and she's also been coaching athletes for CTS since 2016.
A self-confessed science nerd with a degree in Health and Human Performance, the 29-year-old Malcolm was a collegiate cross-country skier and then raced on the U.S. national biathlon team before finding her way into trail and ultrarunning in her early 20s. She's finished in the top-10 at the last two Western States Endurance Runs, including a tenth-place finish at this year's race. Malcolm was also fifth at last year's TDS in Chamonix, France and has shown some pretty damn good range in ultra-distance races over the past few years.
We covered a lot of good ground in this one: what she's planning on doing the rest of the year since her fall goal race was cancelled, why she's not planning to go back to Western States next year even though she has a guaranteed entry, developing a healthier relationship with exercise and overtraining and how that's informed her perspective as a coach, embracing the suck and how she got good at it, and a lot more.
Related links, references, and resources:
— Follow Corrine on Instagram, Twitter, and Strava.
— Check out her website along with her coaching bio.
— "If you spend all your energy focused on what everyone else is doing you forget to focus on what you need as an individual," Malcolm told Gabi Maudiere in an interview. "It's good to remind yourself that you know what your body needs and that you have to do training your way."
— Corrine Malcolm, the Multitasker: "I have no idea why my coaches put up with me," Malcolm told Alex Kurt in a 2012 interview for Trail Runner. "But something clicked when I was 17 or so, and I fell in love with skiing. And instead of skiing to stay in shape for running, all of a sudden, I was running as cross training for skiing."
— "I approach each race as a new opportunity and experience and know that most lows during the race are momentary and I get to choose how I come out the other side," Malcolm said in an interview with RunSpirited. "I'm not going to say that I enjoy every single moment, in the moment, of an ultra race, but I go into each race with the knowledge that it will likely get hard at some point. I think embracing that fact before the gun goes off mentally prepares me to handle whatever might happen during the race."
This episode is brought to you by the 37th annual Kaiser Permanente San Francisco Half Marathon, 10K & 5K. Run through San Francisco's Golden Gate Park, and along the Pacific Ocean on these fast and scenic courses. This event is presented by Pamakid Runners and supports local San Francisco Bay Area community organizations and nonprofits with donations of more than $75,000 per year. Mark your calendars—race day is February 2, 2020. Register today at getfitkpsf.com, and use code SHAKEOUT5 to save $5 on registration if you register before November 30, 2019.
Music and editing for this episode of the morning shakeout podcast by John Summerford at BaresRecords.com