Podcast: Episode 81 with Steve Jones
|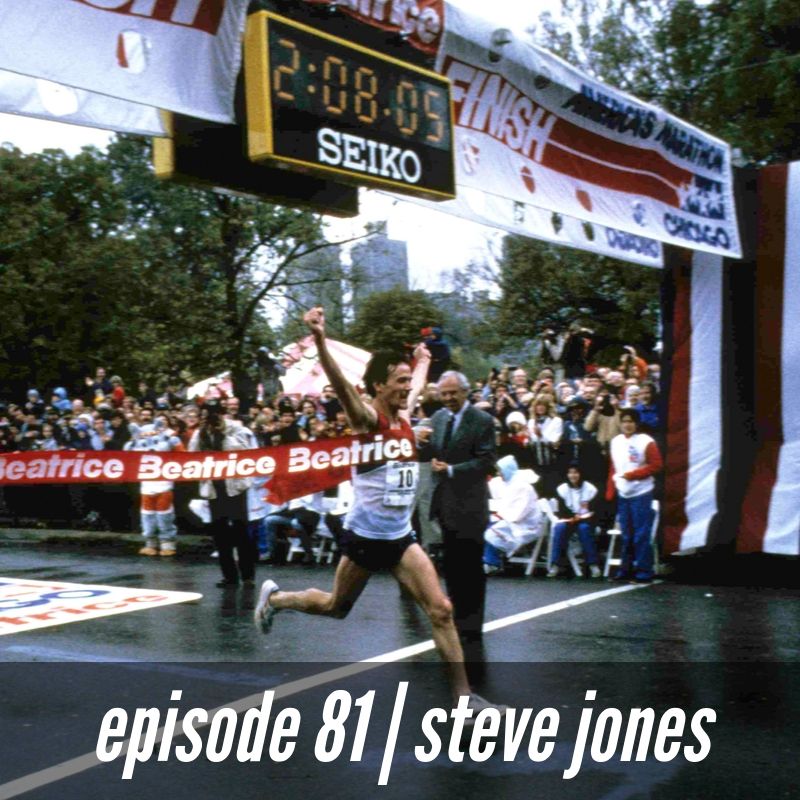 "That's how my whole career, my whole running career went—it was always trying to beat the guy in front of me, always trying to catch the guy in front of me. And that helped me—not just the training, it wasn't just the training, it was that attitude going into races. And like I said, when I started winning races, I didn't want to win them by one second—I wanted to win them by 90 seconds or 2 minutes. It was always about beating the opposition, annihilation I used to call it."
Subscribe, listen, and review on: Apple Podcasts | Stitcher | Overcast | Google Podcasts | Soundcloud | Spotify
This week's episode is a really special one. I got to have a conversation with my favorite runner of all-time, former marathon world-record holder, Steve Jones. Jonesy, who is now 64 years old, broke the world-record in the first marathon he ever finished at Chicago in 1984, running 2:08:05. He won the race again a year later in 2:07:13—splitting an incredible 61:42 at halfway—just missing the world-record by one second.
What I have always loved and admired about Jonesy is his no-nonsense approach to training and racing. He describes it as "running simplified" and it's a philosophy that's had a profound effect on me as both as athlete and coach over the years. The guy was probably the fiercest competitor of all-time: he didn't chase records, he just wanted to run as hard as he possibly could to beat as many people as he possibly could. He once said, "If I'm still standing at the end of the race, hit me with a board and knock me down because that means I didn't run hard enough." In short: the guy was a total badass.
I absolutely loved this conversation and I think you will too: We talked through his two Chicago victories, his New York win in 1988, and what made those triumphs so special. We got into his training philosophy, where it came from, and who influenced him over the years. We discussed how the sport has changed in the last few decades and where he sees it heading in the future. We talked about why he continued to hold down a day job as a mechanic in the Royal Air Force after breaking the world record in 1984. We also got into his current role as a coach, how his relationship with his athletes has evolved over the years, why club running is important to the overall health of the sport, and a lot more.
Related links, references, and resources:
— Watch Jones break the world record at Chicago in 1984 and then watch him run a personal best of 2:07:13—and miss the world record by one second—a year later at the same race.
— Thirty Years Ago, Steve Jones Transformed The Marathon: "I make it simple," Jones told Roger Robinson for Runner's World in 2014. "No science, no heart monitors. None of it comes out of a book. Just running instinctively. I ran by the seat of my pants almost all the time, and you don't see that now. No worry about time. Competition was my clock."
— Six Ways To Simplify Your Training with Steve Jones: "A simple activity has been complicated," Jones told Podium Runner in 2014. "This is a sport that only requires a half-decent pair of running shoes."
— King of Pain: "There is no easy way," Jones told Brian Metzler in 2015. "And that's what all of these gadgets try to show you is some kind of easier way of training. But there isn't one. I ran without heart-rate monitors, without sports cords or yoga or chiropractors or physical therapists or massage therapists. I'm a purist at heart. To me, it's about having your running shoes on your front doorstep and putting them on and going out and running hard."
This episode is brought to you by Tracksmith. Parts of this interview are featured in the fall issue of Meter magazine, Tracksmith's quarterly journal of all things running and running culture. Meter is available at Tracksmith.com and the latest issue will be free at their New York pop up, which takes place at Rowing Blazers in Soho during Marathon weekend from Friday November 1st until Monday the 4th. They'll have their limited-edition NYC Collection available, alongside a full itinerary of events, including a Friday evening shakeout and panel discussion with yours truly, and a lot more. Hopefully I'll see you there—you can find all the details at Tracksmith.com.
Music and editing for this episode of the morning shakeout podcast by John Summerford at BaresRecords.com.