Podcast: Episode 78 with Jeanne Mack
|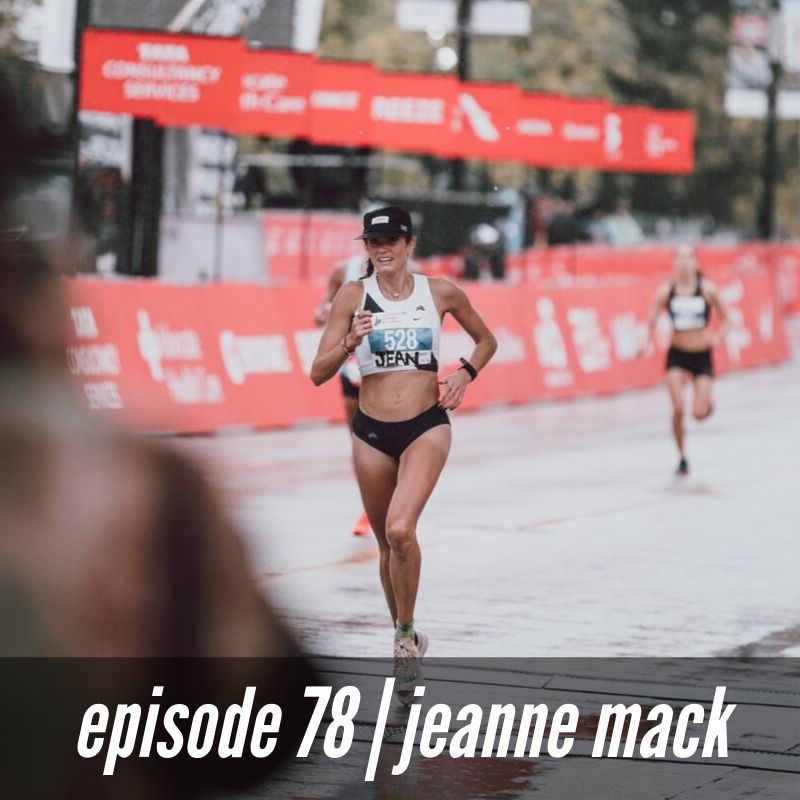 "Why did it take me so long in order to decide that I needed to pull the plug on running? What was it that made me cling to the idea of running a little bit banged up for so long? [Figuring out the answers to those questions] is really cool. I'm getting deeper into figuring all that stuff out so that when I come back, I'll have hopefully a really sturdy foundation to build on but then I'll also have that knowledge to help me get a little bit further."
Subscribe, listen, and review on: Apple Podcasts | Stitcher | Overcast | Google Podcasts | Soundcloud | Spotify
Excited to share a conversation I recently had with Jeanne Mack, an Olympic Trials qualifier in the marathon who moved to San Francisco from New York just a few months ago. Mack works as a copy writer at Strava, where she also hosts the Athletes Unflitered podcast. She ran 2:39:04 in her second marathon last fall at Chicago and she's currently working through an injury so she can be at the top of her game for the Olympic Trials in February of 2020.
This was a fun, wide-ranging conversation: we dug into Jeanne's relationship with running and how it's evolved over the years; what it's been like for taking time off from running to work through injury and how some of the conversations she's had as a podcast host have helped her in that regard; the differences between the running scene in New York versus here on the west coast, the lessons she learned—and how her training changed—from her first marathon to the second one; the professional path she's traveled to land where she is today; her thoughts on the current state of running media, and a lot more.
Related links, references, and resources:
— Follow Jeanne on Instagram, Twitter, and Strava.
— Check out her website and listen to the Athletes Unfiltered podcast.
— Beach Bound From Brooklyn: "Your re-entry to the city is jarring, the ferry unceremoniously dropping you off among the towering structures of Wall St," Mack writes in a first-person narrative for Tempo Journal. "But for now, you exist only in the moment of being somewhere else. Of hearing a seagull cry above you and seeing the wind whip a kite out toward the middle of the deep, dark blue sea that's lying between you and where you started from."
— Running With Men: Mack recounts her experience running as one of the top non-professional women at the 2017 New York City Marathon. "I will remember that dude for a while. He'll be: that guy who had an issue with getting passed, specifically by a woman and felt it was important and necessary for that woman to know he didn't want to be passed by too many others," Mack wrote for Citius Mag. "But, there were other men I'll remember. The ones who made signs for me, who cheered my name. The ones who were strangers on the course, but still pointed my presence out to the crowds and raised their hands to make sure the crowds applauded for me. (Seriously, that guy was like my own personal hype man and I'll never even know his name.)"
— Here are some links to more running and non-running related running stories Mack has written for various publications, including Flag Live, Metropolis, Trampset, and others.
This episode is brought to you by Aftershokz. AfterShokz is the award-winning headphone brand, best known for its open-ear listening experience. Powered by patented, best-in-class bone conduction technology, Aftershokz headphones sit outside your ear so you can listen to your music and hear your surroundings. To learn more and save $50 on AfterShokz Endurance Bundles, visit tms.aftershokz.com and use the code TMS when you check out.
Music and editing for this episode of the morning shakeout podcast by John Summerford at BaresRecords.com.