Podcast: Episode 75 with Brian Metzler
|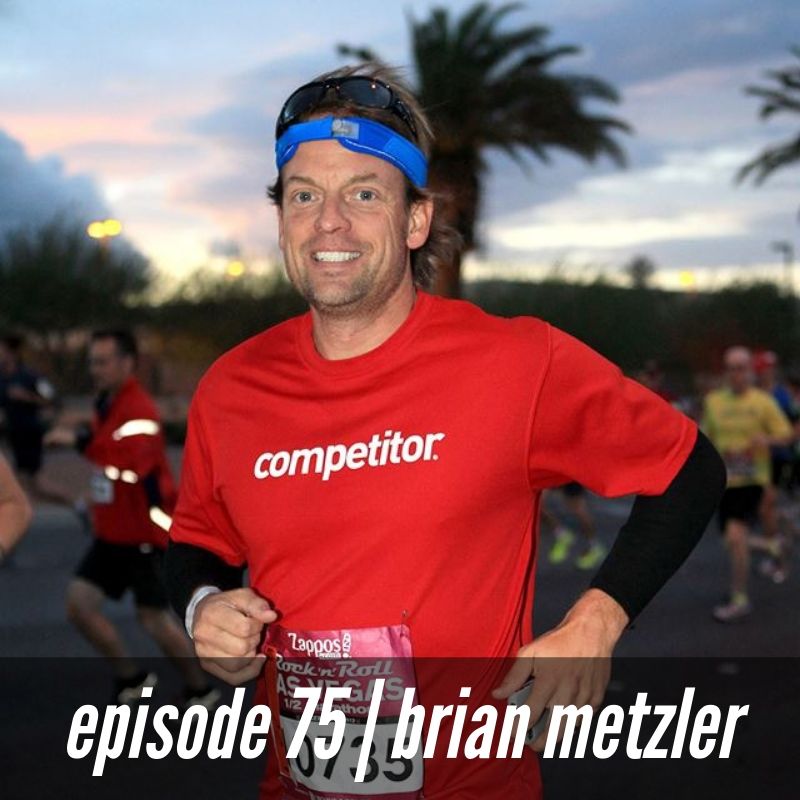 "Sometimes we all want to get as far away from running as possible, right? And I say that in a lighthearted way but I think that anyone who has been involved in running in any way knows what that means. We love running to an obsession, and that's great, but we also need a deep breath, a break, something else that is not just running. I find myself as a lot of things, and running is a big part of that, but that's not the only thing I am."
Subscribe, listen, and review on: Apple Podcasts | Stitcher | Overcast | Google Podcasts | Soundcloud | Spotify
Super excited to share a recent conversation I had with Brian Metzler for this week's episode of the podcast. I've known Brian a long time—back in 2009-2010 we co-wrote the On The Run column for Triathlete magazine—and he was my boss at Competitor magazine and Competitor.com (now PodiumRunner.com) from 2012-2016. Before his stint as editor-in-chief of Competitor, Brian worked as a senior editor at Running Times, he was also the founding editor of Trail Runner magazine, and he's written for almost every running and outdoor publication imaginable at one point or another over the years. He's authored or co-authored a few books in recent years and has a new one coming out soon called Kicksology: The Hype, Science, Culture, and Cool of Running Shoes.
I loved this conversation and I think you will too. We talked running, media, and running shoes—along with where and how all those things intersect—and how Brian has made a career out of writing about the sport and the industry over the past 25 years. We discussed trends that have come and gone in media and with running shoes—two areas Brian knows more than most people about—and we also got into his new book, which, if you're a shoe geek like me, or are just curious about how running shoes and the industry have evolved over the last several decades, you will definitely want to pre-order ahead of its release next month.
Related links, references, and resources:
— Follow Brian on Instagram and Twitter.
— Check out Brian's website and pre-order his new book, Kicksology: The Hype, Science, Culture & Cool of Running Shoes.
— Colorado Running Hall of Fame: Brian Metzler
— Metzler Named USATF Contributor of the Year: "The thing about Brian is that he's everywhere, from the local trail advocacy and city council meetings to the national racing scene," Scott Jurek told The Daily Camera in 2014. "He's passionate about covering running, not just racing and elites, but all issues that affect every runner."
— "The notion that running shoes can prevent injury is fallacy," Metzler told The Atlantic for a 2015 piece about running shoes and injury prevention.
— Why You Should Have a Quiver of Running Shoes: "Another benefit to having a rotation of shoes, I believe, is that it allows me to ever-so-slightly alter my gait and foot-placement pattern," Metzler wrote in 2014. "Instead of having my foot hit the ground the same way on every stride on every run, I'm mixing things up enough to build the micromuscles in my feet, ankles, lower legs and even hips just a twinge more. And hopefully that's something that contributes to becoming a stronger and more agile runner in the long run."
— Will The Maximalist Shoe Trend Endure? "Yes, there are doubters and runners who have tried max-cushioned shoes and gone back to more traditional models," Metzler wrote in 2015, "but clearly there are a lot of runners who have found max-cushion shoes to work for them, just as many runners still run in minimalist shoes. And isn't the customer always right?"
This episode is brought to you by the Kaiser Permanente Napa Valley Marathon and Half Marathon, which takes place on March 1, 2020. Run, sip, and savor, as Napa Valley offers the ideal destination for a race-cation. Run down the Silverado Trail on scenic, net downhill courses, then celebrate your achievement at one of over 500 valley wineries, excellent restaurants, local breweries, or even on a hot air balloon. Sign up at napavalleymarathon.org and use code SHAKEOUT10 to save $10 on your registration before September 9, 2019.
Music and editing for this episode of the morning shakeout podcast by John Summerford at BaresRecords.com.