Podcast: Episode 69 with Scott Jurek
|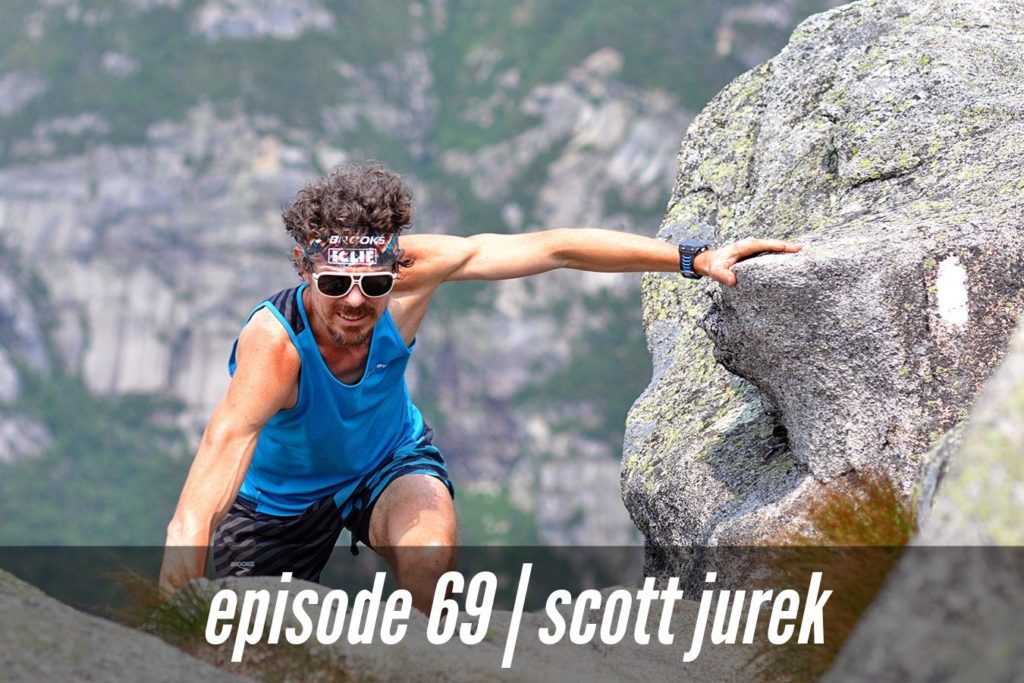 "As long as I'm true to myself then hopefully that benefits other people and ideally it's a symbiotic relationship and it's something I want to keep doing—and again, I've got to find ways to tweak it, it's all about tweaking that and finding things that keep me fueled to push boundaries that are still left there for me to explore and then other times just be content. It's a funky balance, for sure. It's hard to not have that drive, have that competitive spirit, but at the same time it's still there once in a while—and appreciating it and fueling it a little bit—but overwhelmingly there's not going to be as much drive, and that's OK."
Subscribe, listen, and review on: Apple Podcasts | Stitcher | Overcast | Google Podcasts | Soundcloud | Spotify
This week's guest is Scott Jurek and he hardly needs an introduction, especially if you're a fan of trail and ultrarunning, so I'm going to keep it as short as I possibly can: Jurek has won pretty much every major ultra race there is to win, including the Spartathalon, the Hardrock 100, the Badwater 135, and the Western States Endurance Run a record seven straight times. He also set the speed record on the Appalachian Trail in 2015, completing it in a little over 46 days, and in 2010 he set a U.S. record for the 24-hour run, covering 165.7 miles. Both of those records have since been broken but Jurek's overall running resume is one that isn't likely to be matched anytime soon.
Jurek's also a best-selling author—he's written two books, Eat and Run and North, which chronicled his 2015 AT adventure—and he's also a husband to his wife Jenny and a father of two young children, Raven and Evergreen.
We recorded this conversation a couple weeks back alongside a trail in in Boulder, Colorado, where he lives, and we covered all kinds of good stuff, from being back at Western States last month after 10 years away from the event, to how the sport of ultrarunning has evolved over the past several years, to using running as a way to give back to other people and organizations he cares about, making the sport accessible to more people and knocking down the barriers to entry, overtraining and the importance of rest, how long it took him to physically and emotionally recover from his Appalachian Trail FKT, and a lot more.
Related links, references, and resources:
— Follow Scott on Instagram and Twitter.
— Check out his website and learn more about his two books, Eat and Run, and North.
— The King of Pain: "There are a lot of times it's just not fun," Jurek said in a 2010 Runner's World profile. "It's a lot of discomfort. There must be something I'm searching for."
— How I Eat: Jurek spent 46 days running more than 2,000 miles on the Appalachian Trail—here's a little peek the diet that got him through it.
— MORE LISTENING: Jurek was a guest on the Billy Yang Podcast in May 2018 and went long on his AT FKT, his ultrarunning career, Dean Karnazes, "Born to Run," and more.
— "There were days where I was like, 'This is stupid, why am I doing this?'" Jurek said on the summit of Mt. Katahdin at the conclusion of his AT FKT. "And I would be reminded of the people who can't do this. I've got two legs. I've got two legs that can move and I can do it. And sometimes there's no better reason than that."
This episode is brought to you by the VCU Health Richmond Marathon. The event, which also includes half marathon and 8K options, takes place in Richmond, Virginia, on November 16th, 2019. Whatever distance you run, Richmond provides phenomenal course support, great fall scenery, awesome finisher swag, and supportive spectators. I know from my experience running there last year that when you run Richmond, you get it all. The marathon is a mostly flat, fast course, top-25 Boston qualifier, and it ends with a beautiful, downhill riverfront finish. Runner's World called it "America's Friendliest Marathon" and they certainly live up to this distinction. Start planning your race experience today and save $10 on your registration fee—it applies to the marathon, half marathon, and 8K—by using the discount code "morningshakeout" when you check out at RichmondMarathon.com.
Music and editing for this episode of the morning shakeout podcast by John Summerford at BaresRecords.com