Podcast: Episode 68 with Tyler McCandless
|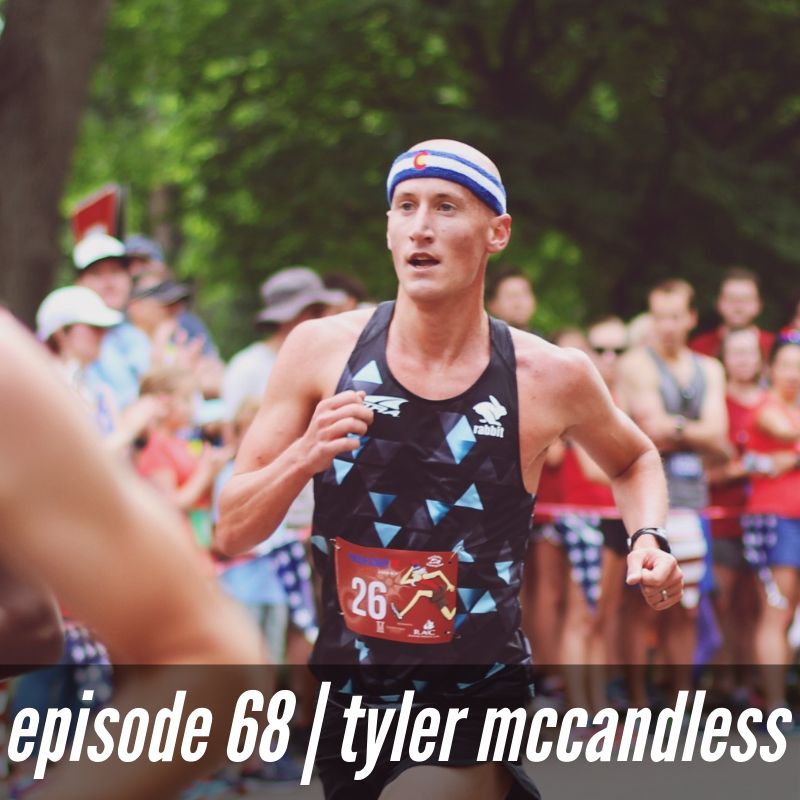 "I don't care if somebody wants to criticize my 5K time from July 4—I mean, I got an opportunity to go and race and I went out a little too hard, I made a few mistakes, I learned a bunch from it. It was awesome. That's the point of it, that's the point of racing. So I think that's a really critical component: nowadays people race less because there's too much pressure on those results instead of focusing on the process."
Subscribe, listen, and review on: Apple Podcasts | Stitcher | Overcast | Google Podcasts | Soundcloud | Spotify
I was in Boulder, Colorado last week and had a chance to sit down with Tyler McCandless, a 2:12 marathoner whose career I've been following closely for the past 10 years. McCandless is not only one of the most underrated road racers in the U.S., he's also one of the nicest guys in running, and you'll see why in this episode.
We covered all kinds of ground in this conversation—which we recorded just a few days before the birth of McCandless' son, Levi—from why he trains without a GPS watch to learning how to race aggressively and with confidence, balancing his full-time job as a Machine Learning Scientist at the National Center for Atmospheric Research with being a professional long-distance runner, his relationship with his coach, former marathon world-record holder Steve Jones, and how that's evolved over the past 6-1/2 years, the importance of having interests outside of running and not losing sight of the purity of the sport, and a lot more.
Related links, references, and resources:
— Follow Tyler on Instagram and Twitter.
— "Having a long term dedication to the process and focusing on consistency and making the appropriate next steps in training and racing really allowed us to mature together and to learn from races and training and make adjustments and also just enjoy the journey along the way," McCandless said of his relationship with coach Steve Jones.
— The King of Kauai: "I was and still am a student of the sport, so if I can help someone improve their training, racing, and recovery by talking about both my failures and successes, then I feel like I'm giving back to the people that helped me," McCandless told me in 2012. "My best advice is train smart, promote the good in the sport, talk about your training, and motivate others."
— McCandless Melds Marathoning and Meteorology: "When you pursue something, whether it is running or another career, with full purpose that is where the purity is," McCandless told Sports Illustrated in 2016. "Having another career takes the pressure off running for me."
This episode is brought to you by the VCU Health Richmond Marathon. The event, which also includes half marathon and 8K options, takes place in Richmond, Virginia, on November 16th, 2019. Whatever distance you run, Richmond provides phenomenal course support, great fall scenery, awesome finisher swag, and supportive spectators. I know from my experience running there last year that when you run Richmond, you get it all. The marathon is a mostly flat, fast course, top-25 Boston qualifier, and it ends with a beautiful, downhill riverfront finish. Runner's World called it "America's Friendliest Marathon" and they certainly live up to this distinction. Start planning your race experience today and save $10 on your registration fee—it applies to the marathon, half marathon, and 8K—by using the discount code "morningshakeout" when you check out at RichmondMarathon.com.
Music and editing for this episode of the morning shakeout podcast by John Summerford at BaresRecords.com