Podcast: Episode 64 with Frank Gagliano
|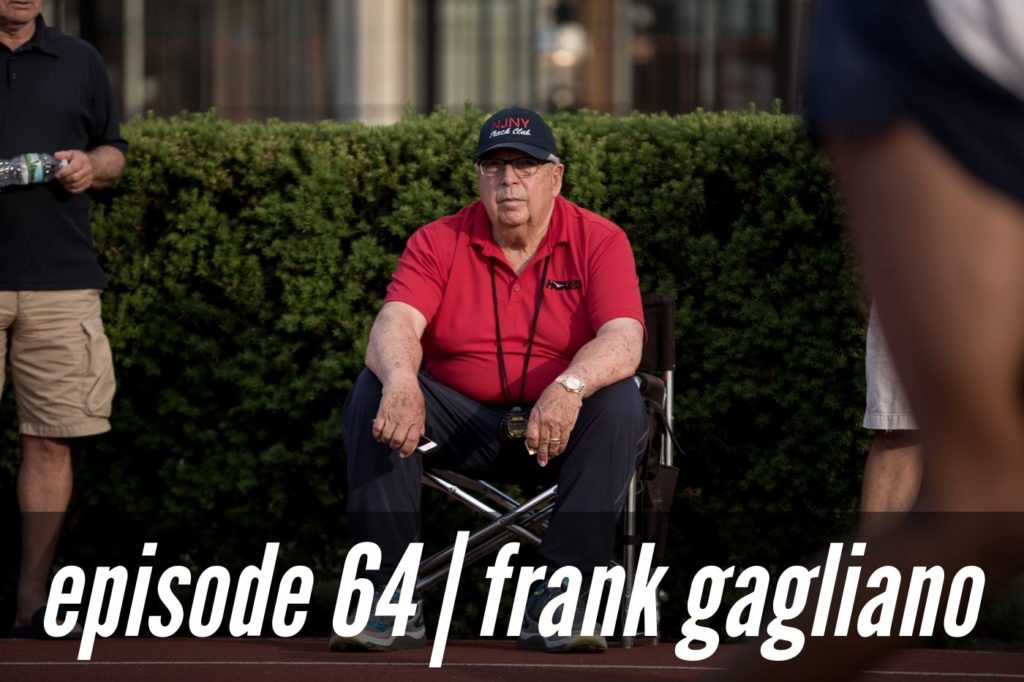 "No, I'm not surprised [that I'm still coaching] because there's two things: My heart and my mind is in it big time. And as long as those two continue to be in it—and my health, thank the good Lord at the age of 82 is very good—I love it, and I'm not ready to pack it in at all. Actually, I have a lot of fire in my belly."
Subscribe, listen, and review on: Apple Podcasts | Stitcher | Overcast | Google Podcasts | Soundcloud | Spotify
It was an honor and a privilege to sit down recently with Frank Gagliano, the 82-year-old coach of the Hoka NJ-NY Track Club, for a conversation about coaching and life that had a profound impact on me—and I know it will do the same for you.
This one got emotional a couple times but Coach Gags opened up to me in a way he hasn't elsewhere before and his story, and message, is really powerful. The man has coached at every level of the sport over the past 58 years—high school, college, and professionally—and he's had great success at all of them. He's coached 15 Olympians, 140 All-Americans, multiple national champions, and a world championships medalist. More importantly than that, however, the lessons he's taught his athletes extend far beyond the track. He has a love for the sport, his family, his athletes, and his country that is unmatched and it really comes across in this conversation.

Related links, references, and resources:
— Follow the HOKA New Jersey New York Track Club on Twitter and Instagram.
— Check out the team's website.
— A Legend's Last Trials: "He grabs me by the shoulder and peers at me from under the bill of his baseball cap, which intensifies his focus," Liam Boylan-Pett wrote for Runner's World in 2016. "Then he softens his eyes. He wraps his arms around me. 'Have some fun out there, will ya?' he says. Gags—or Gag—as he's known throughout the track world, smiles, and I can't help but smile, too."
— "Being around people like that I think just pushed me to open my horizons, and also realize it's OK: I can embrace being a runner," Olympian Kate Grace told me in a 2017 interview about her time with the NJ-NY Track Club. "I don't have to use naïvete as a shield almost. I think I almost used that as a way for me to hedge a little bit. I got out of that, and that's all Gags."
— WATCH: Gagliano talks about his journey in coaching in this 2009 interview with Flotrack. "I think the biggest thing is that everyone has to be patient in development," Gagliano said. "I really feel that everyone has to enjoy the sport, have a lot of fun, and work really hard."
— "I don't have golf clubs," Gagliano told David Monti in a 2010 profile. "I have a stopwatch."
— Frank Gagliano, A Picture Story: Check out this great photo essay from photographer Zach Hetrick of Gags in action with his NJ-NY Track Club squad at a workout.
— "As long as my mind is in the sport for workouts, so I don't deprive the men and women that I'm coaching, I'll keep (coaching)," Gagliano said in 2017. "I try to keep as healthy as I can and we move on."
If you enjoyed this episode, please consider supporting the morning shakeout on Patreon.
Music and editing for this episode of the morning shakeout podcast by John Summerford at BaresRecords.com