Podcast: Episode 63 with Nicholas Thompson
|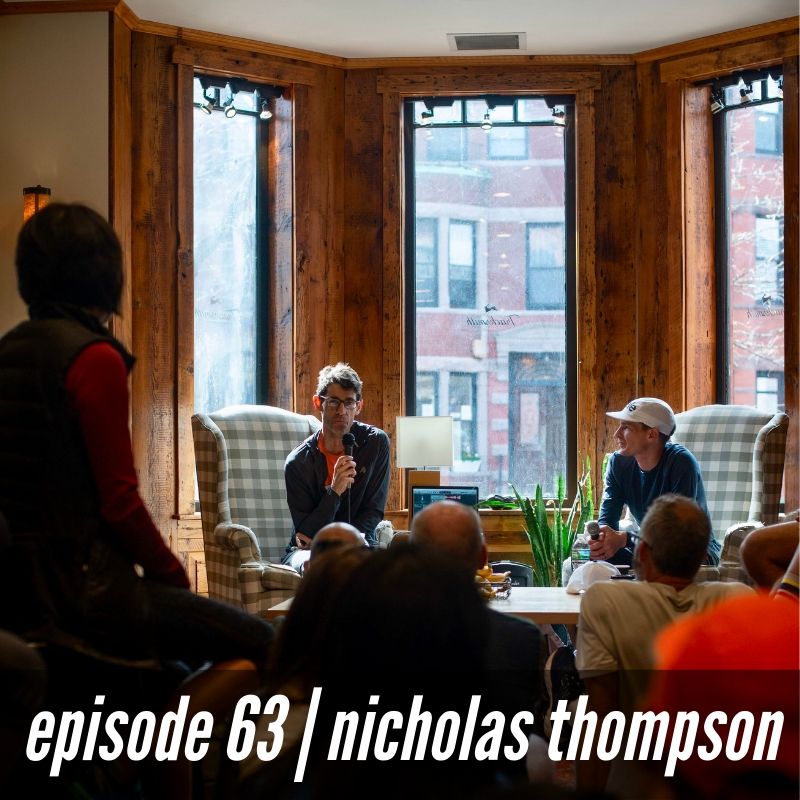 "The great thing about running is: it's all you. If your team does better in soccer, it might be you, it might be your team. You could actually get worse and your team could get better, but if you are getting faster at running, it's you, so the improvement feels pretty intensely emotional, and that drew me in."
Subscribe, listen, and review on: Apple Podcasts | Stitcher | Overcast | Google Podcasts | Soundcloud | Spotify
I'm excited to share a special live recording of the podcast that I did with Nicholas Thompson, the editor-in-chief of Wired magazine, in front of a live audience last month in Boston.
In this conversation, we spoke exclusively about aging and the marathon, which is a topic he's written about for Wired. Last fall, Thompson—who is 43 years old—ran not one, but two 2:38 marathons at Chicago and New York, only 4 weeks apart, both faster than his previous personal best of 2:43. We recorded this episode at Tracksmith's Trackhouse the day before this year's Boston Marathon, where he finished in 2:34:27, a new personal best, running a nice negative split (which, if you've run Boston, you know is not easy to do).
This episode is only about 35 minutes long but Thompson has agreed to come back on another time so we can dig deeper into the role running plays in his life, talk about his journalism career, learn about his love of music, and much more.
Related links, references, and resources:
— Follow Nicholas on Twitter, Instagram, and Strava.
— Check out his website.
— An Aging Marathoner Tries To Run Fast After 40: "Running faster always feels good, but running faster when you're getting old feels good in a different way," he wrote last fall for Wired. "When we're young we wake up in the morning knowing that we're probably stronger, taller, and faster than the day before. We want to be older because we want to be at our peak. At some point, that desire fades, and then it flips. We wake up knowing we're weaker and slower, and we have to work hard to stay in the same place as the day before. It's all partly an illusion: We get a day older, whether we spend it running up a mountain or lying on a couch. Still, going faster means we're doing something right."
— The Running Life: "Competitive running is a relentless sport," Thompson wrote for The New Yorker in 2012. "The training usually happens alone, and failure is personal. When you lose, there's usually no teammate or referee to blame. When your skills start to decline, your watch lets you know by exactly how much."
— "I do notice that a lot of the best thinking I get done, or ideas generation, or problem solving, happens when I'm running and trying to focus on stuff outside of my head," Thompson told Outside in 2017.
This episode is brought to you by Tracksmith. Tracksmith is an independent running brand based in Boston. They're a group of dedicated runners focused on building technical yet understated running apparel that celebrates the amateur spirit and inspires the personal pursuit of excellence.
 Tracksmith's products are designed for a specific running function and solve problems unique to the experience of training and racing, whether that's building the perfect pair of half tights for speed workouts or split shorts that are just the right weight—and with the right number of pockets—for a marathon. To learn more—and check out a few of my favorite spring pieces—visit tracksmith.com/mario, follow them on Instagram @tracksmithrunning, and shop at Tracksmith.com.

Music and editing for this episode of the morning shakeout podcast by John Summerford at BaresRecords.com