Podcast: Episode 62 with Scott Fauble
|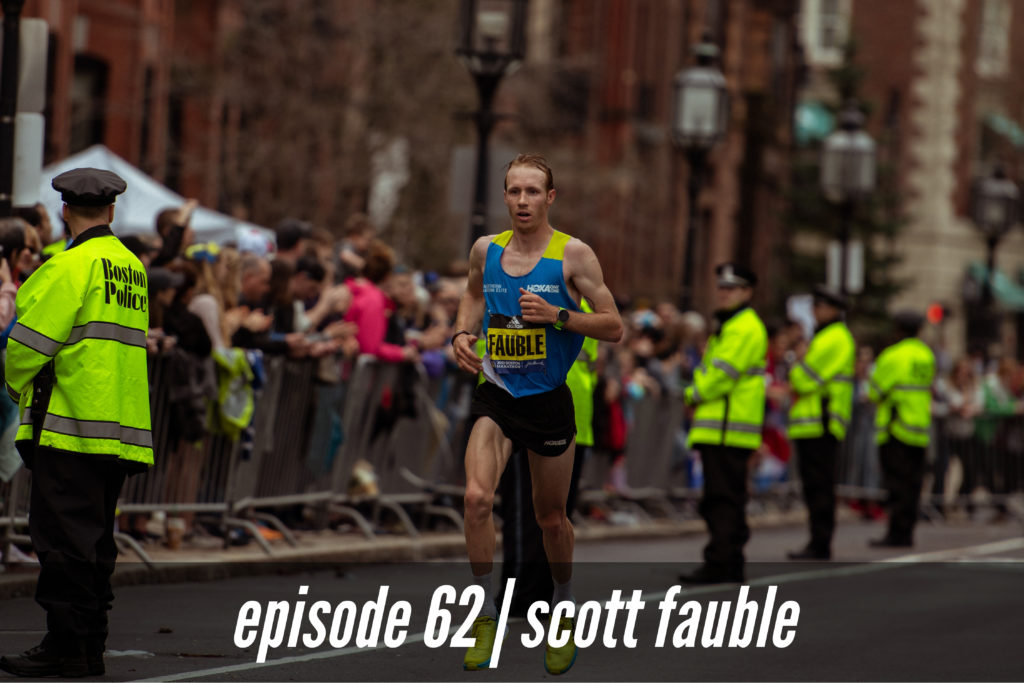 "I went to the lead, even over Heartbreak, with a purpose and with the goal of dropping people and injecting pace—and I think that's maybe what surprised me the most, is that I was able to be an actual factor and be something that impacted the way the race played out, which is a new feeling for me in the marathon, particularly in World Marathon Majors. In New York, I was as far back as probably 20th pretty early in the race and was kind of doing my own thing, so that was the biggest surprise—being up front—and the way we got to the 2:09:09 here in Boston."
Subscribe, listen, and review on: Apple Podcasts | Stitcher | Overcast | Google Podcasts | Soundcloud | Spotify
Stoked to welcome the morning shakeout's first-ever guest, Scott Fauble of Hoka Northern Arizona Elite, back to the show to talk about his recent seventh-place finish at the Boston Marathon, where he ran a big personal best of 2:09:09.
We covered a lot of good stuff in this conversation: all things Boston, of course, but also training and recovery, what the next several months are going to look like heading into the 2020 Olympic Trials Marathon, his greatest strengths as a marathoner (and where he has the most room to grow), how he keeps himself centered and grounded, where his extraordinary ability to push himself in races comes from, what's exciting him in running right now, and a heck of a lot more.
Related links, references, and resources:
— Follow Scott on Instagram, Twitter, and Strava.
— Check out Scott's website and read his writing.
— WATCH: Faubs on Boston: Fauble recaps his seventh-place, 2:09:09 finish at the 2019 Boston Marathon. Amazing storytelling, insight, and footage!
— LISTEN: Tune in to the first episode of the morning shakeout podcast and catch up on our conversation about burritos, the business of being a professional runner, the parallels between running and writing, training for, racing, and recovering from his first marathon, and so much more.
— MORE LISTENING: Fauble was also a post-Boston guest on the Citius Mag Podcast with Chris Chavez and the I'll Have Another podcast with Lindsey Hein.
— Scott Fauble Wants to Tell You His Strava Secrets: "This isn't a sport like football or basketball where you can out-game plan somebody. You show up and you're either fit or not," Fauble told Outside after Boston. "Whether you share your training or not isn't going to change how fit or unfit you are."
— Scott Fauble Likes to Compete: "Some events are more like time trials with rabbits and everything," he told Podium Runner after Boston. "Those aren't as interesting to me. It's more like you're racing the clock than racing your competitors. I like to run against other people. I find that those kinds of races are the ones that help me dig deeper and go harder."
This episode is brought to you by UCAN. Getting the most out of your training starts with the right nutrition and UCAN Performance Energy powders—which is what I use before big workouts and long races—give you steady, long-lasting energy with no spikes and no crashes. It's also used by Olympians like Meb Keflezighi, Dathan Ritzenhein, and Alexi Pappas, so you know it's the real deal. UCAN has a great offer for morning shakeout listeners right now: Try out the performance energy sample pack, which includes three (3) Performance Energy Packets and two (2) Performance Energy + Protein Packets, for only 10 bucks! Check out the offer at generationucan.com/discount/UCANSHAKEOUT—that's UCANSHAKEOUT— and use the code "UCANSHAKEOUT" when you check out to receive free shipping. Or, you can save 15% on any UCAN item you buy on generationucan.com with the code 'SHAKEOUT" at checkout.

Music and editing for this episode of the morning shakeout podcast by John Summerford at BaresRecords.com