Podcast: Episode 57 with Paddy O'Leary
|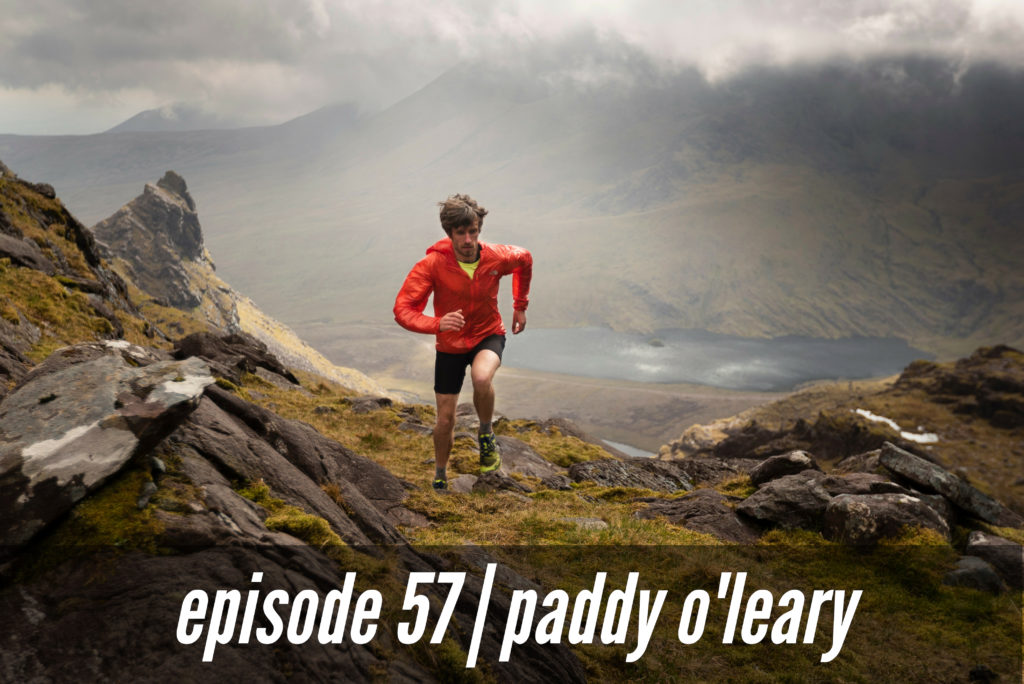 "I always found myself working very hard to try and be the best at those little things but also enjoy what I was doing. This was evident at a very early age—I wanted to be competitive at something but I wanted to enjoy it while I was doing it. I don't think I gain most of my enjoyment from the competitive side of it and from the racing or the competing. It was more from the just being present there and enjoying seeing other people enjoy what we're doing and enjoying it with them."
Subscribe, listen, and review on: Apple Podcasts | Stitcher | Overcast | Google Podcasts | Soundcloud | Spotify
Excited to share a recent conversation I had with a guy many of you outside the Bay Area running scene may not have heard of yet: His name is Paddy O'Leary, he's an Irish lad living in San Francisco, and he's a North Face-sponsored trail and ultra runner who has risen through the ranks of the sport in just a few short years. He's also got a fast set of wheels, having run a big personal best of 2:20 and change in the marathon last fall at CIM, a race he ran on somewhat of a whim after The North Face Endurance Challenge Championships got cancelled due to the California Wildfires.
O'Leary's a friend and sometimes training partner of mine and he's got an incredible story—not to mention a beautiful Irish brogue—that I'm excited to share with you in this episode. Before he got into running about five years ago, O'Leary played on the Irish national lacrosse team from 2007-2014, captaining the squad to its first European Lacrosse Championship final in 2012. He's also been a cancer biologist at UCSF since 2013, was the co-leader of the November Project in San Francisco from 2014-2018, and has a love of traveling, community, sport, and, of course a good Guinness.
On Saturday, April 13, O'Leary will attempt the Wicklow Round in his native Ireland, a self-supported long-distance run which involves summiting 26 peaks with over 20,000 feet of climbing over 70 miles with no GPS—just a compass, a map, and his own questionable senses.
This is a long one but it was an enjoyable exchange that covers a wide range of topics, from O'Leary's upbringing in County Wexford, Ireland, why he came to the U.S. to do his postdoctoral research, how he got into trail and ultrarunning, what he'd like to do in running over the next couple years, and much, much more. I really think you'll take a lot away from it, so settle in and enjoy my discussion with Paddy O'Leary.
Related links, references, and resources:
— Follow Paddy on Twitter, Instagram, and Strava.
— Check out his results on UltraSignup.
— WATCH the teaser to "Coming Home," a film about O'Leary going home to Ireland to rediscover the country through the lens of mountain running.
— Follow O'Leary's Wicklow Round attempt on Saturday, April 13, 2019 on this live tracker.
— More on the Wicklow Round here and here.
— Failure, Obstacles, and the Mental Side of Ultrarunning: "In science, failure in an experiment is frequent and inevitable," O'Leary told Skratch Labs in a 2017 interview. "We shouldn't fear and bury our failures, but instead learn from them. I feel this is also the case in sport. Failure can feel like an emptiness, and setting a goal and not achieving it can leave a void. But in that void, a fire will kindle to go after that goal again. It's all about handling those speed bumps and learning from them to help you better prepare to achieve that goal!"
— "My time at the CIM was a big surprise of course, although I did approach the race with cautious optimism of running a fast time, even though I was training for the longer ultra race," O'Leary told Fast Running after he ran 2:20:42 at CIM last December. "I felt I had a time like that in me, but I also approached the race with no expectations whatsoever."
This episode is brought to you by Tracksmith. Tracksmith is an independent running brand based in Boston. They're a group of dedicated runners focused on building technical yet understated running apparel that celebrates the amateur spirit and inspires the personal pursuit of excellence.
 Tracksmith's products are designed for a specific running function and solve problems unique to the experience of training and racing, whether that's building the perfect pair of half tights for speed workouts or split shorts that are just the right weight—and with the right number of pockets—for a marathon. And unlike other brands in the industry, Tracksmith's model is direct-to-consumer, which enables them to scour the earth for the most technical materials to meet a specific performance intent, without having to compromise to make wholesale margins.
Tracksmith's products reflect their New England roots: These are classic, understated and high quality essentials for runners who are working towards their next PR. To learn more, visit tracksmith.com/mario. Right now they're running a special offer for new customers: spend $150 and earn their signature navy Van Cortlandt singlet for free. Follow them on Instagram @tracksmithrunning and shop at Tracksmith.com.
Music and editing for this episode of the morning shakeout podcast by John Summerford at BaresRecords.com