Podcast: Episode 56 with Dena Evans
|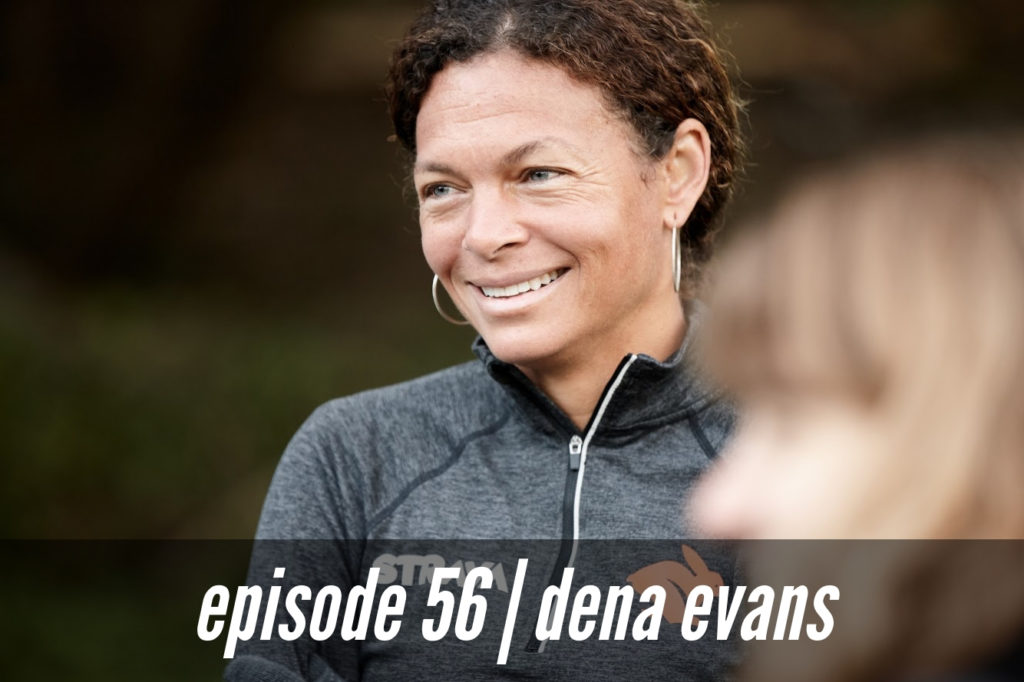 "A lot of the folks I interact with now, whether it's a newly post-collegiate athlete who's still got goals that they want to achieve, or a middle-aged athlete who has a general fitness goal they want to achieve, or they'd like go for that Boston qualifier, whatever it is, most of these goals are achievable if you stick with it and keep building the tower—I call it 'the Jenga tower.' My outlook on coaching, generally, is: Let's build the tower and we'll eventually get there. Sometimes you do have artificial timelines, but if you can avoid them that's better, and just concentrate on building on what you have done and not worrying about what you aren't. So I try to think inductively about coaching and I think that's partly due to some of these experiences—let's assume we're going to get there. It's just a question of 'how' and not 'if.'"
Subscribe, listen, and review on: Apple Podcasts | Stitcher | Overcast | Google Podcasts | Soundcloud | Spotify
Really enjoyed sitting down with Dena Evans for this week's episode of the podcast. Evans is currently the coordinator and coach of the Peninsula Distance Club, a competitive post-collegiate team based in Palo Alto, California that she founded in 2007. Evans also coached at Stanford from 1999-2005, and in 2003 was named the NCAA Women's Cross Country Coach of the year after leading the Cardinal to the national title. A few of her athletes during those years are some names you might recognize, like Lauren Fleshman, Sara Hall, Alicia Vargo, Malindi Elmore, and others. She's also been on the coaching staff for Team USA at multiple world championships. In addition to her coaching accolades, Evans was a standout athlete at Stanford from 1992-96, where she was a three-time All American in track and also star player on the soccer team.
We covered a lot of different topics in this conversation, from getting into multiple sports at a young age to her thoughts on specialization, her career at Stanford and how she juggled being a two-sport athlete, her relationship with coach Vin Lananna and how he influenced her as both an athlete and a coach, how she got into coaching and what she's learned working with different levels of athletes over the past 20 years, what's exciting her—and what she would change—about the sport of running right now, and a lot more.
Related links, references, and resources:
— Follow Dena on Twitter, Instagram, and Strava.
— Evans Resigns At Stanford: "Stanford Athletics has been a huge part of my life for the past 13 years," Evans said when she stepped down in 2005. "I will always consider myself blessed to be a member of the Stanford family."
— How To Training Around a Busy Life: "'Negative fitness' is a term I use to describe a situation where everyday life leaves you too exhausted to train," Evans wrote in a series of posts for Strava. "You miss training because you are too tired, and you become less fit—a negative cycle that can be frustrating and difficult to break…When you find yourself succumbing to the dreaded pull of negative fitness, here are a few ideas for making sure the training train stays on the rails in the midst of a busy life."
— "Vin Lananna changed the trajectory of my life by encouraging me to start coaching," Evans said in a 2010 interview with Cross Country Express. "From him I would say that I learned to think of solutions to challenges in terms of 'how' instead of 'if.' Jeff Johnson taught me the value (literally and figuratively) of date pace vs. goal pace. Like I alluded to earlier, there is a little bit of Miss Call that affects what I do every day, and there is a really long list of people—coaches and non-coaches alike—that I have learned from….including each person I get a chance to coach. You learn something new every day."
This episode is brought to you by Tracksmith. Tracksmith is an independent running brand based in Boston. They're a group of dedicated runners focused on building technical yet understated running apparel that celebrates the amateur spirit and inspires the personal pursuit of excellence.
 Tracksmith's products are designed for a specific running function and solve problems unique to the experience of training and racing, whether that's building the perfect pair of half tights for speed workouts or split shorts that are just the right weight—and with the right number of pockets—for a marathon. And unlike other brands in the industry, Tracksmith's model is direct-to-consumer, which enables them to scour the earth for the most technical materials to meet a specific performance intent, without having to compromise to make wholesale margins.
Tracksmith's products reflect their New England roots: These are classic, understated and high quality essentials for runners who are working towards their next PR. To learn more, visit tracksmith.com/mario. Right now they're running a special offer for new customers: spend $150 and earn their signature navy Van Cortlandt singlet for free. Follow them on Instagram @tracksmithrunning and shop at Tracksmith.com.
Music and editing for this episode of the morning shakeout podcast by John Summerford at BaresRecords.com