Podcast: Episode 51 with Scott Gravatt, Jeremy Bresnen, and Pam Hess
|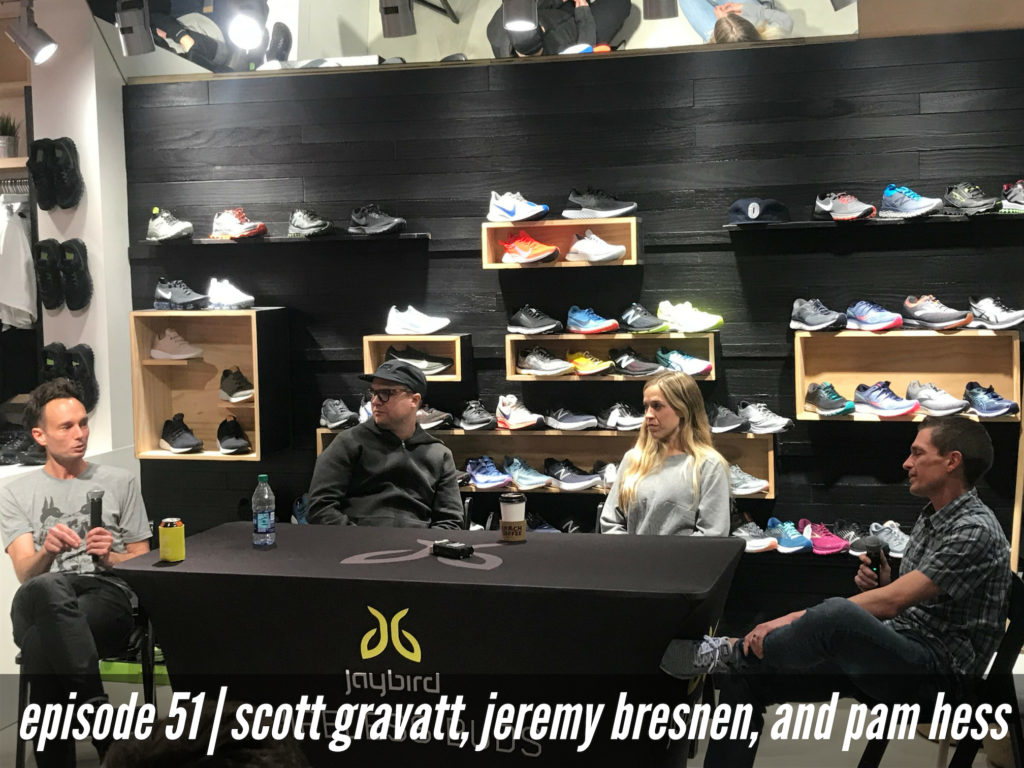 "Everybody runs. It's the original. You go to an elementary school at lunch time and everybody is running. It's intrinsic to us. And we lose that, whether we don't make the track team, whatever it ends up being, we lose that and I think that's a shame. And I think as a community and as an industry and everything we need to get back to this idea of 'run a block and a half, and then run five blocks, and then run 10 blocks.' And just that alone is amazing."
Subscribe, listen, and review on: Apple Podcasts | Stitcher | Overcast | Google Podcasts | Soundcloud | Spotify
I'm excited to share a roundtable discussion I hosted last November at The Loop Running Supply in Austin, Texas, with Scott Gravatt, who is the run specialty sales director at Nike, Jeremy Bresnan, the co-founder of Ciele Athletics, and Pam Hess, who is the co-founder, along with her husband Ryan, of The Loop.
We covered quite a bit of ground in this discussion, which centered around running culture, what that is exactly, how it's evolved over the years, and where it's heading. There was talk about the running industry, the rise of smaller brands like Ciele, the influence of bigger ones like Nike, and how they can all co-exist in an increasingly crowded space; we got into the sport of running, the activity of running, and the lifestyle of running, how those things are all very different and also where they intersect. Finally, we dove into the importance of running specialty shops to local culture and community, the importance of storytelling, the role of athletes, and a whole lot more.
Related links, references, and resources:
— Follow Nike Running, Ciele Athletics, and The Loop Running Supply on Instagram.
— "We have this location on the trail where can run, hang out, or have some whiskey or beer," Ryan Hess, co-owner of The Loop, told A Runner's Eye. "We want this culture of cool—a place where people can get their run in and come together."
— The future of running retail? "It has to be bigger than a storefront," Pam Hess told Runner's World.
— Starting at the Top: "I can say that running is sort of a bit like skateboarding," Bresnen told The Hundreds. "Since that is something really close to me and that I can relate. Skate shops back in the day was the spot and the community. We used to go there, hang, say what's up. Well, running is like that also. People are now meeting at running shops as a starting point for an afternoon run. Plus, it's an individual sport as well, just like skateboarding. What we like about it also is that it is less clique-y and it is more open. As long as you run, you are cool. We did have a bit of a small reaction like, 'Oh, you guys are trying to be cool with your caps,' but we proved them wrong by making them pick up the cap and see for themselves that it is a technical product."
This episode is brought to you by Jaybird. Like many of you, I'm an avid podcast listener, and having a good pair of headphones is super important to me. And my go-to for a while now has been the Jaybird RUN true wireless headphones. They're super comfortable, they stay in my ears, they hold a charge for a long time, and, most importantly, they pump out incredible sound. Jaybird has just released an update to their true wireless line called RUN XT, which are now fully waterproof and sweat proof, so they hold up to your hardest workouts and most extreme weather conditions. They are freaking awesome. Right now, morning shakeout listeners—that's YOU —can receive 20% off of a pair of the just released RUN XT true wireless headphones AND free shipping through the end of March 2019. Go to jaybirdsport.com and use the code SHAKEOUT—that's all one word, all capital letters—when you check out to take advantage of this awesome offer. [Offer can only be applied once per customer.]
Music and editing for this episode of the morning shakeout podcast by John Summerford at BaresRecords.com
Filed Under: podcast Tagged: Ciele,Jeremy Bresnen,Nike,Pam Hess,running culture,Scott Gravatt,The Loop
Like this post?
Join the 10,000+ readers who get the morning shakeout delivered directly to their inboxes every Tuesday morning.