Podcast: Episode 50 with Michael Wardian
|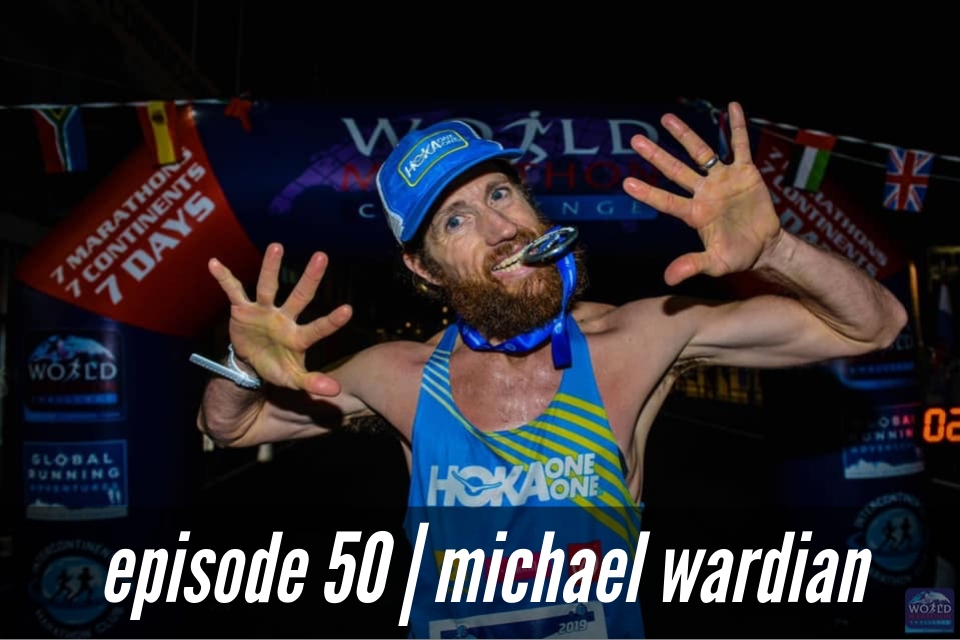 "I hope people can find joy in what they're doing, I hope people find things that are exciting, I hope people can look at me and say, 'If that dude with a job and a family and 1.5 cars and all the same things that I'm dealing with can get out and do something, maybe I can do something too and maybe I can set a big goal and maybe I can find something that excites me and motivates me and I'm passionate about that I want to chase.' And then I hope they go out and they do it."
Subscribe, listen, and review on: Apple Podcasts | Stitcher | Overcast | Google Podcasts | Soundcloud | Spotify
Stoked to welcome another awesome guest on to the podcast this week: Michael Wardian. Wardian is the exception to almost every racing rule and for his latest trick he just broke the Guinness World Record for running ten marathons in ten consecutive days, covering 262 miles in 29 hours, 12 minutes, and 46 seconds, or an average of 2:55:17 per marathon. He ran the first seven of those 10 marathons on seven different continents as part of the World Marathon Challenge and completed the last three around a certified 5K loop near his home in Arlington, Virginia in 2:50 flat, 2:48:43, and 2:44:33. Oh, and on the 11th day, he raced a 5K with his vizsla Rosie in 17:01. Perhaps more impressively, he did all of that off about 20 total hours of sleep, which is something I pressed him on in this conversation.
If you know of Wardian's way of doing things, you know this is just how he rolls. The 44-year-old races around 50 times a year on average and he's not afraid to line up at a mile on the track or ultramarathon on the trails, sometimes doing both on the same weekend. He's also set a number of wacky world records —like the  fastest 50K ever run on a treadmill, fastest marathon ever run wearing various costumes, fastest marathon ever run on an indoor track, and even pushing a baby stroller— and he regularly tackles challenging ultra endeavors such as Badwater 135, Marathon des Sables, and the Hurt 100 to name a few. He's also qualified for three Olympic Trials marathons, won a number of national titles and placed on the podium at world championship events.
Wardian's a great guy with crazy goals, unmatched ambition, and a big, selfless heart. We talked about his most recent feat, what lies ahead, how he recovers between big efforts despite being a notoriously bad sleeper, how he fits it all in around a family and job, the importance of giving back and helping others, the power of positivity, what he hopes the average person can take away from his approach to life and running, and much, much more.
Related links, references, and resources:
— Follow Michael on Instagram, Twitter, and Strava.
— Check out his website.
— Going Long with Mike Wardian: "I don't think I ever want to arbitrarily limit what I'm capable of because of some perception — even my own perception in my head," Wardian told me in 2017. "I want to put myself in difficult positions and challenging circumstances, and see if I'm up to being the person that I hope I can be."
— "If you dream big, if you throw down big, audacious goals, you'll find a way," Wardian told the Washington City Paper after breaking the Guinness World Record for running 10 marathons in 10 consecutive days. "You find strength to get the job done."
— Michael Wardian, The Running Man: "Did you see those 90 versus 96-year-old dudes who just took part in a track race for 100 meters? That's me! I want to take all Whitlock's records," Wardian told Trail Runner in 2017. "I know I want to do this for a really long time. It's cool that I can do trails and roads, so if one becomes too hard, then I can always go do the other. Maybe I'll go do the track. I'd like to do a steeplechase. I've never done a steeplechase."
This episode is brought to you by Jaybird. Like many of you, I'm an avid podcast listener, and having a good pair of headphones is super important to me. And my go-to for a while now has been the Jaybird RUN true wireless headphones. They're super comfortable, they stay in my ears, they hold a charge for a long time, and, most importantly, they pump out incredible sound. Jaybird has just released an update to their true wireless line called RUN XT, which are now fully waterproof and sweat proof, so they hold up to your hardest workouts and most extreme weather conditions. They are freaking awesome. Right now, morning shakeout listeners—that's YOU —can receive 20% off of a pair of the just released RUN XT true wireless headphones AND free shipping through the end of March 2019. Go to jaybirdsport.com and use the code SHAKEOUT—that's all one word, all capital letters—when you check out to take advantage of this awesome offer. [Offer can only be applied once per customer.]
Music and editing for this episode of the morning shakeout podcast by John Summerford at BaresRecords.com
Filed Under: podcast Tagged: Michael Wardian
Like this post?
Join the 10,000+ readers who get the morning shakeout delivered directly to their inboxes every Tuesday morning.