Podcast: Episode 49 with Hillary Allen
|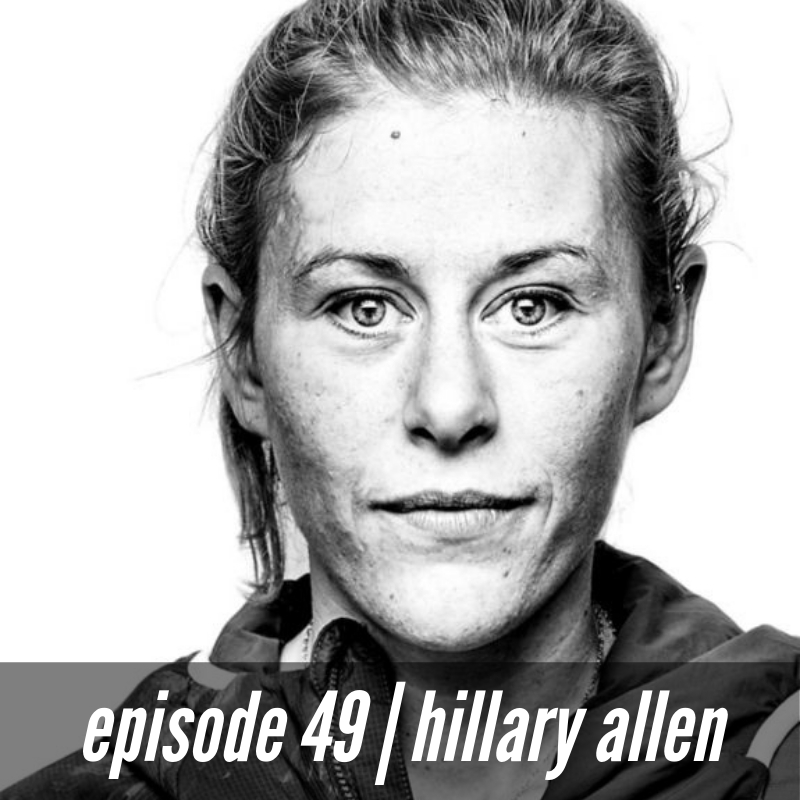 "There were days when I was just so exhausted and I didn't even want to get up out of bed because I didn't even see the point. There was so much time that I spent wishing that the accident would have killed me because it felt like it was easier than to have to face the pain and face the challenges of everyday life. But then I'd receive a message and some voice of encouragement, sometimes from a dear friend, sometimes from a complete stranger, and it just built this community that I felt that I had near and far and it again let me discover the strength that I had within me, whether or not it was still there. Trail running, I felt, I could experience it in a new way but talking with complete strangers or my friends supporting me, it also allowed me to dig deep and find that within me."
Subscribe, listen, and review on: Apple Podcasts | Stitcher | Overcast | Google Podcasts | Soundcloud | Spotify
It was a real treat to sit down with Hillary Allen for this week's episode of the podcast. Every week on this show I try to glean as much insight and inspiration as possible from some of the top athletes, coaches, and personalities in the sport of running and this week's guest has those two things in SPADES—and it really comes out in this conversation.
The 30-year-old Allen, a North Face-sponsored trail and ultra runner from Colorado, has made her biggest mark in sky running, which takes place in super gnarly, technical, high alpine environments. She was the U.S. Sky Running Ultra Champion in 2015, and has course records and podium finishes at races all over the world. The crazy thing is: she's only been in the sport for a few years and rapidly ascended the ranks—quite literally—in a very short amount of time.
But there's so much more to this special human. Allen has a Masters degree in neuroscience, she's got a thing for bugs and grew up wanting to be an entomologist, she was a collegiate tennis player, she coaches other runners, and is just one of the nicest people you'll ever meet. Allen also has an incredible story about survival—she fell 150 feet off the side of a mountain while racing in Norway a couple years ago—which we covered from a few different angles in this conversation, amongst a slew of other interesting topics, including using running and races as a way to explore places she's never gone, the issue of burnout in ultrarunning, how she got her nickname, "Hillygoat," the craziest wildlife encounters she's had on the trails, running a 2:50 self-supported marathon to see if she could go faster than she did in her first, her love of science and the outdoors and how that's impacted her life, and much, much more.
Postscript: Allen broke her ankle in late January, just a couple weeks after we recorded this conversation, an injury that required yet another surgery. "Things happen for a reason—if you chose to let them," she wrote on her blog. "I'm reminded to take a deep breath, feel what I'm feeling and believe. BELIEVE. That this too, will create, reignite and provide an opportunity for growth."

Related links, references, and resources:
— Follow Hillary on Instagram, Twitter, and Strava.
— Check out her blog.
— How Hillary Allen Overcame a Traumatic Injury: "There's this part of humanity and the human experience, this emotional part, that you have to allow space for," Allen told Outside in 2018. "If you shove it down, I think it can just percolate and gain momentum and come out in very unhealthy and detrimental ways."
— "Sometimes I wonder, 'Why? Why me?'" she told Trail Runner in 2017 about her accident. "But there's no answer, and I don't even think it's worth it to wonder. I see this as an opportunity to grow stronger."
— REDEMPTION: Watch this short film about Allen's return to racing at the 2018 Broken Arrow Sky Race, where she finished second in the VK and sixth in the 52K.
This episode is brought to you by Strava's new podcast, Athletes Unfiltered. Are you looking for a little extra motivation on your next run or bike ride? Athletes Unfiltered is a new podcast of inspiring stories from the Strava community, told by the runners and cyclists who lived them. You'll hear from a runner who loses his sight and discovers a new community. A drummer who passes up the after party so he can get up early to ride bikes with his fans and connect in a way he never could from on-stage. A mountain biker who watched the trails he loved burst into flames and then created an app to help rally his community around rebuilding them. And along the way, they'll tackle some of the big, scary questions every athlete has to find answers to: Why am I doing this? Am I getting too old? Will I ever run again? The answers these athletes give might just help you find some of your own. Give the Athletes Unfiltered podcast a listen and subscribe on Apple Podcasts, Stitcher, Spotify, or wherever you consume audio content.
Music and editing for this episode of the morning shakeout podcast by John Summerford at BaresRecords.com