Podcast: Episode 48 with Jake Schmitt
|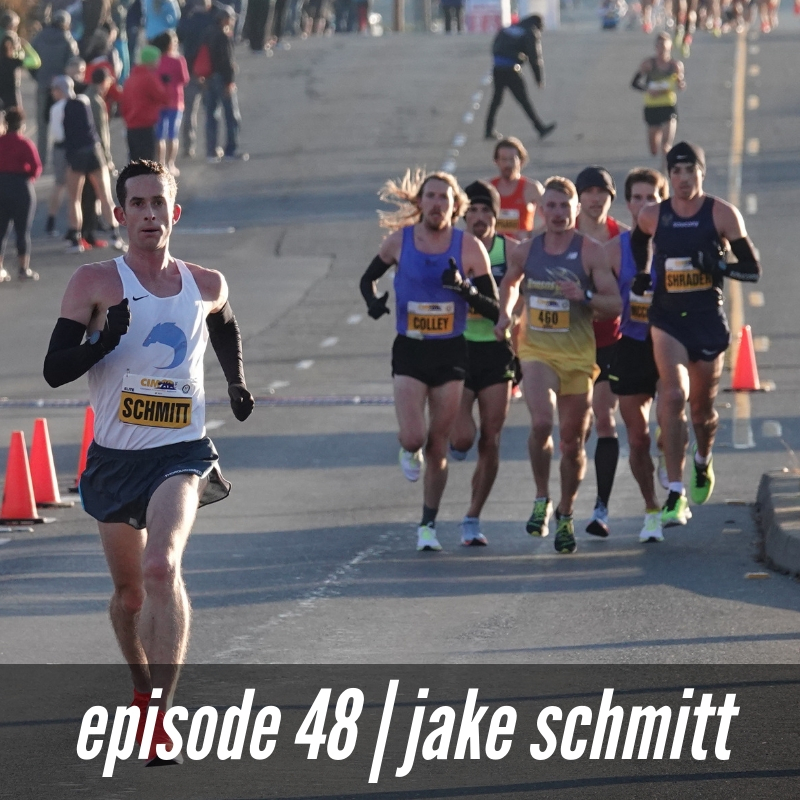 "The idea of doing what you love doesn't happen by accident. Like if I went to drama everyday, sure I'd have fun but it would have been misdirected. And I was fortunate enough to have what I loved and learn it but really cultivate it and really be around other people that loved it. And that's probably the theme that will come out of this conversation, whether it's a peer of mine that I'm still friends with because we raced against each other in high school or Mike Fanelli, who was running around the track with me at age 50, or my parents—it doesn't matter the demographic, we shared that. And I want for our high school kids to have that. They're coming to practice with two coaches that love it so much, they're surrounded by teammates that really love what they're doing, and it's the culture that we have, it's the community we're trying to create."
Subscribe, listen, and review on: Apple Podcasts | Stitcher | Overcast | Google Podcasts | Soundcloud | Spotify
Incredibly excited to welcome Jake Schmitt to the podcast this week. The 31-year-old is a three-time Olympic Trials qualifier in the marathon with a personal best of 2:15:09. He most recently ran 2:18:03 at CIM and has his sights set on competing well at the Trials in Atlanta a little over a year from now.
Schmitt was a state champion cross-country runner in high school and an All-American in track at the University of Washington. Aside from being an accomplished athlete, he has coached at his alma mater, Redwood High School, for the past nine years alongside his mom, Laura—who is also his coach—and they've developed one of the top distance programs in California. This mom and son duo also cofounded the Thoroughbred Treadmill Studio just north of San Francisco, which is the first of its kind on the west coast.
We talked about all of those things in this conversation and then some, including Schmitt's tight-knit family, where he gets his competitiveness from, how his parents taught him to love running without forcing it upon him, why he loves monotony, the importance of restraint in bringing along high school athletes in their training, developing a healthy team culture, and a lot more.
Related links, references, and resources:
— Follow Jake on Instagram.  
— Check out Thoroughbred, the treadmill studio he co-founded with his mom, Laura.
— "I'd have to tell him that you can't run any more laps," Schmitt's mom Laura recalled of young Jake. "We've been holding him back pretty much forever."
— Marin's Schmitt Family Keeps On Running: "The Schmitts are the most energetic, passionate and tight knit family I have ever met," Mary Wagner told The Marin Independent Journal in 2016. "Their love of running is infectious and their commitment to the sport and willingness to help anyone who is interested in getting involved is beyond compare."
— "When I leave work, it is a total delight to run," Schmitt told Dena Evans in an interview for Run Coach in 2014. "The biggest thing for me is that running immediately became my 'outlet' vs. my 'struggle.' I'm with brilliant people every day that I respect a lot at work, but one of the great things about coaching high schoolers is that I remember that so many things can go off plan and you can still have success.  Somewhere along the line, you forget about that.  You just control the control-ables and just get on the line and race."
This episode is brought to you by Strava's new podcast, Athletes Unfiltered. Are you looking for a little extra motivation on your next run or bike ride? Athletes Unfiltered is a new podcast of inspiring stories from the Strava community, told by the runners and cyclists who lived them. You'll hear from a runner who loses his sight and discovers a new community. A drummer who passes up the after party so he can get up early to ride bikes with his fans and connect in a way he never could from on-stage. A mountain biker who watched the trails he loved burst into flames and then created an app to help rally his community around rebuilding them. And along the way, they'll tackle some of the big, scary questions every athlete has to find answers to: Why am I doing this? Am I getting too old? Will I ever run again? The answers these athletes give might just help you find some of your own. Give the Athletes Unfiltered podcast a listen and subscribe on Apple Podcasts, Stitcher, Spotify, or wherever you consume audio content.
Music and editing for this episode of the morning shakeout podcast by John Summerford at BaresRecords.com