Podcast: Episode 43 with Kayla Nolan
|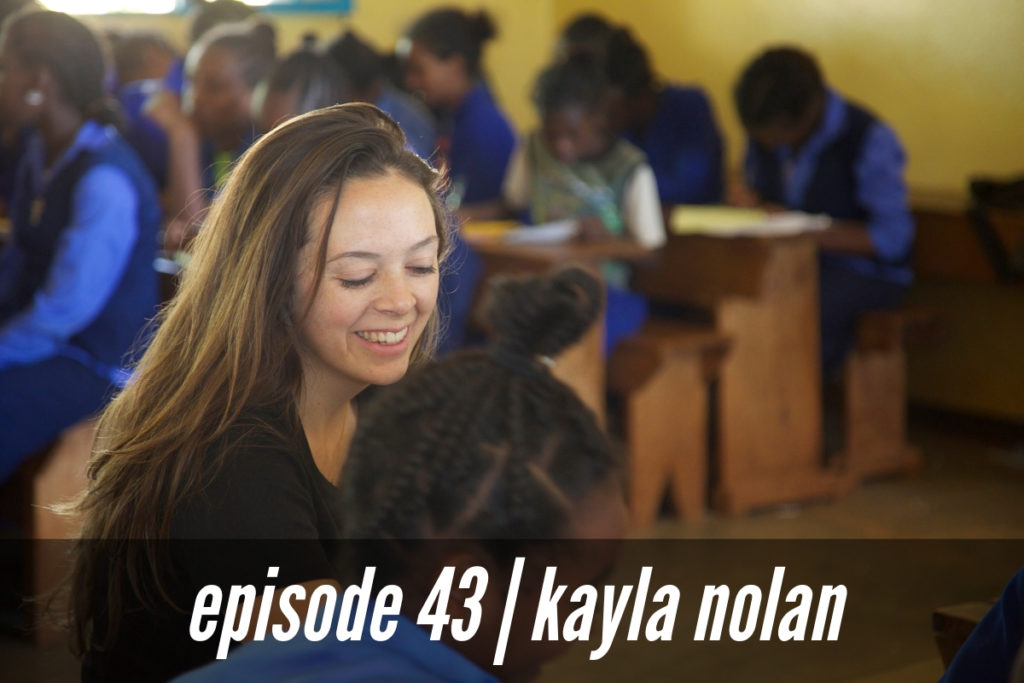 "I think sometimes someone tells you their story, and you're listening to it and that's a value; other times you need to tell people about it in advocacy; and other times you need to do something about it to help create change. I kind of see Girls Gotta Run as an extension of that, really working to bring those stories, bring the experiences of the girls to an elevated level where more people can understand that, see that, and support them in making change."
Subscribe, listen, and review on: Apple Podcasts | Stitcher | Overcast | Google Podcasts | Soundcloud
It was a real treat to talk to Kayla Nolan, the executive director of Girls Gotta Run, for this week's episode of the podcast. Girls Gotta Run is the only non-profit organization in Ethiopia using the national sport of running to create safe spaces, end child marriage and expand access to secondary school for vulnerable girls.
Nolan and Girls Gotta Run are doing some amazing things for women in Ethiopia using running as vehicle to drive positive change. We covered a lot in this conversation—from how Nolan first became connected to Ethiopia, to how she became involved with Girls Gotta Run, how the organization and her role within it has evolved over the last several years, the unique challenges women face in Ethiopia, how GGR is helping create opportunities for women through running, the rich running culture in Ethiopia, the importance of advocacy, and much, much, more—and I am super excited to share it with all of you.
Related links, references, and resources:
— Follow Kayla and Girls Gotta Run on Instagram.
— Check out Girls Gotta Run's website to learn more about how they're investing in girls who use running and education to empower themselves and their communities.
— Smashing The Glass Ceiling: "The key to making this generational change in Bekoji is the structure of the program from GGRF," Riley Wolff writes in a feature for Tempo Journal. "Still rooted in athletics – the language of Bekoji and much of Ethiopia, the sport provides a gateway to becoming more rounded, educated, community leaders."
— "The girls aren't here to say what's going on in their lives and they don't have the opportunity to come out here and talk to people about it, so my responsibility and the responsibility of the ones close to the organization is to help provide a platform to their voices to be heard and to be seen and to become just like a conduit for support, an investment in their initiatives," Nolan told Gold to Green. "My job is kind of to bring it out of the community in Ethiopia and to share it with more people who would like to connect with this and who might not know about this and who might not know that it's possible to connect with people in this way."
This episode is brought to you by Maurten. Maurten is the sports fuel used by many of the world's top marathoners, including Eliud Kipchoge, Mo Farah, Mary Keitany, and Des Linden, to name a few. It's also what I used recently to help break my own marathon personal best at CIM, where I ran 2:27:33. Maurten's got two core products, a drink mix and gel, both of which encapsulate high concentrations of carbohydrates to fuel you during activity. They only use food-graded ingredients and there are no added flavors, colorants or preservatives. Nothing more and nothing less than what's needed. Maurten has set up a special contest for listeners of the morning shakeout where you can win heaps of free product. Here's what you have to do: Go to maurten.com/AMshakeout and register with your email address. At the end of Maurten's 4-week sponsorship of this podcast they are going to draw 10 winners at random. Each winner will get a full box of 160 drink mix, a full box of 320 drink mix, and a full box of GEL 100s. That entire package is valued at over $130! Enter for your chance to win at maurten.com/AMshakeout.
Music and editing for this episode of the morning shakeout podcast by John Summerford at BaresRecords.com