Podcast: Episode 42 with Nate Helming
|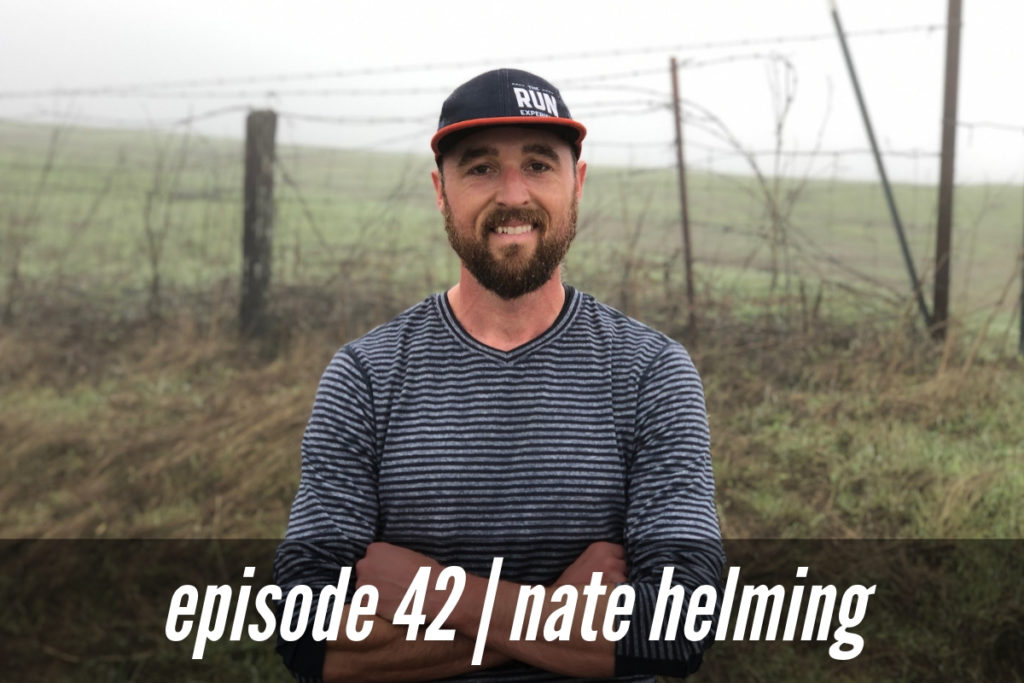 "The number one thing is really taking ownership of what you do with your body and understanding that our ideas on strength and exercising, it's not the multivitamin. I can't eat like crap and take my daily pill and think I'm good. Strength doesn't work that way [either]. It's not like I can run like garbage, never stretch, ignore all these signals that my body is giving me all the time, but do this one exercise, and think everything is going to be OK. It needs to be flipped around."
Subscribe, listen, and review on: Apple Podcasts | Stitcher | Overcast | Google Podcasts | Soundcloud
It was super fun to sit down with my friend Nate Helming, co-founder of The Run Experience, an online community that helps runners train to become stronger, faster, and more well-rounded athletes. He is also my personal strength training coach and has helped me become a healthier, more resilient runner over the past few years.
Nate and I caught up recently after a run and talked about his evolution as an athlete and a coach, how his own injury frustrations led him to think differently about his approach to strength training, and how all of those things intersected to land him where he is today.
This was a great conversation and there's a lot to take away from it, especially if you've been dealing with injury issues of your own. Subscribe and queue it up wherever you listen to audio content.
Related links, references, and resources:
— Follow Nate on Instagram.
— Check out The Run Experience's website and watch their free training videos on YouTube.
— Better Pushups For Better Running: This is the first article Helming wrote for me at Competitor Running. It was originally published in 2011 and has since been updated with video.
— How To Grow A Runner: Helming produced this series of well-known leg exercises—side steps with a band, the squat, the lunge, the step up, a single-leg squat and, finally, a running drill—that fit together to help develop a more complete athlete.
— FURTHER LISTENING: You Are Not (Just A) Runner: Helming and host Jason Fitzgerald dive deep into mobility work for runners and explain how to implement a daily mobilization routine into your training schedule on the Strength Running podcast.
This episode is brought to you by Maurten. Maurten is the sports fuel used by many of the world's top marathoners, including Eliud Kipchoge, Mo Farah, Mary Keitany, and Des Linden, to name a few. It's also what I used recently to help break my own marathon personal best at CIM, where I ran 2:27:33. Maurten's got two core products, a drink mix and gel, both of which encapsulate high concentrations of carbohydrates to fuel you during activity. They only use food-graded ingredients and there are no added flavors, colorants or preservatives. Nothing more and nothing less than what's needed. Maurten has set up a special contest for listeners of the morning shakeout where you can win heaps of free product. Here's what you have to do: Go to maurten.com/AMshakeout and register with your email address. At the end of Maurten's 4-week sponsorship of this podcast they are going to draw 10 winners at random. Each winner will get a full box of 160 drink mix, a full box of 320 drink mix, and a full box of GEL 100s. That entire package is valued at over $130! Enter for your chance to win at maurten.com/AMshakeout.
Music and editing for this episode of the morning shakeout podcast by John Summerford at BaresRecords.com