Podcast: Episode 40 with Des Linden
|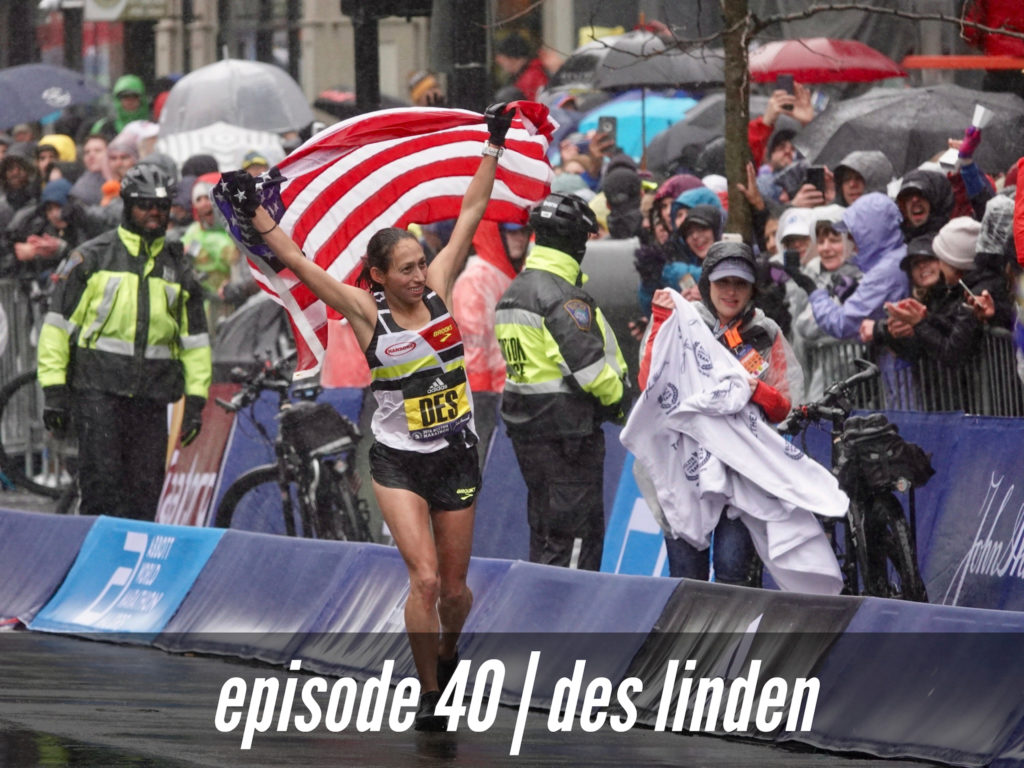 "I talk about why I had success in Boston—it's a 26.2-mile race that this year felt like 30, right? You add in the wind, and the conditions, and it suddenly feels longer, which is part of why I have this advantage in my mind. And so why not test that theory out in the actual distance? I think I can finish a marathon feeling like I can probably go another 10 miles, I just couldn't go a lick faster, so let's see how far we can extend that. I think those are all intriguing to me."
Subscribe, listen, and review on: Apple Podcasts | Stitcher | Overcast | Google Podcasts | Soundcloud
I'm super excited to welcome my first returning guest back to the show: 2018 Boston Marathon champion Des Linden. Linden and I last spoke on Episode 3 in late January, a couple months before she won the race that changed her life. A lot has transpired since she broke the tape on Boylston Street in mid-April, including the launch of Linden & True Coffee, a coaching change, more media appearances than she can remember, and a sixth-place finish at the New York City Marathon a little over a month ago.
Linden and I caught up recently at The Running Event in Austin, Texas and talked about all of those things in great detail and then some, including where her scrappiness and competitiveness come from, why her win in Boston was so validating, the importance of having confidence, trust, and faith in yourself on race day, the advantages of training in a group versus training alone, how her training has changed since leaving the Hansons-Brooks Distance Project, what the rest of her competitive marathon career looks like and why ultra-distance races appeal to her, what's exciting her in running right now, why it's important to tell your story, and a lot more.
Related links, references, and resources:
— Follow Des on Instagram and Twitter.
— "I'm the only person who sat on the bus [to the start] and was like, 'This is the best thing ever. This is my dream come true,'" Linden told ESPN's Bonnie Ford. "Everyone else is sitting on the bus going, "Holy s—. Are we really doing this?' and I'm like 'This is the best thing that's ever happened to me.'"
— Des Linden Won Boston After a Decade of Close Calls—But She's Not Done Yet: "Boston gave the 35-year-old levity she hasn't felt in years—if ever—but it did not make her complacent," Sarah Lorge Butler wrote in a profile of Linden for Runner's World. "In fact, the opposite: This win allows Linden to take risks in training, racing, and coaching."
— 26.2 Questions with Des Linden: Fun video created by Brooks, Linden's main sponsor, before this fall's New York City Marathon.
— LISTEN: Tune in to Episode 3 of the morning shakeout podcast and catch up on our conversation a couple months before her big win in Boston, then check out her deep post-race dives on Rich Roll's show and Michael Gervais' Finding Mastery podcast.
This episode is brought to you by Maurten. Maurten is the sports fuel used by many of the world's top marathoners, including Eliud Kipchoge, Mo Farah, Mary Keitany, and this week's guest, Des Linden, to name a few. It's also what I used recently to help break my own marathon personal best at CIM, where I ran 2:27:33. Maurten's got two core products, a drink mix and gel, both of which encapsulate high concentrations of carbohydrates to fuel you during activity. They only use food-graded ingredients and there are no added flavors, colorants or preservatives. Nothing more and nothing less than what's needed. Maurten has set up a special contest for listeners of the morning shakeout where you can win heaps of free product. Here's what you have to do: Go to maurten.com/AMshakeout and register with your email address. At the end of Maurten's 4-week sponsorship of this podcast they are going to draw 10 winners at random. Each winner will get a full box of 160 drink mix, a full box of 320 drink mix, and a full box of GEL 100s. That entire package is valued at over $130! Enter for your chance to win at maurten.com/AMshakeout.
Music and editing for this episode of the morning shakeout podcast by John Summerford at BaresRecords.com