Podcast: Episode 37 with Ladia Albertson-Junkans
|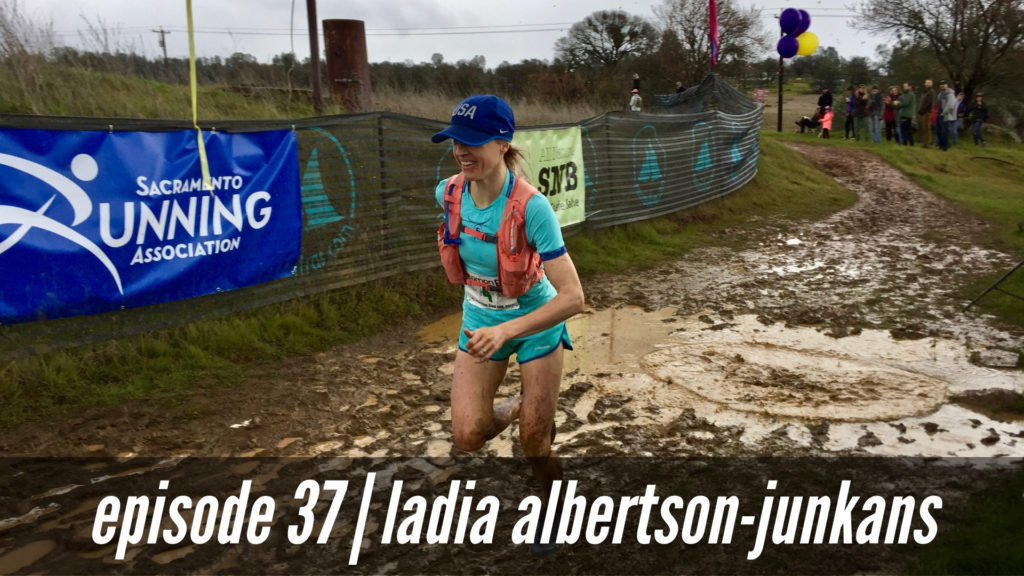 "Running is such a passion for me and such a source of joy. It's really my way of experiencing life but also a way of exploring the world, and so I really look at it from that lens and I'm always interested in new ways of exploring either the planet or my own capabilities or bringing other people along with me who maybe haven't done something as long or as vert-y, or whatever, and that kind of is what drew me to trail running in the first place."
Subscribe, listen, and review on: Apple Podcasts | Stitcher | Overcast | Google Podcasts | Soundcloud
Really enjoyed sitting down with Ladia Albertson-Junkans for the podcast this week. The 32-year-old is one of trail and ultrarunning's rising stars, along with being one of the sport's most versatile athletes. Albertson-Junkans, a two-time cross-country All-American at the University of Minnesota, has accomplished a lot in the past few years, and here are some of the highlights, in no particular order: She made her ultrarunning debut in 2017 at the competitive Chuckanut 50K in Bellingham, Washington, winning in 4:17:44, and then represented the United States at the IAU World Trail Running Championships that summer, where she finished 13th overall. She followed that up earlier this year with a win at the Way Too Cool 50K in California in 3:44:01, the fourth-fastest time in race history, and top-five finishes at both the Broken Arrow Skyrace and Speedgoat 50K this past summer. She's also very good at running uphill, finishing fourth at the 2016 U.S. Mountain Running Championships, which qualified her for that summer's world championships, where she finished 15th and helped the U.S. to a bronze medal in the team race. Oh yeah, Albertson-Junkans also qualified for the 2020 U.S. Olympic Trials Marathon this past May with a 2:41:52 clocking at the Silo District Marathon in Waco, Texas, which she ran to support her best friend and college teammate, Gabe Grunewald.
We covered a lot of different topics over the course of our recent conversation, including the cancellation of the North Face Endurance Challenge Championships, where Albertson-Junkans was set to make her 50-mile debut; her sense of adventure and how she's able to meld it with her competitive interests; getting into ultrarunning and what she's learned during her short time in the sport; versatility as an athlete and why that's important to her; coaching herself and how she builds flexibility into her training schedule; the power of community and its role in the furtherment and longterm health of the sport; the importance of having a team behind her throughout her competitive running career; what's inspiring her to try and qualify for next year's Western States Endurance Run; and much, much more.
Related links, references, and resources:
— Follow Ladia on Instagram, Twitter, and Strava.
— "The more time I spent in the mountains, the more I realized what amazing places they are to run," Albertson-Junkans told Matt Flaherty for Ultrarunning magazine. "Trail running has become a wonderful marriage of my love for running and my love for moving in the mountains."
— "I knew that I could explode at any point," Albertson-Junkans told Trail Runner after winning the Chuckanut 50K in 2017. "Thankfully, I got to the finish line before that happened."
— FURTHER LISTENING: Albertson-Junkans was a guest on Ultrarunner Podcast after winning the Way Too Cool 50K earlier this year. "I think I've learned to focus on joy through the physical discomfort and physical strain," she told host Eric Schranz, "and in some way I derive joy from that, which I think a lot of us do."
This episode is brought to you by Inside Tracker. Every body is unique. You personalize your training, so why not personalize your diet and supplementation routine? InsideTracker's cutting-edge algorithmic engine will analyze your blood, nutrition, and lifestyle habits to tell you the best foods and supplements to add to your current routine, why you need them, and at what frequency. Track your progress and adjust, based on real feedback from your body. Take advantage of their best deal of the year with a special opportunity for listeners of the morning shakeout podcast. Use code MORNINGSHAKEOUT for $200 off their Ultimate plan from now until the end of November, only at insidetracker.com.
Music and editing for this episode of the morning shakeout podcast by John Summerford at BaresRecords.com