Podcast: Episode 35 with Kim Conley
|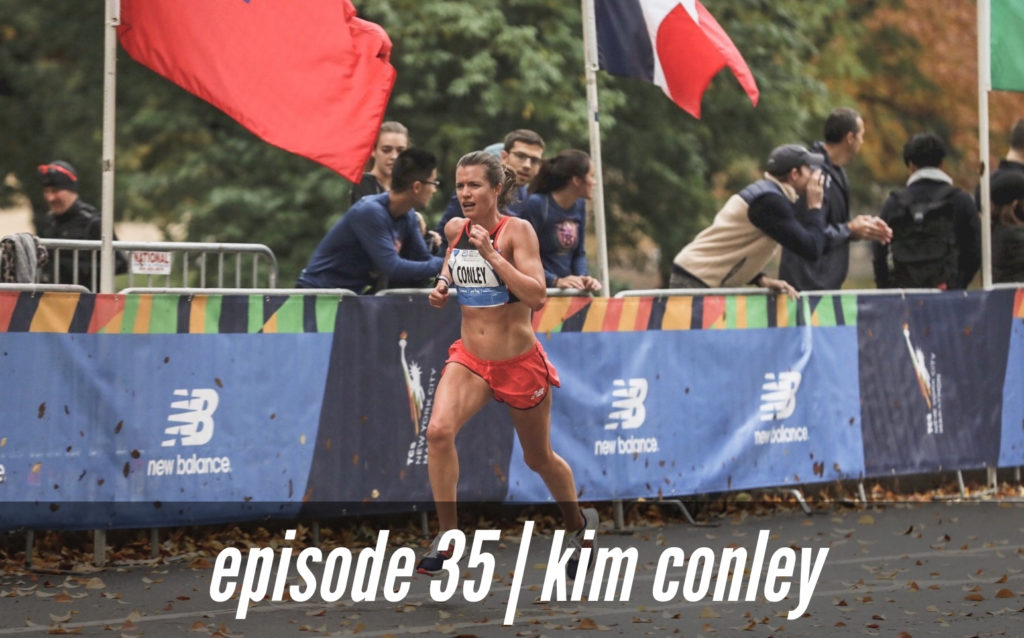 "Not to sound cheesy, but anything is possible. I think that when you set your mind to something, and make a plan on how to get there, then you just chip away at what the next step of the plan is and you keep working up to the next step on the staircase basically—and it's amazing how far you can go."
Subscribe, listen, and review on: Apple Podcasts | Stitcher | Overcast | Google Podcasts | Soundcloud
Really enjoyed sitting down with two-time U.S. Olympian Kim Conley this past weekend after she finished fourth at the NYRR Abbott Dash to the Finish Line 5K, a race which doubled as the U.S. 5K road championships for 2018.
The 32-year-old Conley, who has been battling a series of injuries since early 2017, is finally healthy again and setting her sights on returning to the track in 2019. Based in Sacramento, where she lives and trains with her husband and coach, Drew Wartenburg, Conley ran collegiately at nearby U.C. Davis, where she graduated in 2009 with modest personal bests of 16:17 for 5000m and 4:22 in the 1500. Despite not being fast enough to land a sponsorship deal after college, Conley knew that she still had some unfinished business in the sport, so she decided to stick with it. It's a decision that has certainly paid off: Conley has made the last two Olympic teams in the 5000m, captured national titles in the 10,000m and half marathon, and improved her personal bests to 15:08 and 4:07, respectively.
We covered a wide range of topics in this conversation, including: what Conley has taken away from her most recent injury experience; her marathon debut in 2016 and what she learned from that race (and why she's going to stay focused on the track through 2020); the state—and strength—of American women's distance running right now; her own progression in the sport, from good but not great high school and college runner to two-time Olympian and national champion; her new upcoming biography, Underdog, which comes out next spring; the shutting down of NorCal Distance, her current training situation in Sacramento, and what's it like to be coached by her husband, Drew Wartenburg; what other runners can take away from her story; and much, much more.
Related links, references, and resources:
— Follow Kim on Instagram and Twitter.
— Kim Conley Realizes National Championship Dream: "I just kept saying one word over and over again in my head and that was courage," Conley told me after winning the national 10,000m title, her first, in 2014. "Because that's a dangerous place to be in the front with someone who has the leg speed of Jordan. But I was just reminding myself to be courageous and to know that if I could still be with her with 120 to go then I would just use my heart to get me to the line. To win my first national title here is so meaningful I can't even begin to describe it."
— "I'll admit that I was afraid people would think the Olympic trials was a fluke, even though in my heart I knew it wasn't," Conley told Runner's World in 2014. "That maybe I'd snuck up and stolen the spot, not because I was faster, but because I leaned. It was that eagerness to prove that no, I'm here, I've arrived, because the way I made the team was so dramatic."
— WATCH: The 2012 U.S. Olympic Trials 5000m Final where Conley kicks hard in the last lap to make the Olympic team by the skin of her teeth, then READ: An Oral History Of The 2012 Olympic Trials Women's 5,000 (Part I, Part II, Part III).
If you enjoyed this episode, please consider supporting the morning shakeout on Patreon.
Music and editing for this episode of the morning shakeout podcast by John Summerford at BaresRecords.com