Podcast: Episode 30 with Lauren Fleshman
|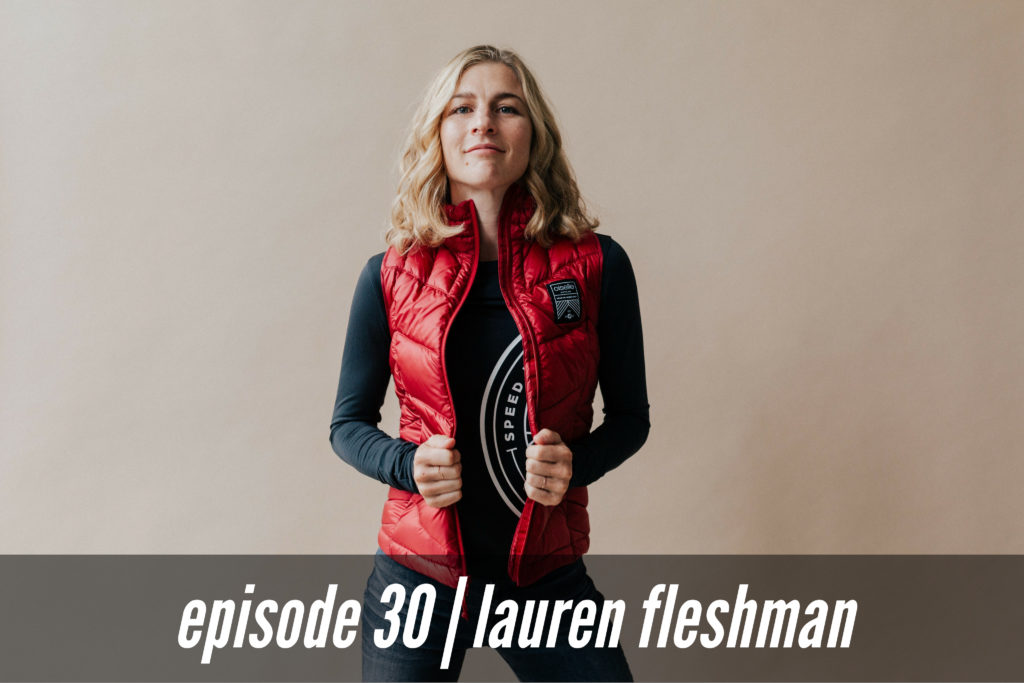 "I'm not trying to build some empire where I need to be liked by as many people as possible. I just want to be myself and be myself publicly—until I don't anymore, then I'll just shut down all my social media accounts."
Subscribe, listen, and review on: Apple Podcasts | Stitcher | Overcast | Google Podcasts | Soundcloud
Stoked to welcome Lauren Fleshman to the podcast this week! Fleshman, who turns 37 on Wednesday, is a retired professional athlete who still maintains sponsorships with Oiselle and a number of other brands. She's won two national titles, has represented the United States in numerous international competitions, and, in 2011, placed seventh in the 5,000m at the world championships in South Korea. These days, Fleshman wears a lot of hats: mom to two young children, wife to professional triathlete Jesse Thomas, co-founder of Picky Bars along with Thomas and professional marathoner Stephanie Bruce, coach of Little Wing, a small group of elite female runners based in Bend, Oregon, practicing writer, and one of running's most outspoken advocates on a variety of topics and issues.
We talked about a lot of different things over the course of this 60-ish minute conversation: coaching, how the various coaches she worked with throughout her own athletic career have influenced her current perspective and philosophy, and what can be done to create more opportunities for coaches, especially females; Picky Bars, and how she and husband Jesse Thomas don't let the business consume every moment of their lives; her recent recommitment to leaving the sport better than she found it and using her platform to spur meaningful change even though she's no longer competing; her current relationship with running and what she misses most about being a professional athlete; what's changed in the sport since she turned pro in 2003 and whether or not she's worried about the sport's future; the advice she'd give 21-year-old Lauren upon graduating college; writing, when it came into her life, and what her process looks like; and much, much more.
Related links, references, and resources:
— Follow Lauren on Instagram, Twitter, and Strava.
— Check out her website and listen to the Work Play Love podcast that she hosts alongside her husband, Jesse Thomas.
— Dear Younger Me: "I need you to know, I PROMISE you, that the ultimate star you are chasing is further ahead than any shiny thing you see now," Fleshman wrote in a letter to her younger self in 2017. "The way you get there is to protect your health and protect your love of the sport above all, even as you reach for the shiny goals right in front of you."
— "I know I'll work harder if I'm in alignment with my purpose," Fleshman told Outside in a piece called 'How To Master The Side Gig.' "The theme connecting my projects is: How do I help share the things I've worked really hard to learn with a larger audience?"
— Fleshman's Mission Goes The Distance: "I realized you can't expect people to care just because you're fast," she told The New York Times when she retired in 2016. "You have to bring them with you."
This episode is brought to you by Tracksmith, an independent running brand based in Boston that's inspired by our sport's culture and competitive spirit. They make high quality and highly considered running apparel, designed by runners for specific performance needs. Tracksmith is committed to the pursuit of personal excellence and seeks to make products and tell stories that connect and inspire runners on their own competitive journeys. Personally, I love their Twilight tank, which I wore for the last two Boston Marathons. It's made from a lightweight, breathable fabric in a race-ready cut with subtle design elements. Tracksmith recently launched its Fall collection, which features styles for racing, training and even rest days. And right now, Tracksmith is offering listeners of the morning shakeout a great deal: Spend $150 or more and you'll get a free Van Cortlandt Singlet, valued at $65. Visit tracksmith.com/shakeout to take advantage of this great offer.
Want more of the morning shakeout podcast? Check out past episodes here and here.
Music and editing for this episode of the morning shakeout podcast by John Summerford at BaresRecords.com