Podcast: Episode 25 with YiOu Wang
|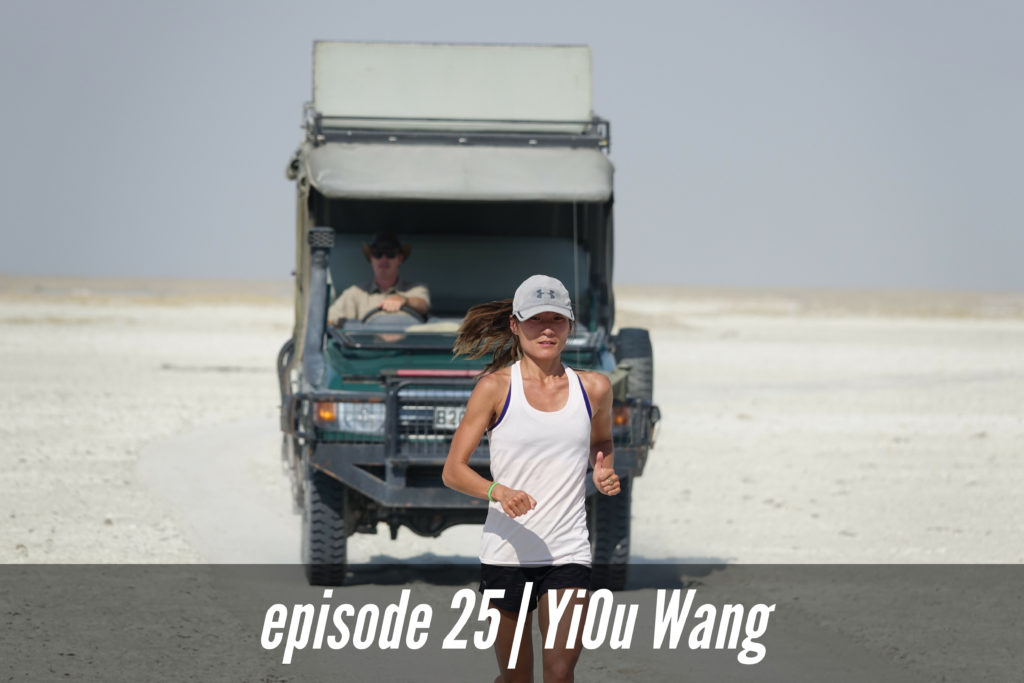 "I think that if you maintain good relationships with people, if you act in a way that is helpful to others, that is kind, that is giving, and you just hold yourself to a high standard, then opportunities will appear before you—and [when they do], just say yes."
Subscribe, listen, and review on: iTunes | Stitcher | Overcast | Google Play | Soundcloud
Super excited to welcome YiOu Wang to the podcast this week! YiOu is the reigning U.S. 50K trail champion, two-time winner of the Lake Sonoma 50, and an Olympic Trials Marathon qualifier with a personal best of 2:38:46, in addition to being an Under Armour and Camlebak-sponsored athlete. Full disclosure: I coach YiOu—we've been working together for the past 2-1/2 years—and this episode marks the first time I've interviewed one of my own athletes for the podcast.
We covered a lot of ground in this 90-minute conversation, including YiOu's recent year-long trip around the world—she and her husband were working as teachers—where she visited (and ran in!) numerous countries, experienced many different cultures, and stuck to a training schedule despite being in a new place every few days. We also talked about immigrating to the U.S. as a young child, "almost failing P.E. because I couldn't run the mile," what inspired her to take up running in college, chopping nearly an hour off of her marathon personal best over the course of seven years, transitioning to (and training for) trail and ultra running, where her competitiveness comes from, and much, much more.
Related links, references, and resources:
— Follow YiOu on Instagram and Twitter.
— Check out her website.
— "It was really about finding a solution," YiOu told Kelly O'Mara in a recent profile for espnW, explaining how she fit in her workouts around a demanding travel schedule.
— "A talent like YiOu is very rare," her former coach, Mark McManus, told the Marin Independent Journal in 2011. "She's a natural competitor, with perfect mechanics, smooth, strong, and aggressive and enjoying her rise through the ranks. She doesn't get intimidated, loves to just go out and lead. She's a model pupil, asks questions, doesn't require a lot of guidance. She's really just getting started."
— Quick-n-Dirty: "The last 15 miles were uncharted territory and I told myself to just keep running," Wang told Matt Flaherty for Ultrarunning magazine after winning the 2016 Lake Sonoma 50. "I thought about all the times I felt tired going into a training run and told myself it's only a Lakes Loop (a route I frequently run in Marin) to the finish."
This episode is brought to you by UCAN. UCAN powders and bars with SuperStarch give you slow-release carbs and long-lasting energy without the big crash. I can personally vouch for UCAN, as I've used the drink powder to fuel my last couple marathons, including Boston just a couple months back, and it been an integral part of my overall pre-race nutrition plan. But don't just take my word for it: top athletes like Meb Keflezighi, Dathan Ritzenhein, and members of the ZAP Fitness racing team use it in their training and racing as well. UCAN is ideal for any runner looking to fuel for workouts and races without all the sugar of many other sports drinks. There's nothing out there quite like it. Try a UCAN sample pack for yourself—you'll get 1 packet of UCAN SuperStarch Drink Mix, 1 packet of UCAN Protein Drink Mix & 1 UCAN Snack Bar —all for under $5 bucks, which includes free shipping. Check it out at generationucan.com/morningshakeout and see what you think.
Want more of the morning shakeout podcast? Check out past episodes here and here.
Music and editing for this episode of the morning shakeout podcast by John Isaac at BaresRecords.com