Podcast: Episode 24 with Magdalena Boulet
|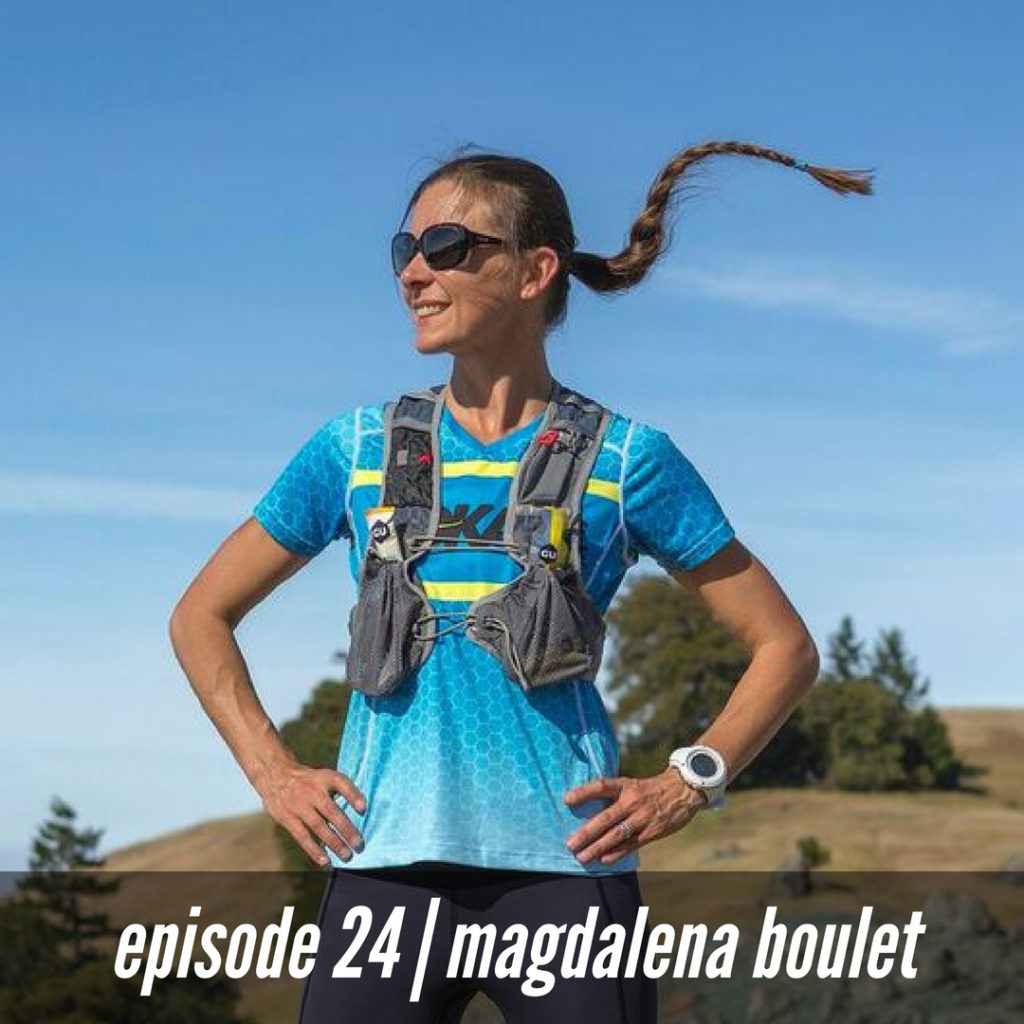 "My first run ever, I remember just having the feeling of so much joy. I said, "Wow, how come I've never experienced this before in the pool? This is so cool." And it was more about just the fact that I had this feeling of being competitive that never really clicked in swimming." 
Subscribe, listen, and review on: iTunes | Stitcher | Overcast | Google Play | Soundcloud
And the rest, as they say, is history. It's a huge honor to have Magdalena Boulet as my guest on the podcast this week. Magda is one of the most incredible athletes—and human beings—that I've ever had the fortune of getting to know. The 44-year-old Boulet, who grew up in Poland and moved to Germany before immigrating to the United States as a teenager, made the 2008 U.S. Olympic team in the marathon (and owns a personal best of 2:26:22 for the distance), has qualified for numerous national teams, and, over the last five years, has established herself as a top international ultramarathon runner, winning the prestigious Western States Endurance Run in 2015 and, most recently, the grueling Marathon des Sables, a six-day, 250-ish kilometer stage race through the Sahara Desert.
Boulet, who works at GU Energy Labs in Berkeley, California as the VP of Innovation, Research, and Development, has called the Bay Area home for over two decades. She's married to former elite miler, Richie Boulet, and the couple has a young son, Owen.
We covered a lot of ground in the course of this hour-long conversation and I felt like we barely scratched the surface of Magda's story, what she's accomplished at various distances and disciplines throughout her competitive career, and how she's able to juggle competing at an elite level with being a wife, mom, and executive, amognst other things, so we'll just have to schedule a Round 2 for another time.
But, there's plenty we did talk about, including:
— Her beginnings at GU Energy Labs in 1998 and how that relationship has evolved over the years as an athlete and employee.
— Growing up as a swimmer in Poland, moving to Germany for a brief period of time, and eventually immigrating to Long Beach, California, where she was exposed to running in her late teens.
— Getting herself noticed as a junior college runner by tripling at the state meet and how that eventually led to her to Cal and coach Tony Sandoval.
— Transitioning to Cal and falling in love with Berkeley, California and the surrounding area. "I was sold within an hour," she told me.
— Her relationship with her husband, Richie, how he inspired her to continue running competitively after college, and why he's been a voice of reason for her through the years.
— Coach Jack Daniels, whom she worked with for many years after college, and the influence he had on her overall development as an athlete.
— The disappointment of not making the Olympic team in 2004, the decision to have child a few months later, and what fueled her motivation leading up to the 2008 Trials.
— How a nasty plantar fasciitis injury in October of 2007 had her contemplating retirement a little over six months out from the 2008 Olympic Trials.
— The blow-by-blow of 2008 U.S. Olympic Trials Marathon in Boston, where she led a majority of the race and eventually finished second to Deena Kastor to make the Olympic team.
— When (and why) she developed an itch for ultrarunning—and the steps she took to scratch it.
— The unpredictability of racing an ultra versus the relative predictability of racing a marathon.
— What still excites her from a competitive standpoint, and what's exciting her about running in general right now.
— And much more.
I hope you enjoy this exchange as much as I did and can take some inspiration and insight away from Magda's journey and experiences. As mentioned earlier, there's a lot we didn't have time for in this conversation, including her training and how it's changed as she's gotten older and her career—and competitive interests—have evolved, the importance of nutrition for staying healthy and performing optimally, her Western States debut (n.b. she and I did talk about it for a Q&A a few years back), her recent Marathon des Sables win, and more, so stay tuned for a follow-up down the road (err, trail!).
Related links, references, and resources:
— Follow Magda on Instagram and Twitter.
— Check out her website.
— 15 Hours with Magdalena Boulet: Filmmaker Billy Yang documents a day in the life of Boulet—who juggles being an elite-level athlete along being the VP of Innovation, Research, and Development at GU Energy Labs, wife to her husband Richie, and mom to her son, Owen—while she recounts the day she became a U.S. citizen and explains what it means to her when she represents her country in international competition. "It's an incredible honor and privilege to get to do something like this," she explains, "whether it's the Olympics or even trail races when you go out there and they announce that, 'this athlete is from the United States of America.' It's very similar. It's an honor."
— "I learned how much more powerful the mind is than the body," Boulet told me after her Western States win in 2015. "I know there are probably many people reading this article and thinking "100 miles is insane, I could never do that." But the truth of the matter is that with proper preparation, successful fueling plan and enough will, your mind can push your body far beyond what you once thought was possible."
— Outside My Comfort Zone: Check out Magda's race report from this year's Marathon des Sables. "It is an honor to win this incredible race, but more importantly I learned a great deal along the way," Boulet wrote for iRunFar. "I know how to make a tent out of a heavy wool blanket and some sticks. I know that in the face of adversity I can stay calm because storms don't last forever. I love making new friends. Most of all, I continue to reinforce the importance of seeking big challenges because I can't imagine a life in which I don't scare myself a little and keep striving to complete something that I didn't know I could do."
This episode is brought to you by UCAN. UCAN powders and bars with SuperStarch give you slow-release carbs and long-lasting energy without the big crash. I can personally vouch for UCAN, as I've used the drink powder to fuel my last couple marathons, including Boston just a couple months back, and it been an integral part of my overall pre-race nutrition plan. But don't just take my word for it: top athletes like Meb Keflezighi, Dathan Ritzenhein, and members of the ZAP Fitness racing team use it in their training and racing as well. UCAN is ideal for any runner looking to fuel for workouts and races without all the sugar of many other sports drinks. There's nothing out there quite like it. Try a UCAN sample pack for yourself—you'll get 1 packet of UCAN SuperStarch Drink Mix, 1 packet of UCAN Protein Drink Mix & 1 UCAN Snack Bar —all for under $5 bucks, which includes free shipping. Check it out at generationucan.com/morningshakeout and see what you think.
Want more of the morning shakeout podcast? Check out past episodes here and here.
This episode of the morning shakeout podcast was edited by John Isaac at BaresRecords.com