Podcast: Episode 21 with Dean Karnazes
|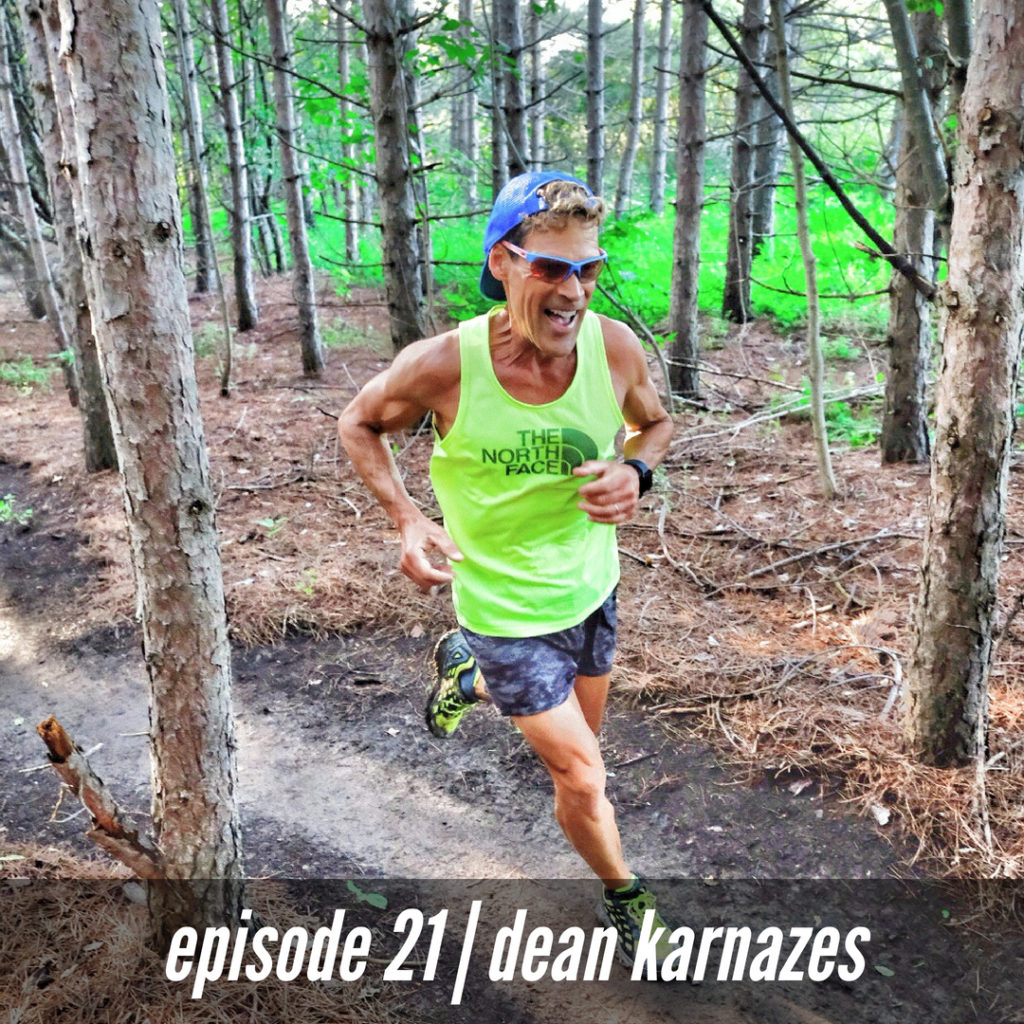 And I thought, "My god, I'll never get to that level." And if someone at that level can't make a go of it in the sport, and you want to make a go of it in the sport, you're going to have to do a lot more than win races, or just race. You're going to have to figure out other revenue streams to make a go of it, especially if you want to commit your life to this, which I really did.
It was a treat to have Dean Karnazes join me on the podcast this week. The 55-year-old Bay Area resident remains one of the most recognizable figures in ultrarunning—if not all of running in general—for his accomplishments on and off the race course, which include multiple sub-24 hour Western States finishes, 10 Badwater finishes (including a win in 2004), 50 marathons in 50 states in 50 days, cross-country runs, a 350-mile run on no sleep, and countless more.
Karnazes' achievements have inspired many, and angered some, but the breadth of Karnazes' impact on the sport, and peoples' lives, is inarguable. He's authored four books, including the international best-seller Ultramarathon Man, which helped bring widespread notoriety to the sport of ultrarunning and led Time magazine to name him one of 100 most influential people in the world. Karnazes, who has sponsorship endorsements with The North Face and other brands, has also done a lot of work for charity, including Karno Kids, which has helped provide financial support for organizations and programs focused on improving health and wellness for children.
We covered a wide range of topics in this episode, including:
— His recent experience at the Western States Endurance Run, where he finished in just over 27 hours.
— How Western States as an event has evolved since he last ran the race 10 years ago.
— The current competitive landscape of ultrarunning and how it's impacting the sport.
— His role in the sport of ultrarunning and how it's evolved over the past couple decades.
— His 22-year relationship with The North Face and helping launch The Endurance Challenge Series 11 years ago.
— Advice he'd give other athletes looking to make a living in the sport.
— The biggest lessons he's learned as an athlete and how he's applied them to other areas of his life. "I take a 360-degree approach in everything I do," Karnazes told me. "Training, strength-training, diet, of course, sleep, of course, interpersonal relationships—all of these things make you the best animal you can be—so I've really focused on all of those things as I've gotten older."
— His approach to training and how it's changed over the years.
— The benefits of hiring a coach for his 50 marathons in 50 states and 50 days endeavor in 2006.
— Tips for running strong after the age of 50.
— What brings him the most fulfillment—and what keeps him going after two-plus decades in the sport.
— How he thinks about pain and why he considers it the definition of fun.
— What can be done to knock down some of the barriers of entry into ultrarunning.
— The importance of his family's support over the years and the advice he'd give to other ultrarunners whose families might not understand their commitment and passion for the sport.
— A whole lot more.
Subscribe, listen, and review on: iTunes | Stitcher | Overcast | Google Play | Soundcloud
Related links, references, and resources:
— Follow Dean on Instagram and Twitter.
— Check out his website.
— The Man Behind Ultramarathon Man: "At first I thought, why would I want to do this? I had never watched Live! With Regis and Kelly, and I can't imagine anyone in my peer group watching morning TV," Karnazes told Sarah Lavender Smith for Trail Runner magazine. "Then I thought, the demographic watching this is probably the folks that need the most inspiration to get off the couch. If I'm going to do something that makes me feel best, which is helping others be the best they can be, then I have to use the media."
— The Real Dean: "If I get an e-mail asking me to do an interview I'm respectful and give the interview," Karnazes told TJ Murphy for Competitor a few years back. "But I'm not some sort of marketing machine. I don't send out press releases. I think I've been misrepresented. And some who do meet me will come around full circle and say, 'What you're really about and what I thought you were about are two different things.'"
— Karnazes has authored four books: Ultramarathon Man, published in 2006, was an international best-seller. The New York Times said, "Full of euphoric highs… His book describes a journey into distance running that is much less about sweat than about the emotional terrain that unfolds at the frontier of endurance." 50/50, Karnazes' second book, shares the lessons he learned in running 50 marathons in 50 states on 50 consecutive days. His third book, Run!, is full of stories documenting his wildest and craziest adventures, along with the lessons learned along the way. His latest book, The Road To Sparta, takes a deep dive into Karnazes' own Greek ancestry while telling the story of the world's first marathon while recreating the Spartathalon, a 153-mile run from Athens to Sparta, in which he ran in traditional Greek attire while only eating foods available at the time (490 BC).
— 5 Ways To Change Your Mindset: Karnazes dives into the ancient lessons he learned while researching The Road To Sparta that most of us would benefit from applying to our lives today. "The gym was a place where many citizens spent their entire day, and often businesses were located nearby so tradesmen could readily access both," he shares in one of the lessons. "The modern takeaway is not to compartmentalize your workouts as separate and distinct activities from the rest of your life. View yourself through the lens of an athlete and conduct all your activities in accordance."
This episode is brought to you by the Anthem Richmond Marathon, which takes place on November 10. From phenomenal course support, to idyllic fall weather and supportive spectators, when you run Richmond, you get it all. Plus the course is mostly flat, it's a top-20 Boston qualifier, and ends with a beautiful, downhill riverfront finish. Dubbed America's Friendliest Marathon by Runner's World, you've got every reason to start planning your trip to Richmond today. Use the discount code 'morningshakeout'—all one word, all lowercase—when you register to save $10 on your registration today. Best part: I'll be there running the Markel Richmond Half Marathon and hosting all kinds of other fun events throughout the weekend, including an actual morning shakeout run on Friday morning. I'd love to see there!
Want more of the morning shakeout podcast? Check out past episodes here and here.
This episode of the morning shakeout podcast was edited by John Isaac at BaresRecords.com