Podcast: Episode 19 with Jason Ayr
|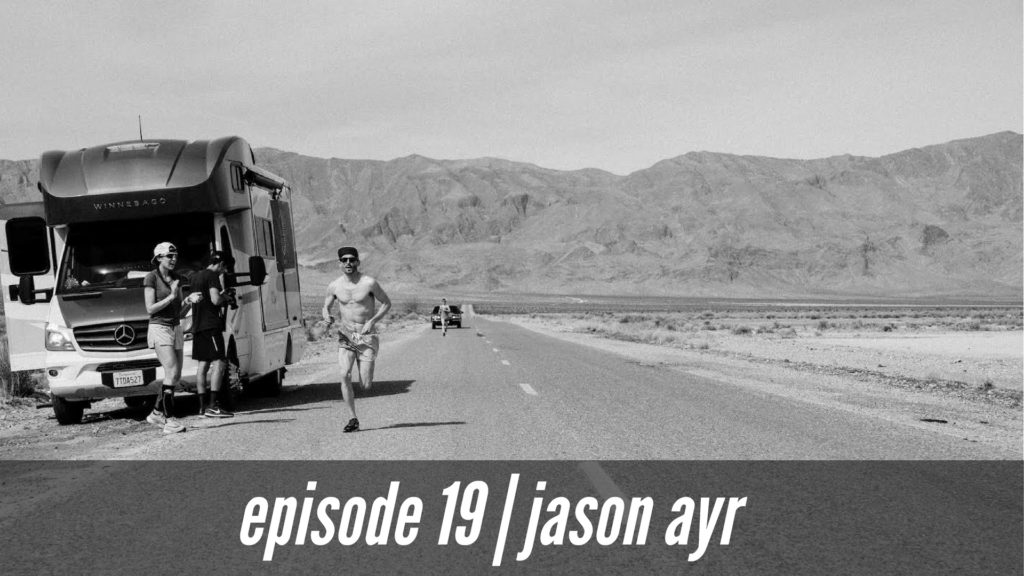 I see it more as the type of runner, athlete, or individual who is looking for that experience and something that might change you a little bit. And that doesn't necessarily mean it can't be super competitive as well. For me, what racing the Sun Chasers in Death Valley taught me is that those experiences can be happening at the same time—it could be the rawest form of competition but at the same time be this moment of self-discovery. And so all of them being bundled up into that same thing just labeled 'experience' and I think that's the type of athlete, runner, or individual that is going to seek those things out—and I think there's definitely an interest there.
Really excited to welcome Jason Ayr to the podcast this week. Ayr, who works as the controller at Tracksmith, finished 22nd at this year's Boston Marathon, running 2:29:53. The 30-year-old Ayr also captained Tracksmith's team to a second-place finish at The Speed Project 4.0—a 340-mile unsanctioned relay race running from Los Angeles to Las Vegas that's primary source of information, promotion, and documentation is through Instagram—a couple weeks prior, running dozens of hard miles in just under 36 hours.
We covered all things TSP in this episode, including:
— When he first became aware of The Speed Project and when Tracksmith decided to enter a team.
— Whether or not he had hesitations about taking part in TSP 4.0. "If I had known how difficult it was going to be, there's no way I would have done it two weeks before a goal race," he admitted to me.
— The 40 teams that made up The Speed Project: Who were they? And where did they come from?
— The vibe amongst all the teams before, during, and after the event.
— The logistics of navigating 340 miles through the desert with no real rules to follow.
— How his team's race strategy evolved throughout the event.
— The group dynamic after two days together under the hot sun, in close quarters, and on little sleep.
— Preparing for TSP 4.0 while also training for the 2018 Boston Marathon.
— The close battle that developed with a French team called the Sun Chasers.
— When he cracked in the final hours and his teammates wouldn't allow him to run any more miles.
— How the experience changed him.
— Where underground, exhibition-style events like TSP fit into the overall running landscape in the coming years.
— A whole bunch more.
This conversation with Jason was a fun one and satisfied some of my curiosities about The Speed Project, which is the type of event I think we're going to see a lot more of popping up in the coming years—events that go against the grain of the traditional running race, challenge established norms, and generate a fresh excitement that is equal parts competitive and experiential.
Subscribe, listen, and review on: iTunes | Stitcher | Overcast | Google Play | Soundcloud
Related links, references, and resources:
— Follow Jason on Instagram.
— Check out Tracksmith's look book from The Speed Project 4.0. "Staring down the road with only the van's high beams, a headlamp and a few cell phone flashlights for illumination, it's hard not to feel like we've entered some alternate reality. An end-of-the-world scenario or a zombie movie. Zero sleep since 3:00 am doesn't help matters. But, somehow, this is real life. This is The Speed Project."
— 35h49″ SUNCHASERS—TSP.4: The Sun Chasers, the team that beat Tracksmith to Las Vegas by 10 minutes at this year's edition of The Speed Project, out out this awesome video documenting the excitement, uncertainty, and competitiveness of the event.
— "And Speed Project, what was really unique about it, and yes, I'm a traditionalist and I grew up in this sport and in its most traditional forms, but what was really unique about it is that at its heart it was a race from Point A to Point B," Tracksmith CEO Matt Taylor told me a couple months ago. "Our team battled with a team from France for 80 miles through the desert. We were trading off the lead probably 40 times in those 80 miles. And so yes, it wasn't a normal track meet or road race but it was a race and I think that competitive spirit is something that is the glue that binds the sport we all relate to and I think that's the thing that, you know, that doesn't go away: people either want to be competitive or they don't."
This episode is brought to you by the Anthem Richmond Marathon, which takes place on November 10. From phenomenal course support, to idyllic fall weather and supportive spectators, when you run Richmond, you get it all. Plus the course is mostly flat, it's a top-20 Boston qualifier, and ends with a beautiful, downhill riverfront finish. Dubbed America's Friendliest Marathon by Runner's World, you've got every reason to start planning your trip to Richmond today. Use the discount code 'morningshakeout'—all one word, all lowercase—when you register to save $10 on your registration today. The price goes up on July 1, so don't wait. Best part: I'll be there running the Markel Richmond Half Marathon and hosting all kinds of other fun events throughout the weekend, including an actual morning shakeout run on Friday morning. I'd love to see there!
Want more of the morning shakeout podcast? Check out past episodes here and here.
This episode of the morning shakeout podcast was edited by John Isaac at BaresRecords.com