Podcast: Episode 115 with Karen Boen
|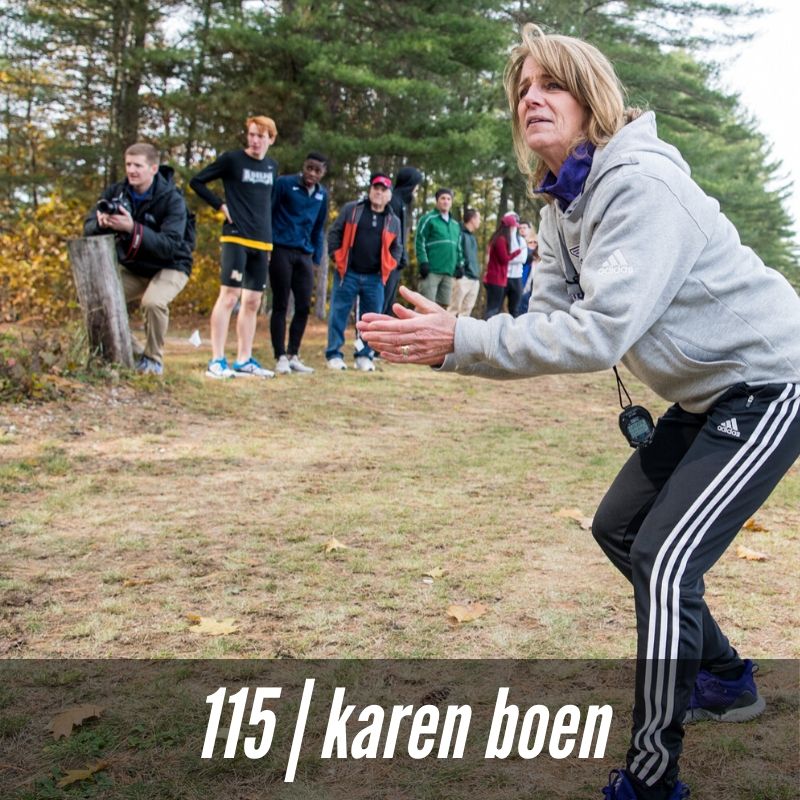 "We really bought in—and I really bought in. Like, I really believed that we could be good, I really, truly believed that, and I got them to believe it. In fact, when we hosted our first NE-10 Championship, we had this snow squall come across the field. It was freezing, it was like blowing sidewards, and I bring the women into the sports complex, and I said, 'Everybody, be quiet.' I said, 'Just listen to all the people who are complaining about the weather.' And they were all listening. I said, 'You're going to march out that door and you're gonna beat every one of those women that has been complaining about the weather because this is our campus.' And we just like pounded our chests and we walked out there and we won. But I just remember loving it, and believing in it, and I just wanted people to believe in me. And to see it grow like that, it's like raising a child. It was just so gratifying."
Subscribe, listen, and review on: Apple Podcasts | Stitcher | Overcast | Google Podcasts | Soundcloud | Spotify
This week's episode of the podcast is a really special one. I got to have a long conversation with someone who has had a profound impact on my life and has played a major role in shaping the person I am today, my college cross-country and track coach, Karen Boen. A lot of how I think about training, coaching, and life in general is due to her influence.
Coach has been at Stonehill College in North Easton, Massachusetts since 1997, when, at the age of 40, she took a part-time role to coach a women's team that was about to be cut as a varsity sport. Twenty-three years later, under her guidance, the Stonehill women's cross-country team has been to 19-straight NCAA Division II Championships. She took over the men's cross country program in 2002 when I was a junior—we weren't very good, but a year later we qualified for the national championship for the first time in school history, and the squad has gone back every year since. Coach was also the director of both the men's and women's track and field programs until this past year, stepping down from her role as head coach but remaining on staff to continue working with the distance runners. In her time at Stonehill, Coach has developed over 70 All-Americans, her teams have won 38 conference titles, and she's been named conference and regional coach of the year more times than I can count. Last December, she was one of six coaches inducted into the U.S. Track and Field and Cross Country Coaches Association Hall of Fame, a well-deserved honor that recognizes not only her achievements as a coach, but the leadership, passion, and inspiration she's brought to so many others.
In this conversation, Coach talks about growing up in the projects of South Boston with a single-mom and two brothers; being told that she had "perfectionist syndrome" as a kid, and how that's influenced her approach to life; getting the opportunity to escape Southie and attend college, where the only advice that was given to her was "don't f* this up." She recalled how she got into track and field in college, and eventually distance running in grad school. She talks about accidentally falling into coaching at the age of 40, taking a small team that was on the brink of extinction and developing it into a nationally ranked program, being a full-time female coach at the collegiate level while having a family and maintaining a social life, why she's always focused on surrounding herself with fantastic people, the importance of setting boundaries, the biggest barriers facing female coaches today at the collegiate level and elsewhere, and so, so much more.
the morning shakeout: Instagram | Twitter
Mario Fraioli: Instagram | Twitter | Strava
This episode is brought to you by: 
Tracksmith: Tracksmith makes superlative quality, classically stylish, cutting-edge running apparel for real-world athletes. To learn more, visit tracksmith.com/mario and use code Mario15 at checkout to save $15 on your first purchase of $75 or more.
WHOOP: WHOOP is fitness wearable that provides personalized insights on the performance of your sleep, how recovered your body is, and how much stress you put on your body throughout the day. Learn more at WHOOP.com and enter "Mario" at checkout to save 15% on a membership.
Music and editing for this episode of the morning shakeout podcast by John Summerford at BaresRecords.com