Podcast: Episode 114 with Mary Cain
|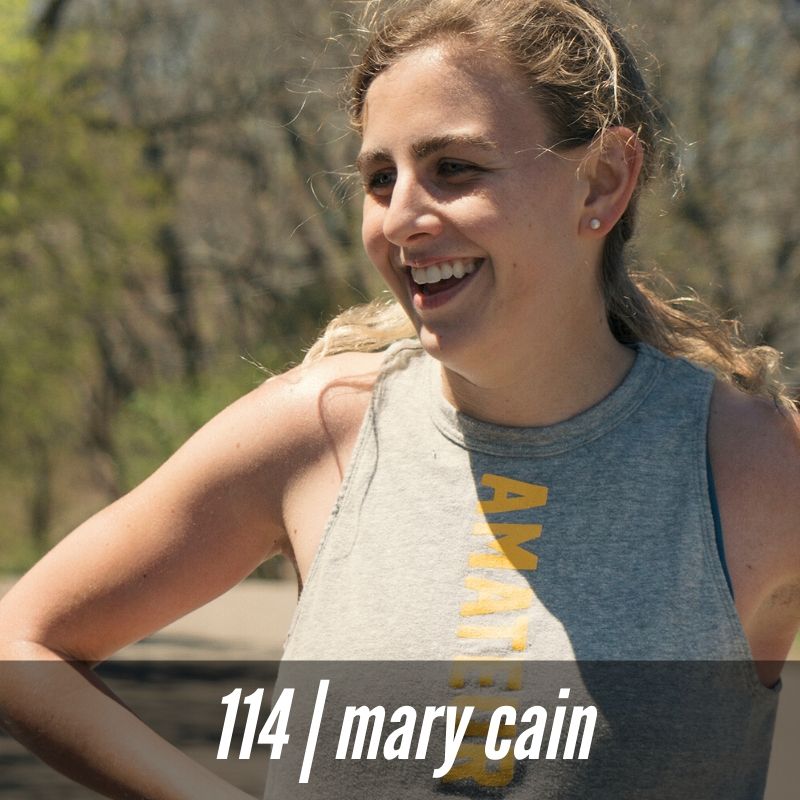 "I have a lot of goals in running and I have a lot of dreams in running but I feel like I love to run—period, end of sentence. And if that is kind of all I'm ever going to say about my running career from here on out, I'd maybe be a little bit disappointed, but at the end of the day, I want to run when I'm 80. I want to run with my family, I want to run with my friends, I want to run with my dog, and those miles that I can put in going forward, I hope they lead to really cool things on the track, but if they lead to really cool things through, you know, other opportunities that come forward in the future, that would be just as cool. So maybe looking ahead, I'm not trying to write my future out maybe like I used to, I'm just trying to go a little bit more with the flow and see where the run takes me."
Subscribe, listen, and review on: Apple Podcasts | Stitcher | Overcast | Google Podcasts | Soundcloud | Spotify
Mary Cain is the youngest American athlete ever to represent the United States at the World Championships, which she did in 2013 as a 17-year-old high school phenom, finishing 10th in the 1500m final. Earlier that year, she broke numerous high school and junior records from 800m through the 5000. She turned professional in the fall of 2013, joining the Nike Oregon Project under coach Alberto Salazar in Portland, Oregon. In 2014, Cain broke more junior records, won a senior national title indoors at 1500 meters, and then the world junior championship at 3000m outdoors. It appeared she was on top of the world until it all came crashing down in 2015 and 2016, when her performances suffered, seemingly inexplicably. Mary left the Oregon Project in 2016 and returned home to New York, where she enrolled at Fordham University and began training with John Henwood, who helped coach her in high school. She spent much of 2017 and 2018 battling injuries and had pretty much fallen off the radar from a competitive standpoint.
Then, last November, Mary came forward in The New York Times with a powerful op-ed sharing her story of the emotional and physical abuse she suffered while as an Oregon Project athlete. The piece exploded online and revealed details about how Mary had suffered from disordered eating while a member of Salazar's team, missed her period for three years, broke five bones, and suffered from thoughts of suicide. Following that story, several other former Oregon Project athletes backed her claims of similar mistreatment going back at least 10 years.
Mary, who is now 24, recently took a full-time job at Tracksmith as the community manager in New York City, where she continues to live and train with an eye toward returning to world-class competition.
In this conversation, which got emotional at times, we got into the details of her new employment arrangement, talked about the importance of not being outcome-oriented, the energizing effect of being actively involved in her NYC running community, and how she picked herself back up after leaving Oregon and returning to New York.
We also talked about Mary the person vs. Mary the runner and when that flipped for her, what she experienced during her time in Oregon, and being self-critical and feeling helpless when she was told she needed to lose weight to run faster. She also told me when she realized the environment at the Oregon Project was a problem and why it took her so long to realize it and leave, if her training partners and teammates at the time showed any concern for her while she was suffering, how she's thinking about her running goals in the next few years, and a lot more.

Mary Cain: Instagram | Twitter
the morning shakeout: Instagram | Twitter
Mario Fraioli: Instagram | Twitter | Strava
This episode is brought to you by: 
Tracksmith: Tracksmith is a Boston-based running brand led by a group of life long runners who are dedicated to building superlative quality, classically stylish, and cutting-edge running apparel for real-world athletes. If you're looking for inspiration to stay motivated and get out the door these days, be sure to check out their Journal at journal.tracksmith.com and follow them on Instagram (@TracksmithRunning), where they've been sharing and creating content from around the running world. To learn more, visit tracksmith.com/mario and use code Mario15 at checkout to save 15% on your first purchase.
WHOOP: WHOOP is fitness wearable for your wrist that provides personalized insights on the performance of your sleep, how recovered your body is, and how much stress you put on your body throughout the day from your workouts and the normal stressors of life. It has built-in features like a Strain Coach and a Sleep Coach that help you target optimal exertion levels and tell you how much sleep you should be getting based on the intensity of your training and the signals your body is giving you. WHOOP is offering 15% off with the code "Mario" at checkout. Go to WHOOP.com and enter "Mario" at checkout to save 15%.
Music and editing for this episode of the morning shakeout podcast by John Summerford at BaresRecords.com