Podcast: Episode 111 with Michelle La Sala
|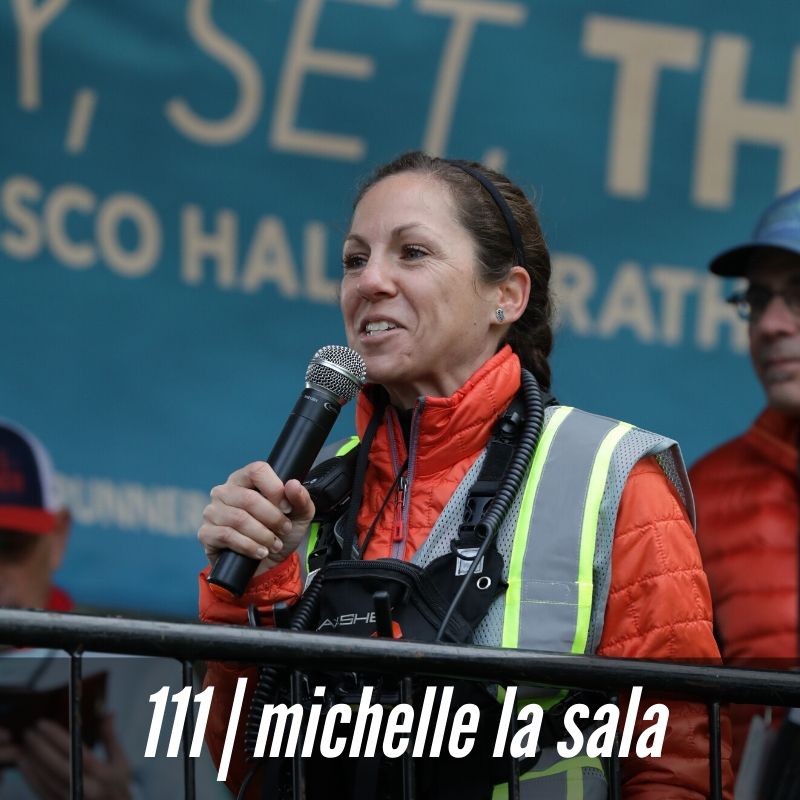 "I'm in a position where I cannot be afraid. What I do for a living, my life, my career, I have to get out there and be among the people. And if I'm not comfortable doing that, I can't expect my runners to be comfortable doing that. But I think it's going to be a job that every single one of us needs to take on head first and we have to figure out 'Does this race saying they're going to have gloves, hand sanitizer, masks, temperature gauges, all these things, does that make me feel safe?' And if not, anyone who is listening, you have got to speak up and tell us what is going to make you feel safe. Because as a person who is in charge of branding at the New York City Marathon finish line, it's a really special thing. It is the world's largest marathon, it's 51,000 people, and it is a sight. It is a feeling, I get goosebumps talking about. And if that has to go away because we're afraid of people, that's going to be a sad day. You know, it just is."
Subscribe, listen, and review on: Apple Podcasts | Stitcher | Overcast | Google Podcasts | Soundcloud | Spotify
Michelle La Sala is the founder and president of Blistering Pace Race Management, where she puts on races in and around the Bay Area and also serves in various capacities at bigger races around the country. A 15-year running industry veteran, she's worked for the LA Marathon, New York Road Runners, and Sacramento Running Association, where she was the race director for the California International Marathon in 2013 and 2014. Michelle has been running since the third grade, she competed collegiately at the University of Portland, and has completed 32 marathons with a 2:59 personal best.
We covered a lot of ground in this conversation, from how Michelle got her start in the sport, dealing with disordered eating and injuries as a collegiate athlete, and what sparked her competitive resurgence after college. She told me how Bart Yasso and a bizarre chance led to her getting a job at the LA Marathon, kicking off her career in the running industry. We talked about putting on events, why she does it, and the worst day she's ever had as a race director. And lastly, we discussed her experience putting on a large event the first weekend of March earlier this year just as COVID-19 concerns were starting to escalate, what things look like for her right now with no races and an uncertain future ahead of us, her thoughts on how events might look different moving forward, and what she wants to tell runners who have had their races cancelled or postponed due to the pandemic.
Michelle La Sala: Website | Instagram | Facebook
the morning shakeout: Instagram | Twitter
Mario Fraioli: Instagram | Twitter | Strava
This episode is brought to you by: UCAN. I've been using UCAN's Performance Energy drink mix before my long runs, big workouts and races for the past four years, and it's a crucial part of my nutrition plan, providing steady energy that's easy on my gut. Go to ucan.co/shakeout — that's ucan.co/shakeout — to learn more about UCAN's one of a kind energy and use code  SHAKEOUT25 to save 25% off your first order. If you're already a UCAN fan, you can save 15% with code SHAKEOUT.
Music and editing for this episode of the morning shakeout podcast by John Summerford at BaresRecords.com