Podcast: Episode 106 with Bria Wetsch
|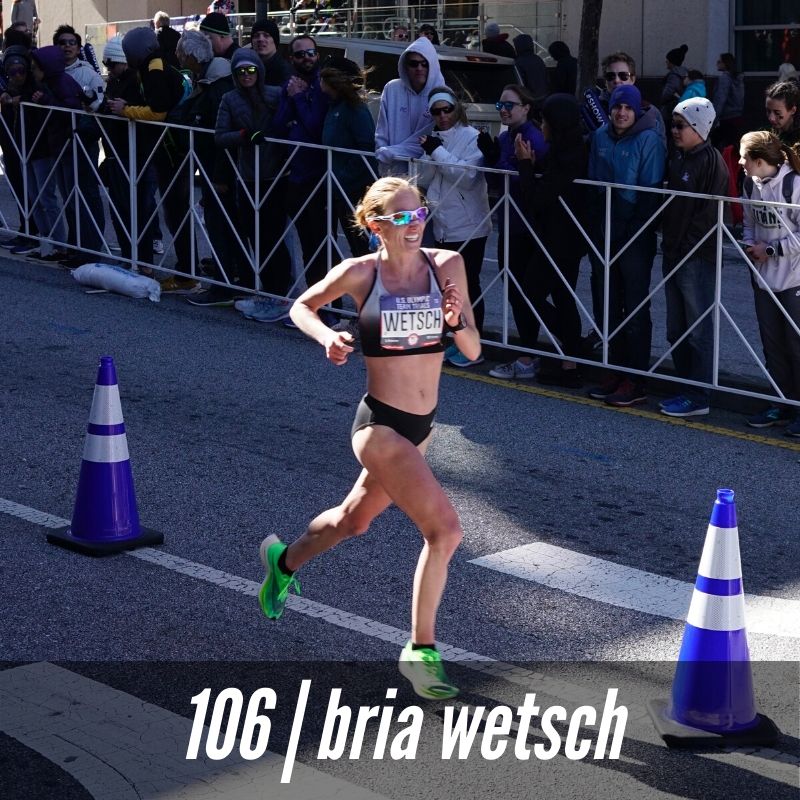 "Every time I line up I don't get as anxious anymore, I don't feel like I'm gonna barf. It's just, 'See what you can do. You have two healthy legs. You get to do this.' Like, the sky is the limit. And if you don't reach what you think you might be able to do, that's OK too. Because I'm having fun. I'm more in the moment now, not thinking about the end goal of 'Oh, I might not do as well' or 'I might suck.' That's fine."
Subscribe, listen, and review on: Apple Podcasts | Stitcher | Overcast | Google Podcasts | Soundcloud | Spotify
Bria Wetsch finished 27th at the recent U.S. Olympic Trials Marathon in Atlanta, running 2:37:58, less than a minute off of her personal best. The 31-year-old lives and trains in Boulder, Colorado, where she also works as an accountant. Bria ran collegiately at the University of Oregon and prior to that, she was a national 2-mile champion, top-10 Footlocker finisher, and five-time state champion as a high schooler in her native Minnesota.
We covered A LOT in this conversation and I really appreciate how vulnerable and brave Bria was in sharing her story with me. She told me about getting her start in the sport at the age of 11, being hospitalized for an eating disorder not long after that, resulting injuries, and how she was able to get through that period in her life. We discussed experiencing success at a young age and how she struggled to separate her identity and self-worth from her running results. Bria recounts her experience recovering from double achilles surgery in 2017 and coming back to run a marathon PR 13 months later. She explained why she's stuck with the sport despite various struggles over the past 20 years. Bria opened up about her fear of failure and battling perfectionism—but also how she learned to let go a few years ago and what that did for her relationship with running and competition, and a lot more.
Bria Wetsch: Instagram | Twitter
the morning shakeout: Instagram | Twitter
Mario Fraioli: Instagram | Twitter | Strava
This episode is brought to you by: 
Tracksmith: Tracksmith is a Boston-based running brand led by a group of life long runners who are dedicated to building superlative quality, classically stylish, and cutting-edge running apparel for real-world athletes. If you're looking for inspiration to stay motivated and get out the door these days, be sure to check out their Journal at journal.tracksmith.com and follow them on Instagram (@TracksmithRunning), where they've been sharing and creating content from around the running world. To learn more, visit tracksmith.com/mario and use code Mario15 at checkout to save 15% on your first purchase.
Music and editing for this episode of the morning shakeout podcast by John Summerford at BaresRecords.com