Podcast: Episode 103 with Jody Bailey
|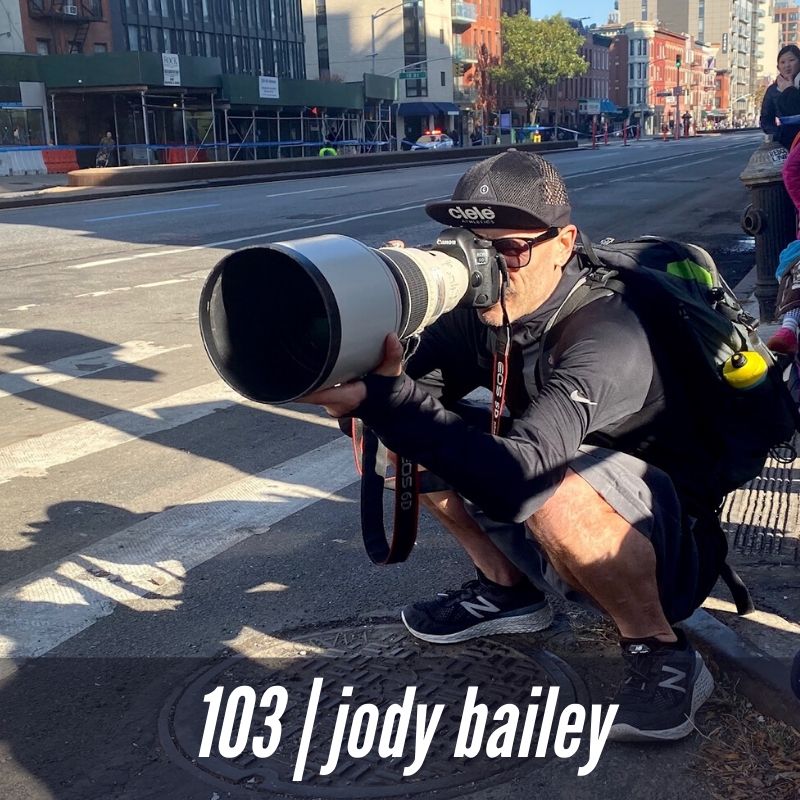 "I'm obsessed with everything I pick. Whatever it is, I don't really question it. Most of the time, my obsessions, I don't know what's happening when they start. I just tug on a thread a little bit and then just full on yank on it and connect it to a bus and drive it out of town…The idea of exploring and learning and my mind just exploded at university. Exposed to psychology for the first time, like Psych 101 just changed everything. It was like, 'Wait, this is how we work?' I know more about myself now than I ever did and I think that was the productive push to this idea of pulling on a thread that was good, and it was really sports photography that was that first passion that turned into something, rather than just a passive interest. I mean, when I was a teenager in high school I started building the internet and playing with HTML and CSS and thought it was neat that you could make stuff move on a screen, and I had my own little website for cars that I was building. So yeah, I guess I've always been obsessed. I totally forgot. I've always been this obsessive, 100 percent."
Subscribe, listen, and review on: Apple Podcasts | Stitcher | Overcast | Google Podcasts | Soundcloud | Spotify
Jody Bailey is one of the top photographers in the running game today and I've been a big fan of his work for the past couple years. He calls himself a "visual ethnographer of running" and his photos and stories have appeared in media outlets such as Tempo Journal, InnerVoice, and Like the Wind magazine, in campaigns for brands like Brooks, ASICS, Saucony and others, and in various other places.
We recorded this conversation the morning after the recent U.S. Olympic Trials Marathon, which, in addition to being an awesome event on its own, served as Jody's unofficial 4-year anniversary of his introduction to running and photographing the sport. We talked the spark that ignited his interest in running and desire to document its culture, how he got his start in sports photography, being self-taught as a photographer, web designer, and computer programmer, how curiosity and competitiveness fit into different areas of his life, the importance of community, the current landscape of running photography, and a lot more.
Jody Bailey: Instagram | Twitter | Website | Strava
the morning shakeout: Instagram | Twitter
Mario Fraioli: Instagram | Twitter | Strava
This episode is brought to you by: 
New Balance: Use the promo code SHAKEOUT when you check out at newbalance.com to save 20% off your purchase of $100 or more. *Some restrictions do apply but this code should cover you for most products on their website.
AJC Peachtree Road Race: July 4 is on a Saturday, which means you can't miss the AJC Peachtree Road Race in Atlanta, Georgia! It's the largest 10K in the world and the largest road race in the country. Lottery registration is open until March 30 so mark your calendars today. With 60,000 runners and walkers, 200,000 spectators, costumes, music, and the coveted finisher shirt, this is one-bucket list race you can't miss. More information is available at ajc.com/peachtree.
Music and editing for this episode of the morning shakeout podcast by John Summerford at BaresRecords.com