King Kamworor Surges To Third Straight World Title
|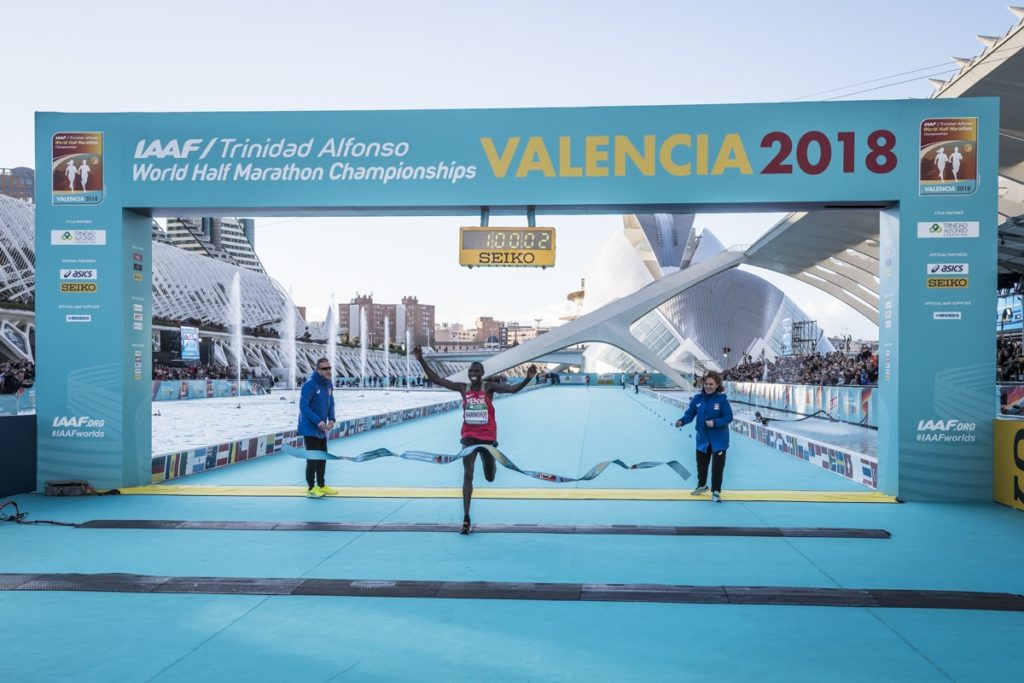 The fact that Geoffrey Kamworor won the world half-marathon championships in Valencia this past Saturday hardly came as a surprise. It was the Kenyan's third straight title at these championships and his winning time of 60:02 isn't all that out of the ordinary on its own. But running 13:01 for 5K (that's 4:11 per mile/2:36 per K for those of you scoring at home) and then maintaining that pace for another kilometer after what essentially amounted to a 9.3-mile warmup? Tailwind and all, it's just a crazy split, especially at that juncture of the race.
But if anyone can drop that kind of surge to secure victory for himself, it's Kamworor, who put 13 seconds on his fastest pursuer over that quick 3.1-mile stretch. Remember, this is the same guy that, two years ago at these championships, fell at the start of the race, got trampled, and then proceeded to weave his way through the field to win—by 26 seconds, no less—in 59:10. That may have been more impressive, if you want to split hairs over it.
Back to Kamworor's performance on Saturday. To give that 5K split some context, Sweden's Kalle Berglund, the men's winner of Sunday's Carlsbad 5000, aka "the world's fastest 5K," ran 14:15. Now, to be fair, Carlsbad ain't what it used to be on the elite side of things (not even close, to be honest), but the course—and world—best for a flat-out 5K on the roads is 13 flat, run by Sammy Kipketer in 2000. For what it's worth, Kamworor has a 5000m personal best of 12:59.98 on the track, but it's on the roads—and the cross-country course—where he's proven his dominance in recent years. Kamworor is intriguing, exciting, and, at the half-marathon distance anyway, unstoppable. And eventually, we may be able to say the same about the marathon—Kamworor won New York last fall—but not yet. Not as long as his training partner, aka The Boss Man, Eliud Kipchoge, is still at the top of his game. But then again, the torch has to get passed at some point, and Kamworor seems primed to run with it—at a mind-boggling pace, of course.