Interview: Navalayo Osembo of Enda
|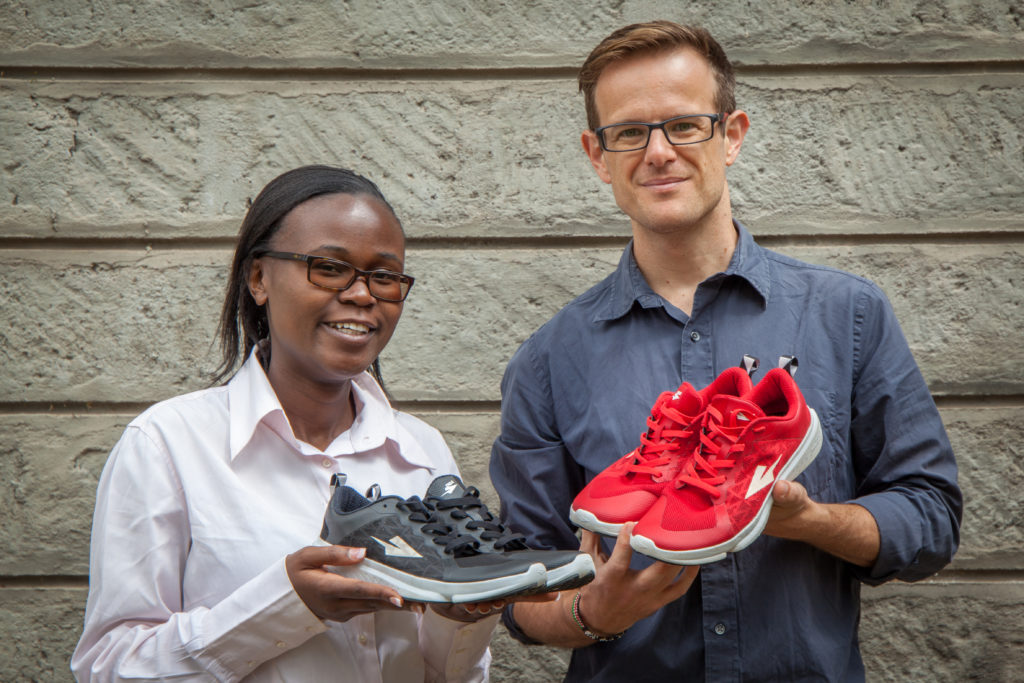 I recently had a chat with Navalyo Osembo, co-founder of Enda, to learn a bit more about the company, how it came to be, its influences, biggest challenges, and goals for the future. 
When did the idea for Enda first come to be?
I come from a village just outside Eldoret, which is the heart of Kenyan running country. So, I've always had that part of Kenya close to my heart. I've also always had an interest in sports and international development, which led me to start thinking of ways to combine the two, especially for a country like Kenya that does so well in athletics but lags behind in development. I started exploring ways that sports could do more for development in Kenya.
When I met my business partner, Weldon, we immediately clicked and after a couple of conversations, decided that making Kenyan running shoes seemed the absolute best way for us to increase the amount Kenya earns from running and drive industrial development in a sustainable way.
How—and why—is it important to create jobs in Kenya?
I think it's important to start with a look at what life is like for many people in Kenya. If you visit, you'll certainly find there are many places in Kenya where life is very good. The food is delicious, great cinemas, hotels, and a beautiful natural environment.
But there are other place in Kenya where people struggle to meet their basic needs, and thus national life expectancy is 62 years. Around 21 million people don't have electricity. Clean water and flush toilets are luxuries for about half the population. In 2018, I don't think children shouldn't have to cough through kerosine smoke to do their homework, and cholera – spread mainly through water contaminated with human feces – shouldn't still be a killer.
Economic development is the key to solving this, and it starts by making things in Kenya domestic and global markets. By making high-quality products, we can create good jobs that give parents the chance to have internet access that's critical to a modern education, as just one example.
Job creation is important for two reasons: first, it gives someone an opportunity to live a life of dignity. No one like to be poor or to be unable to fend for themselves and their families; second, Kenya is a young country, the average age is just 18. For perspective, Kenya's ratio of youth (aged 15-24) to the population stands at 20.3% above the world's average of 15.8%. Which really means the country sits on a knife-edge: either as a country we create many jobs now and thrive in the years to come, or we risk a whole generation struggling to find work and getting stuck in a cycle of poverty. The timing for doing this is critical.
What are the biggest challenges to making running shoes in Kenya?
No one has done it and no one else is doing it. So there is no experience in making the shoes, and there are no material or parts suppliers. Everything about the production process is challenging as a result.
So we started by figuring out what we could do in Kenya, which was assembling the shoes. We started with that, and are working our way backwards until we are able to make the whole shoe in Kenya. Our first round of production only qualified for "assembled in Kenya" tagging, and we're proud they can now say "Made in Kenya". Though we still have a long way to go.
What sets Enda apart from everything else that's available in the market?
First, from a technical standpoint, our debut product, the Enda Itens are the best lightweight trainer on the market. They are flexible, snug fitting, have plenty of rubber, just enough cushion, and a midsole wrapping the heel so the shoe stays with your foot.
Second, they look good. Lots of performance running shoes communicate their technical performance through their design, but we decided to design a shoe that not only looks good with a pair of jeans, but also contains deep elements of Kenyan culture.
Third, we're the most socially conscious shoe on the market. We give a percentage of our revenues, not profit, to projects in Kenya that support local communities. Our customers get a chance to vote on which project we should support, hence giving them a chance to see the impact that their purchase is making in Kenya. Our shoes are vegan-friendly, made primarily using renewable energy, and help drive development in the home of running. When you buy our shoes, you make a statement of the way you want the world to be.
Finally, and this is a big one, we're trying to better serve runners. We do extensive surveying of runners. One of the biggest complaints we found is the hype and retirement cycle around shoes. New shoes are overhyped, and if you do find one that you love, it might disappear. So we're trying to keep the fit and function of our shoes consistent year to year. We'll be continually improving them, but with a goal of giving runners consistency they can depend on. No need to stockpile pairs in the closet.
There is no "silver bullet" running shoes. So, who is the Iten for, or what type of runner will enjoy running in it, rather?
That's right! When we surveyed Kenyan runners on what makes the ultimate running shoe, that's the answer we got! There is no magic shoe but rather, a runner uses different types, depending on the run (in addition to proper nutrition and training of course!). Each run is different and you want a shoe that helps you get the most out of that workout or race.
The Iten, it is a lightweight trainer. It's designed for shorter, faster training runs. Part of building strength on those runs is having a shoe that cushions impact, but still allows for a full range of foot motion in order to allow your foot to get a full workout and build your foot's strength. Really almost any runner could benefit from varying their runs to have both easy runs and speed work.
How does Kenya's running history, culture and skills influence what goes into making a shoe?
First and foremost, we started by working with Kenyan athletes to design and test the shoes.
So, instead of a technical look, we incorporated design elements that subtly reflect Kenya. For example, the sole has the word 'Harambee', Kenya's national motto which means 'we all pull together' etched on it. The Harambee spirit signifies the community coming together to solve a problem that is difficult for an individual. The groove on the heel of the Enda Iten represents the Rift Valley and is an ode to the valley's climate that has helped nurture so many great runners. We also put twelve lines on the side of the sole to signify Jamhuri Day. That's Kenya's independence day on the 12th of December, 12/12, which is also symbolic of the freedom that comes with running.
On the uppers, we incorporated geometric patterns on the side, like you often see in Kenyan traditional fabrics or beadwork. Of course, our logo is inspired by the spear, a major national symbol and right now the shoes only come in the colors of the Kenyan flag.
What are Enda's goals as a company in the next 6 months? 12 months? 5 years?
Obviously, we'd love to be serving many more runners while creating many more jobs in Kenya. I hope we can support many more runners achieve their goals and let the world see that Kenya is a country that produces cool and fashionable shoe, clothes, and other things as well.
First step down that path is expanding our product range, so we're working on different shoes for long runs, trail runs, and racing and look forward to launching those as we grow.
We also want to increase the number of community projects that we support in Kenya.